[ J E W I S H L I V I N G ]
first person
The old men in the synagogue
By Jack Engelhard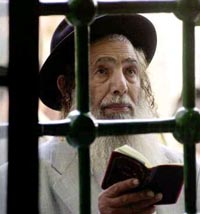 The old men in the synagogue have always been there for me. They were there again this year. Each year at this time I worry that they will all be gone, dead from old age, taking with them the "flame."




l'chaim!
Everything's Relative
By Jordan "Gorf" Gorfinkel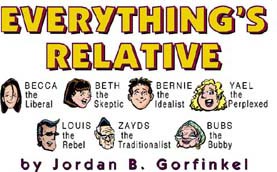 The latest installment of the Jewish Gen-X strip with ecumenical appeal. Online exclusively at JWR.
DEAR JWR READERS
JWR IN THE NEWS --- LITERALLY!


Your favorite website was recently profiled by the prestigious wire service, United Press International (UPI). Writer Lou Marano did an absolutely amazing job capturing, not only what makes JWR tick --- but also the overall situation we are facing. If you have a free moment, click here to view the feature-length article.


In friendship --- and gratitude,
Binyamin L. Jolkovsky,
Editor in Chief
JewishWorldReview.com


[ D A I L Y I N S P I R A T I O N ]



WISDOM EACH DAY:
Harnessing the source of wisdom






[ L I F E S T Y L E S ]

Study: Hollywood playing role in fueling hate-America terror

High school Bible club recognized by federal court

Dole, Bowles front-runners for Helms' seat

Dr. Ed Blonz: Pulp: fiction and fact

Consumer Reports on JWR: Computer networking



[ I N S I G H T ]

Barbara Amiel: Never mind the dossier, just leaf through 'Iraq for Dummies' (SUPERB!)

Bill Steigerwald: 'A failure to recognize a failure': 15 minutes with ... Bill Gertz

Argus Hamilton's political zingers!
Ian Shoales: Monotone felons


---
ADAM SANDLER FILMS ON THE INCREASE, CENTER FOR DISEASE CONTROL WARNS
'Major outbreak' of seven films expected in next twelve months — Andy Borowitz
---


Capital Comment: Daily news notes, political rumors, and important events that shape politics and public policy in Washington and the world

Art Buchwald: To lose one's center

Jack Kelly: Why the 'air marshals' will fail (BULL'S-EYE!)

Steve Young: Bush coalition on fast track: Grenada and 7 Eleven Add Their Backing To Iraqi Invasion

Michael Ledeen: Iran & Afghanistan & Us: We'll have to deal with the mullahcracy, sooner or later

Clarence Page: Measuring the myth of 'super weed'

Leonard Pitts, Jr: Inconvenience me, PLEASE! (GREAT!)

Terry Eastland: Ashcroft's obtuse judicial statement

Bill Schneider: Has Bush lost his momentum?

Frank Gaffney: A model for Iraq

John Leo: Rage is not the rage (EXCELLENT!)

Mort Kondracke: Bush should push for Citizen Service Bill

Larry Kudlow: Target: Safe Harbor

Cal Thomas: Then (1942) and Now (2002) (SUPERB!)





[ W O R T H 1 0 0 0 W O R D S ]

Mallard Filmore

Lurie's World

Jack Higgins

Gary Varvel

Jeff Stahler

Thadeus and Weez

David Cox

(Att. working columnists and editorial cartoonists: Think you have what it takes to be featured on JWR? Drop us a note. And readers: We're always open for suggestions!)



[ F A S T P O L I T I C S&nbsp ]








require ("t-ssi/rtorah.html"); ?>