[ J E W I S H L I V I N G ]
thought
Rosh Hashana: Celebrating
the birthday of the world
By Rabbi Yonason Goldson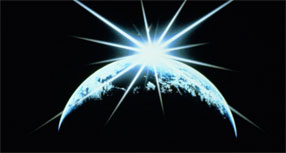 The first day of the Jewish new year not only ushers in a season of renewal, but also celebrates the anniversary of the creation of the world -- or, more accurately, the birthday of mankind, for whom the world was created.




outlook
A time to cry
By Rabbi Avi Shafran

Rosh Hashana, to be sure, is the Day of Judgment, and so we are rightfully uneasy at the implications of that fact. But might there be something deeper to the shofar's wailing and moaning than simple fear?







perspective
Toward a year of hope
By Gary Rosenblatt
As we approach the High Holy Days, a period set aside for intense reflection and spiritual striving - compounded by the first anniversary of the undeclared war on America and the continuing aggression against Israel, the Jewish people and Jewish history - how are we to shake ourselves from our depression?
DEAR JWR READERS
JWR IN THE NEWS --- LITERALLY!


Your favorite website was recently profiled by the prestigious wire service, United Press International (UPI). Writer Lou Marano did an absolutely amazing job capturing, not only what makes JWR tick --- but also the overall situation we are facing. If you have a free moment, click here to view the feature-length article.


In friendship --- and gratitude,
Binyamin L. Jolkovsky,
Editor in Chief
JewishWorldReview.com


[ D A I L Y I N S P I R A T I O N ]



WISDOM EACH DAY:
Testing for ... character






[ L I F E S T Y L E S ]

Islamists to mark 'positives' of Sept. 11

Dr. Robert A. Wascher's science report: C-Reactive Protein & Estrogen Replacement Therapy; Walking Women & Cardiovascular Disease; Physical Activity Among Teenaged Girls

Skin disorder may predict some strokes



[ I N S I G H T ]
Michelle Malkin: Protect America: Stop marrying terrorists!

Bill Steigerwald: On media: Rating the 9-11 mags

Argus Hamilton's political zingers!
David Grimes: Come listen to a story about a man named ... Bill

Greg Crosby: And the box office winner for this weekend is...

Michael Kelly: I'm going to get rich just by answering my e-mail


---
BRITNEY SPEARS' YEAR OFF POSES DIRE ECO-THREAT
Pop diva's foray into painting, poetry could wreak global devastation — Andy Borowitz
---


Tom Purcell: The Freedom to Picnic (GREAT!)

Leonard Pitts Jr.: Latest CBS joke isn't funny

Norah Vincent: I'll have the burger deluxe, with a side of guilt

Joel Mowbray: O'Reilly the wrong 'Factor' in Saudi abduction case

Marianne M. Jennings: Public schools: an unqualified success

Capital Comment: Daily news notes, political rumors, and important events that shape politics and public policy in Washington and the world

Seth Gitell: Iraq attack: Ritter's reversal

Michael Long: Give Them What They Want: Congress thinks it wants to vote on Iraq. It really doesn't.

Clarence Page: A year later: A reality-check (THOUGHTFUL!)

The Medicine Men: Avoid 9/11 overdose: Give blood to begin "September of Service," SOS

MUGGER: An impossible scenario

Linda Chavez: The 'rules' don't seem to apply to Powell (SPOT-ON!)

Debra J. Saunders: Unequal before the law

Nat Hentoff: Who watches the secret court?

Mona Charen: Jimma Carter rides again

Thomas Sowell: "Friends" of blacks: Part II





[ W O R T H 1 0 0 0 W O R D S ]

Mallard Filmore

Jack Higgins

Lurie's World

Gary Varvel

John Deering

Joe Heller

(Att. working columnists and editorial cartoonists: Think you have what it takes to be featured on JWR? Drop us a note. And readers: We're always open for suggestions!)



[ F A S T P O L I T I C S&nbsp ]








require ("t-ssi/rtorah.html"); ?>