[ J E W I S H L I V I N G ]
first person
The lesson of a sleepless night
By Rabbi Chaim Steinmetz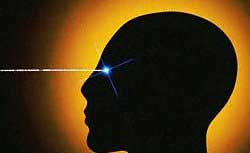 My newfound calm was not due to a relaxed schedule at work; in fact, it was the week before Rosh Hashanah, and I was frantically looking for the right topic for a sermon. However, that night, I had the blessing of perspective.




short tales
When breaking the genealogical chain is the right thing to do
By Ted Roberts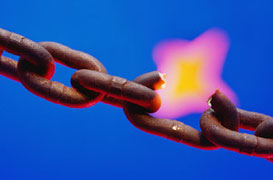 Our Southern troubadour is back with a Rosh Hashanah story for the ages.







reality-check
The intifadeh's over,
and the Israelis won
By Zev Chafets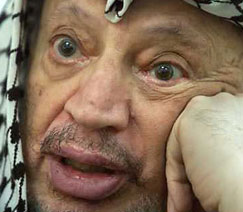 There has been no official declaration, no formal surrender, but the Al Aqsa intifadeh, launched by Palestinian leader Yasser Arafat two years ago, is over. As usual, the Palestinians have lost.
DEAR JWR READERS
JWR IN THE NEWS --- LITERALLY!


Your favorite website was recently profiled by the prestigious wire service, United Press International (UPI). Writer Lou Marano did an absolutely amazing job capturing, not only what makes JWR tick --- but also the overall situation we are facing. If you have a free moment, click here to view the feature-length article.


In friendship --- and gratitude,
Binyamin L. Jolkovsky,
Editor in Chief
JewishWorldReview.com


[ D A I L Y I N S P I R A T I O N ]



WISDOM EACH DAY:
Trying to satisfy everyone






[ L I F E S T Y L E S ]

Bogus Web site annoys investigators

'Bridges of Madison County' bridge gone

Physicians' watchdog group to sue EPA over animal testing

Dr. Peter Gott: Whirling sparks in my vision; fibromyalgia

Bruce Williams on JWR: Are bonds a good deal? runaway husband and his runaway bills



[ I N S I G H T ]

Bob Greene: Smokey Bear in the age of indecision

Richard Lederer: On language: A celebration of presidential prose (FUN!)

Argus Hamilton's political zingers!

Art Buchwald: Moot court

Jack Kelly: Resurrecting the "Happy Darky"

Capital Comment: Daily news notes, political rumors, and important events that shape politics and public policy in Washington and the world

Mark Goldblatt: Other Opiates: What kids know (SPOT-ON!)

Robert Tracinski: The case for "destabilization"

Edward I. Koch: Necessary or not, getting congressional approval for war is common-sense

Matt Towery: Should Jeb really be concerned?

David Limbaugh: Rolling over on phony charges of racism

Wendy McElroy: Calm down, Hootie!

Dick Morris: GOP should triangulate (UNCONVENTIONAL!)

Benjamin Shapiro: A Reaganesque appeal on Iraq

Suzanne Fields: 'Appeasement, then and now'

Larry Elder: It's "PLAY BALL" . . . with taxpayer money

Ann Coulter: Murder for fun and prophet

Bob Tyrrell: Sympathizing with the Europols

Joel Mowbray: State's war on Americans (OUTRAGEOUS!)

George Will: Can He Douse the 'Torch'?

Cal Thomas: Man's inhumanity to man explained?





[ W O R T H 1 0 0 0 W O R D S ]

Mallard Filmore

Bob Gorrell

Wayne Stayskal

Mike Lukovitch

Gary Varvel

(Att. working columnists and editorial cartoonists: Think you have what it takes to be featured on JWR? Drop us a note. And readers: We're always open for suggestions!)



[ F A S T P O L I T I C S&nbsp ]








require ("t-ssi/rtorah.html"); ?>