[ J E W I S H L I V I N G ]
backgrounder
Temple Mount nightmare unfolding?
By Daniel Pipes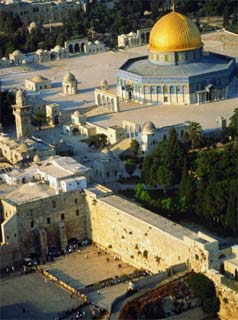 The Temple Mount in Jerusalem -- holiest spot on earth for Jews and ranking up there in sanctity also for Christians and Muslims -- may soon come partly crashing down. The moment of truth might come in November. That's the Islamic Ramadan holiday.




l'chaim!
Everything's Relative
By Jordan "Gorf" Gorfinkel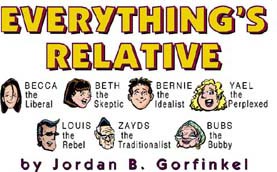 The latest installment of the Jewish Gen-X strip with ecumenical appeal. Online exclusively at JWR.




DEAR JWR READERS
JWR IN THE NEWS --- LITERALLY!


Your favorite website was recently profiled by the prestigious wire service, United Press International (UPI). Writer Lou Marano did an absolutely amazing job capturing, not only what makes JWR tick --- but also the overall situation we are facing. If you have a free moment, click here to view the feature-length article.


In friendship --- and gratitude,
Binyamin L. Jolkovsky,
Editor in Chief
JewishWorldReview.com


[ D A I L Y I N S P I R A T I O N ]



WISDOM EACH DAY:
Being tolerant for the Creator






[ L I F E S T Y L E S ]

Fats, sugars may affect brain chemistry

Heart drug could help muscle growth

Dr. Ed Blonz: Moderation is key

Consumer Reports on JWR: Printer showdown: Inkjets vs. lasers



[ I N S I G H T ]

Tresa McBee: The price of success: When being a responsible father is not enough

Argus Hamilton's political zingers!
Joe Bob Briggs: Jobs, jobs, jobs


---
AIR MARSHALS DEFEND 'CONTROLLED SCARING' POLICY
Marshals trained to be scariest people on plane, government says — Andy Borowitz
---


Terry Eastland: The Education Gadfly stings again

Capital Comment: Daily news notes, political rumors, and important events that shape politics and public policy in Washington and the world

David Horowitz: The problem with America's colleges --- and the solution (SMART!)

Mort Zuckerman: After bubbles, a double dip?

Bill Schneider: Bush's European problem

Debra J. Saunders: To the moon, Jerry

Jonathan Turley: 1st Amendment protects even the ugliest among us (CONTROVERSIAL!)

Michelle Malkin: The Homeland Security bill's poison pill

Michael Ledeen: Iran, according to the Times: All the nonsense that's fit to print

Diana West: Tales from the Techno Valley and Forest

Julia Gorin: Jew-Bushing

Wesley Pruden: The rousing chorus of Nervous Nellies (GREAT!)

Tony Blankley: Memo to Powell: In periods of upheaval, the refusal to act gives aid to those bent on destruction

Dennis Prager: What I learned at the Minneapolis Metrodome about liberals and homosexuality

Walter Williams: Freedom of association

Thomas Sowell: "Friends" of blacks





[ W O R T H 1 0 0 0 W O R D S ]

Mallard Filmore

Bob Gorrell

Lurie's World

Jack Higgins

David Cox

Joe Heller

John Deering

(Att. working columnists and editorial cartoonists: Think you have what it takes to be featured on JWR? Drop us a note. And readers: We're always open for suggestions!)



[ F A S T P O L I T I C S&nbsp ]








require ("t-ssi/rtorah.html"); ?>