[ J E W I S H L I V I N G ]
controversy!
T'aint funny
By Raoul Felder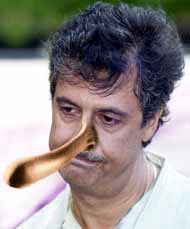 The truth about a lying Arab -- a self-proclaimed "professional media and communications consultant, and senior executive for a national public relations and public affairs company" (read: propagandist and manipulator) -- who, after not getting too far as a comic, succeeded at manufacturing a media controversy targeting Jackie Mason. This isn't a joke, folks. It's an outrage!




reality-check
Flexing Our Political Muscle: This is no time for American Jews to pull their political punches
By Jonathan Tobin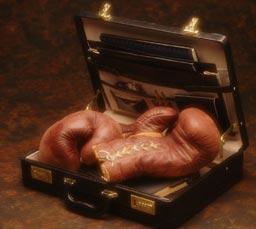 Jews have transformed themselves from a marginal minority into a mainstream community that unapologetically speaks up for what it believes is right. But that hasn't stopped many in the American Jewish community from working hard to play down the idea.




DEAR JWR READERS
JWR IN THE NEWS --- LITERALLY!


Your favorite website was recently profiled by the prestigious wire service, United Press International (UPI). Writer Lou Marano did an absolutely amazing job capturing, not only what makes JWR tick --- but also the overall situation we are facing. If you have a free moment, click here to view the feature-length article.


In friendship --- and gratitude,
Binyamin L. Jolkovsky,
Editor in Chief
JewishWorldReview.com


[ D A I L Y I N S P I R A T I O N ]



WISDOM EACH DAY:
The wise and time






[ L I F E S T Y L E S ]

Mark Kellner: On computers: How's that? A tech critic reflects, briefly

Dr. Peter Gott: Craving chalk; Shingles cure?; tremors do not necessarily mean Parkinson's disease

Bruce Williams on JWR: Renters want to buy



[ I N S I G H T ]
Kathleen Parker: The Beverly Hillbillies just got dumber

Argus Hamilton's political zingers! (SUPER-SIZED!)
David Grimes: You're not in preschool anymore!


---
AIRLINES TO CHARGE EXTRA FOR AIRSICKNESS BAGS
Carriers assess $100 'flotation fee' for use of seat cushions — Andy Borowitz
---


Deroy Murdock: WANTED: ONE EYEWITNESS TO HISTORY (PLEASE READ!)

Capital Comment: Daily news notes, political rumors, and important events that shape politics and public policy in Washington and the world

Bob Greene: The car radio delivered the intended sound

Joanne Jacobs: First, win the war

David Limbaugh: Public education versus homeschoolers

Clarence Page: When jail lures more than college does

Leonard Pitts, Jr: A rewarding life as a working stiff

Jeff Jacoby: With 'eternal friends' like these

Suzanne Fields: In search of moral tone (GREAT!)

Jonah Goldberg: Seeing through Saudi PR effort

Larry Kudlow: Perps, tax-cuts and a rising stock market could win the Senate and the House for the GOP

John Leo: Blackboard bungle

George Will: Wonderment in the stars

Bill O'Reilly: Let's misbehave

Cal Thomas: The great Welsh disappointment





[ W O R T H 1 0 0 0 W O R D S ]

Mallard Filmore

Bob Gorrell

Lurie's World

Jack Higgins

Mike Shelton

Jeff Koterba

Mike Lukovich

Gary Varvel

John Deering

(Att. working columnists and editorial cartoonists: Think you have what it takes to be featured on JWR? Drop us a note. And readers: We're always open for suggestions!)



[ F A S T P O L I T I C S&nbsp ]








require ("t-ssi/rtorah.html"); ?>