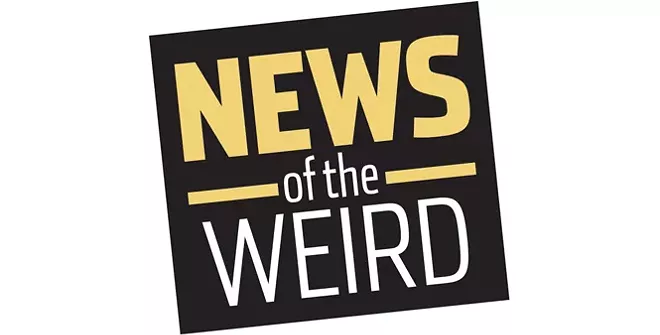 • At the Inn Town Motel in Norway, Maine, manager Andrew Coombs was not happy when he entered the room rented by Sean Schoomaker and his girlfriend July 11, hoping to collect payment, and discovered more than 50 large spiders, most of them tarantulas, in plastic boxes.
"I booted him," Coombs told the Sun Journal. "He must have snuck them all in at night. We never would have allowed that in our motel."
Animal Control officer Robert Larrabee responded to the motel, and the Maine Warden Service confiscated the arachnids, taking them to a facility for exotic animals in Lewiston.
Schoomaker was cited for possession of three tarantulas that are illegal in the state. [Sun Journal, 7/15/2020]
• Officers from the Somerset County (Maine) Sheriff's Department and the Maine Drug Enforcement Agency searched the apartment of Jessica Hutchins, 36, looking for drugs on July 13, which they found, according to Sheriff Dale Lancaster.
"We also got an alligator out of her home," he told the Morning Sentinel.
The 2-foot-long gator was being kept in Rubbermaid tubs, but, Lancaster said, having an alligator in Maine is illegal without proper permits.
Officers seized a total of $12,000 worth of drugs along with the alligator, and Hutchins and several accomplices were charged with a number of drug-related crimes.
The gator was removed by the Maine Warden Service. [Morning Sentinel, 7/16/2020]