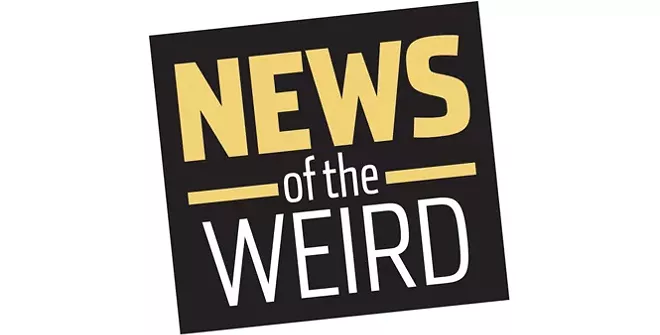 • For more than a decade, an "editor" has been roaming the streets at night in Bristol, England, "correcting" violations of standard grammar, lately being described as "The Apostrophiser" since much of his work involves adjusting (or often obliterating) that punctuation mark. On April 3, the BBC at last portrayed the vigilante in action, in a "ride-along" documentary that featured him using the special marking and climbing tools that facilitate his work. His first mission, in 2003, involved a government sign "Monday's to Friday's" ("ridiculous," he said), and he recalled an even more cloying store sign -- "Amys Nail's" -- as "so loud and in your face.") [The Guardian, 4-3-2017]
• A "locked" cellphone (tied to a particular carrier), though a nuisance to purchasers, is only a several-hundred-dollar nuisance.
A more serious crisis arises, as News of the Weird noted in 2015, when farmers buy $500,000 combines that they believe they "own," but then find that the John Deere company has "locked" the machines' sophisticated software, preventing even small repairs or upgrades until a Deere service rep shows up to enter the secret password (and, of course, leaves a bill!).
Deere's business model has driven some farmers recently to a black market of fearless Ukrainian hackers (some of the same risky dark-net outlaws believed to pose online dangers), who help put the farmers back on track. Now, eight state legislatures are presently considering overriding Deere's contract to create a "right to repair." [NPR via High Plains Public Radio, 4-20-2017]