Jewish World Review July 27, 2005 / 20 Tammuz, 5765
A case for profiling
By Monica Crowley
http://www.JewishWorldReview.com | Millions of commuters in the New York region headed in to work today to face another cold reality of the world we now live in: random bag checks.

Nearly four years after the attacks that forever changed New York, the terror bombings in London have brought another level of scrutiny and security to our daily lives.

The intentions of the police are good — and most New Yorkers are taking the whole thing in stride. But with 4.5 million people riding New York's subway every day alone you might compare this to looking for a needle in a haystack.

And to make their job even more difficult the authorities have their hands tied by the constraints of political correctness. The police can't single out passengers based on their appearance they may only search in numerical order. For example, every fifth or tenth person might be stopped and checked.

Racial profiling is out of the question.

But why? We certainly know "who" wants to attack us — Muslim extremists. And while we should never settle on a single description of what a terrorist might look like, we certainly have a track record to work with.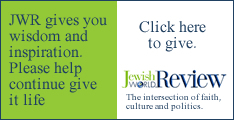 Whether it's the faces of the men now wanted in the London attacks, the so-called shoe-bomber who tried to blow-up a passenger jet in mid-air, or the pictures of the hijackers who crashed the jets into the World Trade Center and the Pentagon on September 11th.

I'm not suggesting we should stop and search people based "only" on what they look like but it should be one of the tools available to police. Shaking down a 70-year-old grandmother on New York's subway, just because she's the 10th person in line is a waste of precious time and resources.

Preventing innocent people from being blown-up is a bigger cause than political correctness, or protecting someone's feelings. After all, the terrorists aren't bound to these rules. Their targets can be anyone, regardless of who they might look like.
Every weekday JewishWorldReview.com publishes what many in in the media and Washington consider "must-reading". Sign up for the daily JWR update. It's free. Just click here.
JWR contributor Monica Crowley co-hosts MSNBC's Connected Coast to Coast, which airs on the network daily at noon and 5 pm EST. Comment by clicking here.

07/20/05: Flip-Flop Flap
06/24/05: An indecent interview

© 2005, MSNBC