Jewish World Review August 26, 2004 / 9 Elul 5764
Game Over?
By Jonathan Tobin
No, a few swing votes are up for grabs
http://www.jewishworldreview.com | To listen to the National Jewish Democratic Council last week, there seemed to be little doubt about the outcome of 3 1/2 years of Republican efforts to improve upon their dismal showing in the 2000 presidential race.

For them, the meaning of a new poll could be summed up in two words: Game over.

The poll commissioned by the Democrats showed their candidate Sen. John Kerry beating President George W. Bush, 75 percent to 22 percent, among Jewish voters. That was virtually a repeat of the election results of four years ago, when exit polls showed Bush getting just 18 or 19 percent in his race with former vice president Al Gore.

This has to be considered a big disappointment for the GOP, considering all the time and effort they put into improving their standing among American Jews. If the Democrat poll is taken at face value — and there is good reason it should — then all the progress the Republicans thought they'd made via close relations with Israel and a post-Sept. 11 emphasis on the war on terror was in vain.

The inescapable conclusion would seem to be that Jews, after African-Americans — the most consistently Democratic portion of the electorate, and almost as liberal — are incapable of being lured away from their loyalty to the party they've given most of their votes to since Franklin Delano Roosevelt. Whatever inroads might have been made on Israel were lost, the poll seems to be saying, over domestic issues where Jews are as predictably as liberal as ever. Even more to the point might be the conclusion that though reasonable Democrats can't deny that Bush is a good friend of Israel, fewer Jewish voters consider that issue to be a determining factor.

All this would seem to be leading the Republicans to one inevitable conclusion: Give up on the Jewish vote.

But should they? Not if they want to win!
THEY STILL HAVE A PROBLEM
Despite well-founded optimism, the Democrats still have a problem. They know their candidate will win the Jewish vote. Even in 1980, when the Republicans got their highest total ever with Ronald Reagan's 40 percent of the Jewish vote, Democrats still won a majority of Jews. But the silver lining for the Bush camp in all of this is that it really doesn't have to do all that much better among Jewish voters in order to have an impact on this election. If this race turns out to be yet another squeaker, then all the Republicans need are a few more votes to put them over the top in key states like Florida or even Pennsylvania. The question is what issues can possible motivate the few swing voters left?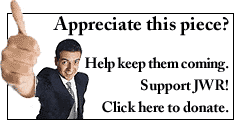 The clue lies in the Democratic poll itself, which showed that of all issues, the GOP does best among Jews on Israel. Their sample showed that 34 percent trusted the Republicans more than the Democrats on relations with Israel. Granted, that still left 66 percent saying they relied more on the Democrats, but it was better than any other issue for the GOP.

It isn't likely that domestic issues will convince many Jews to abandon the Democrats. On topics such as the separation of church and state, abortion, gun control and even taxes, the overwhelming majority of Jews seem to be invulnerable to the siren call of the Republicans. For good or ill, most American Jews still seem to consider the liberal "social justice" agenda as inseparable from their religious beliefs. Indeed, for some, the liberal catechism has long since been a very comfortable substitute for religion, and virtually nothing Bush can do will win them over. But for a small number of Democratic centrists, Israel looms large.

For this group, that tiny sliver of the electorate that can be called "Jewish Reagan Democrats," Israel is a decisive issue. These are the nominal Democrats who have shown they will abandon their party's presidential nominee if they are given a good reason.

Some leading liberals, such as columnist Leonard Fein, can write that Bush's "pro-Israel" stand isn't good for the Jewish state. That's because he, as well as some former Clinton-administration officials who anticipate returning to office under Kerry, tend to think that pressure, rather than support, for the current government in Jerusalem is what's needed to achieve peace in the Middle East.
ENTICE THE REAGAN DEMOCRATS
But the few Jewish swing voters aren't likely to agree with them. These Reagan Democrats have been impressed by Bush's shunning of Yasser Arafat, coupled with his unprecedented support for the right of Israel to hold onto parts of the territories and his denunciation of the Palestinian right of return. Skeptics can point to contrary stands by others in the administration, as well as the possibility that policy will change if he is re-elected. But events such as last week's revelation that Bush is willing to support Israel's right to build in existing settlements, such as Ma'ale Adumim and other places, that are not on the bargaining table for abandonment remain meaningful for some Jewish voters.

Of course, if the Democrats are smart, they can keep these Reagan Democrats loyal. Kerry should — as he has on other points where Bush has taken a strong pro-Israel stand — pointedly endorse the administration's position on settlements, and redouble his efforts to convince voters that it is a first Kerry administration rather than a second Bush one that will be better for Israel. That might be tough for those like former peace envoy Dennis Ross (who will likely return to that job if Kerry wins) to swallow, but it's smart politics, as well as good policy.

If they don't, will Bush be able to peel off enough Democrats to give himself a few more Jewish percentage points? It's far from certain, and plenty of time exists for Bush to stumble further on this issue and other ones. But if he does, and if it comes down to another thriller in places like Florida, that might be all he'll need for another term.

One small indicator that points to good news for Bush was widely ignored last week. That was the poll among Israelis that showed, in contrast to American Jews, a large majority preferring Bush to Kerry. In a race that wasn't close, this item might be as insignificant as a poll of Frenchmen. But given the possibility of another dead heat in November — and the fact that there are thousands of Israelis with American citizenship and the ability to cast absentee ballots in their home states — it isn't so trivial.

The odds are against a small number of pro-Israel Jewish votes being the difference in the election. But this year, a few cast overseas in, say, Ma'ale Adumim, for example, might be as decisive as any cast in Palm Beach or Broward counties.

Stay tuned. The battle for the Jewish vote isn't over yet.
Every weekday JewishWorldReview.com publishes what many in Washington and in the media consider "must reading." Sign up for the daily JWR update. It's free. Just click here.
JWR contributor Jonathan S. Tobin is executive editor of the Philadelphia Jewish Exponent. Let him know what you think by clicking here.
>
require ("/home/jwreview/public_html/discovery_channel/banner.html"); ?>
© 2004, Jonathan Tobin