[ J E W I S H L I V I N G ]
ecumenical
Catholic mission to Jews ends
By Uwe Siemon-Netto
Catholic and Jewish leaders in the United States have concluded the two faiths must not target one another for mission but jointly heal the sick world instead.




controversy!
So, why is there
no "Jews for Jihad"?
By Michael Freund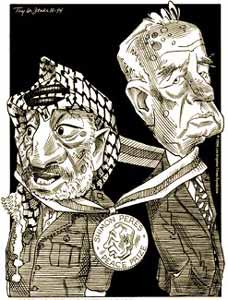 You have got to hand it to the Israeli left. Though their vision of an Oslo-inspired peace lies in ruins, and their political folly brought the State of Israel to the brink of war, groups such as Peace Now and Gush Shalom refuse to admit defeat.
advice
Ask Wendy
By Wendy Belzberg

Trial makes friendship trying; experiencing one loss, facing another; wives and brides
~~
Our pundette is wacky --- and wise. And she'll answer almost any question! Try her.
DEAR JWR READERS
JWR IN THE NEWS --- LITERALLY!


Your favorite website was recently profiled by the prestigious wire service, United Press International (UPI). Writer Lou Marano did an absolutely amazing job capturing, not only what makes JWR tick --- but also the overall situation we are facing. If you have a free moment, click here to view the feature-length article.


In friendship --- and gratitude,
Binyamin L. Jolkovsky,
Editor in Chief
JewishWorldReview.com


[ D A I L Y I N S P I R A T I O N ]



WISDOM EACH DAY:
Ancient celebs; our cyclical world






[ L I F E S T Y L E S ]

"Keep your pants up and your underwear out of sight or no service"

Aid for Afghans comes with Tennessee drawl

New cancer drug doubles life expectancy

Catherine Seipp: "Anna, Anna, fabulous Anna, Anna Nicole. You're so outrageous..."????

Dr. Peter Gott: Wood-working can lead to health problems

Consumer Reports on JWR: The best, ouch-free bandages



[ I N S I G H T ]

Suzanne Fields: Charlton Heston's most difficult role

Geoffrey Nunberg: On language: Who becomes a "legend" most?

Ian Shoales: Law and Disorder --- and Starbucks


---
BEER DRINKING PROMOTES LONGER LIFE, SAY DRUNKEN PILOTS
Recently Fired Cockpit Drunks Use Controversial 'Longevity Defense' — Andy Borowitz
---


Argus Hamilton's political zingers!

Benjamin Shapiro: She is the cause of West Nile Virus deaths

Marianne M. Jennings: Cheapskates (OUCH!)

Tresa McBee: Hey, fellas: Beware the fairer sex ain't always fair

Capital Comment: Daily news notes, political rumors and important events that shape politics and public policy in Washington and the world

Bob Tyrrell: Beachcombing among the fat of the land

Jack Kelly: Mineta's war on what? (GREAT!)

Edward I. Koch: My potpourri

Larry Elder: Brazil to U.S.: Send money

George Will: A Mideast Specter: Modernity

Ann Coulter: Make liberals safe, legal and rare

Cal Thomas: The disunited states

Thomas Sowell: Random thoughts





[ W O R T H 1 0 0 0 W O R D S ]

Mallard Filmore

Jack Higgins

Gary Varvel

John Deering

Wayne Stayskal

Bob Gorrell

(Att. working columnists and editorial cartoonists: Think you have what it takes to be featured on JWR? Drop us a note. And readers: We're always open for suggestions!)



[ F A S T P O L I T I C S&nbsp ]








require ("t-ssi/rtorah.html"); ?>