[ J E W I S H L I V I N G ]
outlook
Rescued from the depths
By Rabbi Avi Shafran
The ordeal of the nine coal miners in Pennsylvania who were finally rescued after more than three days in a dark, dank hellhole holds substantial food for thought, perhaps even the seeds of a newfound appreciation of an ancient Jewish custom.




perspective
Israel's Labor out in cold
By Neill Lochery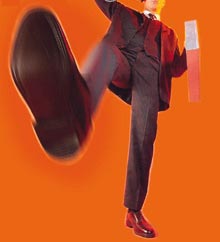 Today, exactly 9 years after Israel agreed for the first time to negotiate with a Palestinian delegation whose members belonged officially to the PLO, we wonder: Can the party of Yitzchak Rabin and Shimon Peres ever return to power?
reality-check
Geriatric warriors
By David M. Weinberg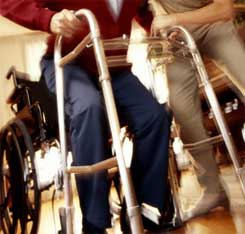 Israel's laggard battle against Palestinian terrorism reminds me of geriatric care. By the time a senior citizen or his family accepts the fact that he needs help, the situation usually has deteriorated to the point at which the patient needs twice as much treatment.
The Sharon government is afflicted with the same syndrome.
DEAR JWR READERS
JWR IN THE NEWS --- LITERALLY!


Your favorite website was recently profiled by the prestigious wire service, United Press International (UPI). Writer Lou Marano did an absolutely amazing job capturing, not only what makes JWR tick --- but also the overall situation we are facing. If you have a free moment, click here to view the feature-length article.


In friendship --- and gratitude,
Binyamin L. Jolkovsky,
Editor in Chief
JewishWorldReview.com


[ D A I L Y I N S P I R A T I O N ]



WISDOM EACH DAY:
The difference between self-esteem and vanity






[ L I F E S T Y L E S ]

Drug for colon and rectal cancers approved

Dr. Ed Blonz:"Hydrogenated" (as opposed to "partially" hydrogenated); Can too much exercise cause low energy?

Consumer Reports on JWR: The advantages of cooktops and wall ovens



[ I N S I G H T ]

Joe Bob Briggs: Some remorse, please

David Grimes: Computers, airplanes and Canada don't mix

Argus Hamilton's political zingers!

Lenore Skenazy: Braving difficult steps

Zev Chafets: Fight it out now (SPOT-ON!)

Capital Comment: Daily news notes, political rumors and important events that shape politics and public policy in Washington and the world

Michael Barone: No Democratic tide

Laura Ingraham: Bubba's revenge

Jack Kelly: When Gore said he wanted to be his 'own man,' what was he thinking!?

Michael Long: The Dangerous Lull on Iraq: And how today's delay proves why 9/11 had to happen

Doug Bandow: Declare war before going to war

Bill Schneider: Overdosing on prescription drug promises

Larry Kudlow: Every which way but loose

Frank Gaffney: Trading with the 'enemy'

Bill Steigerwald: Tell us what you really think, Ann Coulter

Bill Tammeus: LETTER FROM CAIRO: Meet the Egyptian writer who provided foundation for radical form of Islam

John Leo: License plate brouhaha is about ideology, not free speech (GREAT!)

Cal Thomas: Pre-election season





[ W O R T H 1 0 0 0 W O R D S ]

Mallard Filmore

Bob Gorrell

Gary Varvel

Jeff Koterba

Wayne Stayskal

Mike Lukovitch

Michael Ramirez

(Att. working columnists and editorial cartoonists: Think you have what it takes to be featured on JWR? Drop us a note. And readers: We're always open for suggestions!)



[ F A S T P O L I T I C S&nbsp ]








require ("t-ssi/rtorah.html"); ?>