[ J E W I S H L I V I N G ]
real life
TAKE MY RABBI … PLEASE!
By Jonathan Tobin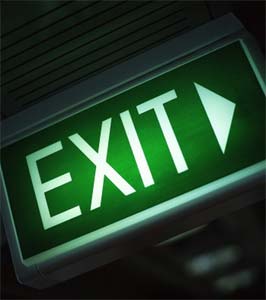 It ain't easy being a rabbi in a non-Orthodox Jewish congregation these days.




jerusalem diarist
A letter to friends in America …
From a Jerusalemite
By Sharon Siegel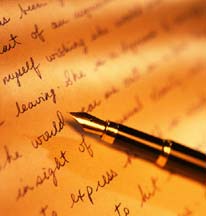 One of the sanest dispatches from the frontlines in the war against Jewry and democracy that you will read in a very long time. Raw emotion mixes with spot-on analysis.
l'chaim
Everything's Relative
By Jordan "Gorf" Gorfinkel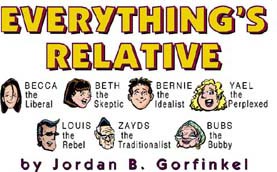 The latest installment of the Jewish Gen-X strip with ecumenical appeal. Online exclusively at JWR.
DEAR JWR READERS
JWR IN THE NEWS --- LITERALLY!


Your favorite website was recently profiled by the prestigious wire service, United Press International (UPI). Writer Lou Marano did an absolutely amazing job capturing, not only what makes JWR tick --- but also the overall situation we are facing. If you have a free moment, click here to view the feature-length article.


In friendship --- and gratitude,
Binyamin L. Jolkovsky,
Editor in Chief
JewishWorldReview.com


[ D A I L Y I N S P I R A T I O N ]



WISDOM EACH DAY:
Self-inflicted judgments






[ L I F E S T Y L E S ]

Doctors debate hormones for men

Missing DNA links trigger one type of MD

Dr. Peter Gott: Allergy to anesthetics must be heeded; pain the, ah, "rump" is no joke

Bruce Williams on JWR: Selling partial interest



[ I N S I G H T ]

Leonard Pitts, Jr: Racial 'colorblindness' is silly

Ian Shoales: Rummy's monkey

Argus Hamilton's political zingers! (SUPER-SIZED!)

Suzanne Fields: Nourished on forbidden fruit

Capital Comment: Daily news notes, political rumors and important events that shape politics and public policy in Washington and the world

Robert Tracinski: Blood for oil

Martin Sieff: Dubya as dream Democrat

Andy Rooney: The preemptive strike

Bob Greene: The gift that came in the mail one day (GREAT!)

David Limbaugh: The nobleness of black conservatives

Kathleen Parker: Biology burdens and marriage

Wesley Pruden: Our Saudi friends, so eager to help

Debra J. Saunders: Humane or inane? (SUPERB!)

Charles Krauthammer: Open season on Cheney

George Will: Suicide squeeze

Nat Hentoff: The Congressman from the Constitution

Bill O'Reilly: A friendly reminder





[ W O R T H 1 0 0 0 W O R D S ]

Mallard Filmore

Lurie's World

Bob Gorrell

Gary Varvel

Gary Brookins

Wayne Stayskal

Jack Higgins

Michael Ramirez

(Att. working columnists and editorial cartoonists: Think you have what it takes to be featured on JWR? Drop us a note. And readers: We're always open for suggestions!)



[ F A S T P O L I T I C S&nbsp ]








require ("t-ssi/rtorah.html"); ?>