[ J E W I S H L I V I N G ]
outrageous!
White House wants replace 'Visa Express' genius with … woman accused of not helping to free kidnapped American kids in Arab lands
By Joel Mowbray
The State Department has long shown its propensity to thwart American interests, including those of parents desperately seeking the safe return of their children trapped in foreign lands. With the formal nomination of Maura Harty, the White House seems willing to follow State's lead.




taipei diarist
A down-home
davening ... in Taiwan
By Neil Steinberg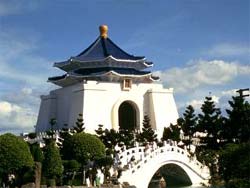 A Big City columnist, in a hotel room a world away, observes first hand the will-not-die sense of community and faith that has helped sustain Jewry throughout the ages.
advice
Ask Wendy
By Wendy Belzberg

Wedding woes are a commercial for elopement; miss the bris (circumcision)?
~~
Our pundette is wacky -- and wise. And you can ask her almost anything! But be prepared for her reply.
DEAR JWR READERS
JWR IN THE NEWS --- LITERALLY!


Your favorite website was recently profiled by the prestigious wire service, United Press International (UPI). Writer Lou Marano did an absolutely amazing job capturing, not only what makes JWR tick --- but also the overall situation we are facing. If you have a free moment, click here to view the feature-length article.


In friendship --- and gratitude,
Binyamin L. Jolkovsky,
Editor in Chief
JewishWorldReview.com


[ D A I L Y I N S P I R A T I O N ]



WISDOM EACH DAY:
"This path is short but long, and the other path is long but short"






[ L I F E S T Y L E S ]

Dr. Robert A. Wascher's health report: Botulinum Toxin & Post-Stroke Spasticity; Intestinal Hormone Kills Appetite; Bone Marrow Cells Improve Blood Flow in Vascular Disease; Effectiveness of Restraining Orders on Domestic Violence

Bruce Williams on JWR: Claiming zero dependents 'not so good'; lowered price home for kin may wind up being very expensive to seller



[ I N S I G H T ]

Mark Steyn: Friends in low places (SPOT-ON!)

Bill Steigerwald: On media: A funny take on a new kind of suburb

Argus Hamilton's political zingers!

Art Buchwald: Things in my attic

Bob Greene: Of coal mines, and light in dark places (GREAT!)

Capital Comment: Daily news notes, political rumors and important events that shape politics and public policy in Washington and the world

Tom Purcell: Vacationless prez and gutless Americans

Edward I. Koch: Traitors: Journalistic and 'patriotic'

Dick Morris: As America unites, Gore goes divisive

Linda Chavez: Privileged to suffer (OUTRAGEOUS!)

Clarence Page: Jousting with Rumsfeld's fog of wit

Debra J. Saunders: See Dick talk

Larry Kudlow: The GOP's pro-investor lifeline

Greg Crosby: Private sorrow as public spectacle (EXCELLENT!)

Michelle Malkin: What's bugging the environmentalists?

George Will: Declare war first

Mona Charen: Think big on Middle East (FANTASTIC!)

Thomas Sowell: "Unnecessary attention"





[ W O R T H 1 0 0 0 W O R D S ]

Mallard Filmore

Lurie's World

Jeff Koterba (PRINT-IT!)

Gary Varvel

Wayne Stayskal

Jack Higgins (CLASSIC!)

Michael Ramirez

(Att. working columnists and editorial cartoonists: Think you have what it takes to be featured on JWR? Drop us a note. And readers: We're always open for suggestions!)



[ F A S T P O L I T I C S&nbsp ]








require ("t-ssi/rtorah.html"); ?>