[ J E W I S H L I V I N G ]
on psychology
Self-blinding perceptions
destroy spiritual growth
By Dr. Abraham Twerski, M.D.
One of the most perceptive articles you will ever read on self-growth. And we are not exaggerating! Authored by our Daily Wisdom columnist.




reality-check
Teaching the 'Palestinians'
to shoot straight
By Neill Lochery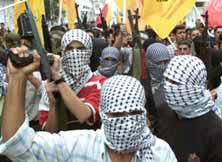 With the demise of the proposal for an international conference to solve the Israeli-Palestinian conflict, momentum is gathering for a new plan, sponsored by the United Nations and European Union, which if implemented would prove even more disastrous for peace prospects.
on media
Maybe they should change
their name to "Glamoyr"
By Robert Leiter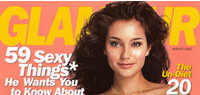 What does it mean when a major fashion magazine like Glamour turns its attention to one of the most significant and seemingly intractable problems in the world today - the Israeli-Palestinian conflict? Has some corner been turned? Or is this just a bid for topicality or a bit of seriousness to balance the fluff?
DEAR JWR READERS
JWR IN THE NEWS --- LITERALLY!


Your favorite website was recently profiled by the prestigious wire service, United Press International (UPI). Writer Lou Marano did an absolutely amazing job capturing, not only what makes JWR tick --- but also the overall situation we are facing. If you have a free moment, click here to view the feature-length article.


In friendship --- and gratitude,
Binyamin L. Jolkovsky,
Editor in Chief
JewishWorldReview.com


[ D A I L Y I N S P I R A T I O N ]



WISDOM EACH DAY:
Beating fools






[ L I F E S T Y L E S ]

Airline offers free 9/11 flights

Dr. Peter Gott: Who should make decisions about therapy?; Can expired milk and eggs lead to health problems if consumed?

'Fullness' hormone may help fight obesity

Consumer Reports on JWR: Battle of the suds



[ I N S I G H T ]

Phil Perrier: Drawing the curtain on a 'forgiven' lifestyle

Richard Lederer: On language: Hop up to the kangaroo words (FUN, BUT CHALLENGING!)

Argus Hamilton's political zingers!

Bob Tyrrell: They pave the way for corruption, not personal responsibility

Capital Comment: Daily news notes, political rumors and important events that shape politics and public policy in Washington and the world

Lenore Skenazy: Can't trust those tourists! (YOU AIN'T GONNA BELIEVE THIS!)

Marianne M. Jennings: Ode to a coal miner

Michael Ledeen: Can You Keep a Secret?: The media silence on Iran

Lori Borgman: We look like this . . . no, Kidman!

Tresa McBee: Why women will remain the at-risk gender

Bill Tammeus: Letter from Riyadh: Moderate Muslims must reassert control over Islam

Matt Towery: The hidden story in the Reno v. Bush race (AHEAD OF THE CURVE!)

Wesley Pruden: The grim summer of abducted children

Suzanne Fields: The rising tide of anti-Semitism

Larry Elder: Free trade vs. "fair" trade

Ann Coulter: Nuclear annihilation can't be confined to the outer boroughs

Cal Thomas: Saudi Arabia: Friend Or Foe?





[ W O R T H 1 0 0 0 W O R D S ]

Mallard Filmore

Mike Shelton

Gary Varvel

Wayne Stayskal

Jack Higgins

Bob Gorrell

Joe Heller

(Att. working columnists and editorial cartoonists: Think you have what it takes to be featured on JWR? Drop us a note. And readers: We're always open for suggestions!)



[ F A S T P O L I T I C S&nbsp ]








require ("t-ssi/rtorah.html"); ?>