[ J E W I S H L I V I N G ]
reality-check
WAKE-UP, JEWS!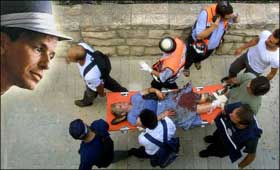 Yesterday, a Palestinian terrorist in Jerusalem killed 7 and wounded 86 in a bombing at Hebrew University's Frank Sinatra Cafeteria. Ol' Blue Eyes has a message for Jewry.




controversy!
Time for Israel to ignore "world opinion" and do what it must
By David Fischer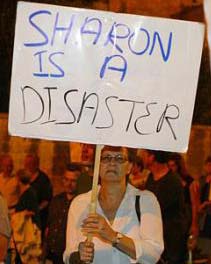 There are obvious moral and ethical protests to mass-transferring a population. I do not believe we should care anymore. I know that I do not care.
perspective
Wealthy terrorists are not interested in diplomatic solutions
By Cal Thomas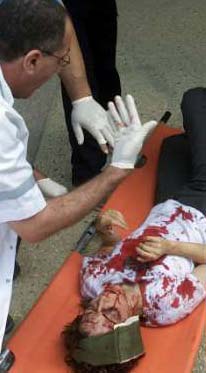 A new report by the National Bureau of Economic Research in Cambridge, Mass. looked at the jobs, educational level and family circumstances of 129 Hizbullah militants, based in Lebanon, who were killed in operations against Israel over the past 20 years. The study found that compared with the Lebanese population as a whole, Hizbullah members were less likely to come from poor families and more likely to have finished secondary school. A similar link between terrorism and educational attainment was found for Palestinian suicide bombers.
It may surprise some, but the study found no link between violent acts and poverty. Violence in the Middle East, the study says, seems to have increased when local economic conditions were improving, not getting worse.






DEAR JWR READERS
JWR IN THE NEWS --- LITERALLY!


Your favorite website was recently profiled by the prestigious wire service, United Press International (UPI). Writer Lou Marano did an absolutely amazing job capturing, not only what makes JWR tick --- but also the overall situation we are facing. If you have a free moment, click here to view the feature-length article.


In friendship --- and gratitude,
Binyamin L. Jolkovsky,
Editor in Chief
JewishWorldReview.com


[ D A I L Y I N S P I R A T I O N ]



WISDOM EACH DAY:
When apologizing is wrong






[ L I F E S T Y L E S ]

Mark Kellner: On Computers: Off to college ... with eMachines

Dr. Peter Gott: Treatment for motion sickness

Pot-like chemical helps beat fear

Consumer Reports on JWR: The quest for the perfect jeans



[ I N S I G H T ]

Tresa McBee: Girl: The new four-letter word?

Richard Lederer: On language: A pouchful of synonyms (FUN!)

Art Buchwald: Another icon

Capital Comment: Daily news notes, political rumors and important events that shape politics and public policy in Washington and the world

Argus Hamilton's political zingers!

Suzanne Fields: When law isn't rocket science

Jack Kelly: The greatest strategic deception since Eisenhower convinced Hitler the Allies were going to land at the Pas de Calais? (GREAT!)


Michael Kelly: America on the hinge of risk and opportunity

Jack Kemp: No economic security without economic growth

Wendy McElroy: Practicing 'intellectual virtue'

Dick Morris: Bush must focus on big picture

Bill Schneider: Time for prez to let Cheney go

Benjamin Shapiro: There oughta be a law


Diana West: 9-11 anniversary shouldn't come with apology (OUTRAGEOUS!)

Linda Chavez: Putting the needs of the unions before America's

MUGGER: Election-year handcuffs

Larry Elder: THE FAST FOOD III VS. THE WHOPPER

Ann Coulter: Working for the Poor from Malibu to East Hampton with Citizen Gore

Bob Tyrrell: Believing the unbelievable

Thomas Sowell: Bad medicine





[ W O R T H 1 0 0 0 W O R D S ]

Mallard Filmore

Jack Higgins

Gary Varvel

Bob Gorrell

Michael Ramirez

Wayne Stayskal

(Att. working columnists and editorial cartoonists: Think you have what it takes to be featured on JWR? Drop us a note. And readers: We're always open for suggestions!)



[ F A S T P O L I T I C S&nbsp ]








require ("t-ssi/rtorah.html"); ?>