Jewish World Review August 5, 2002 / 27 Menachem-Av, 5762
Silencing Frank Sinatra's ghost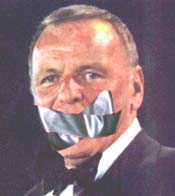 http://www.jewishworldreview.com | That we Americans take our cultural icons too seriously is pretty much indisputable. Every detail about them, be it rumor or truth, somehow manages to wind up in print, on TV, radio, and the 'Net. You can't seem to escape. It's annoying and overwhelming --- but it is part of our celebrity obsessed culture.
Do some of us take the term "cultural icon" literally? By our lights, we certainly think so.
A case in point is a letter we received over the weekend from a woman claiming to be Frank Sinatra's daughter, Nancy.
On August 1, our Israel correspondent, Harvey Tannenbaum, penned a black humor piece about the Hebrew University bombing, which occurred at a building paid for and named after the legendary song man. The piece has Ol' Blue Eyes looking down from Heaven and crying about the loss of life on the Jerusalem campus. At one point in his "open-letter" Sinatra says: "I am getting really worried for the Jews of the Jewish State." He goes on to wonder "Why you Jews don't act more like us Italians."

"When the bad guys tried to f--k us over in our own neighborhood," "Sinatra" continues, "we knew how to fight back and destroy them. All we had were Mafia families and the goodfellas. There were no top-notch armies and tanks and airplanes!"
Mr. Tannenbaum then has Sinatra offering to help Ariel Sharon end his problems. "Arik Sharon, my compare, listen to me. If you cannot take care of your business of protecting Jews with Jews, I still have lots of friends in Little Italy who I can send a message to in their dreams. They will go after these Jew killers! They would consider it honorable work."
In the meantime, "I will send a message to the lawyers and executors of my estate to send some more cash to rebuild my cafeteria/dining hall in the Jerusalem mountains."
To date, we've received HUNDREDS of letters, including many from Americans of Italian descent, cheering on the author and congratulating "Frank." (Perhaps the best came from a woman who identified herself only as "Dolores P." She stated simply and passionately: "If for some reason Frankie can't make contact with his friends, let me know and I'll call them personally - as you know, Italian blood is thick and we always take care of family and friends. Great article.")
But one of Mr. Sinatra's heirs was not amused. Nancy Sinatra wrote to us: "How dare you use my father's name with such an article." She asked us to remove the article and for good measure "CC-ed" her missive to a lawyer in a not so subtle way of sending us a message. Out of respect to her father, we've removed the offending column. (We have been assured that we had nothing to fear legally, though if any of our readers would like to become JWR's legal counsel on a pro-bono basis, we would appreciate it.)
Have we gotten to the point in society when satire can have you facing lawyers, who will go after you even if they know there is no legal grounds to do so? When it is obvious that the "offending" document is satire, because the piece opens "Although I am getting the news in Heaven, you, no doubt, remember me as "Ol' Blue Eyes from Hoboken." ???
What would Frank Sinatra say about stifling free speech and artistic freedom?
Mr. Tannenbaum was trying to make a point. A valid one, we believe. But are the kids of "icons" taking the status thing a tad too far?
Enjoy this writer's work? Sign-up for the daily JWR update. It's free.
Binyamin L. Jolkovsky is JWR's editor in chief. Comment on this article.

© 2002, Jewish World Review