[ J E W I S H L I V I N G ]
In Praise of Unilateralism
By Jonathan Tobin


Ronald Reagan, whose single-minded opposition to Communism offended many liberal establishment types, was often lampooned as the epitome of the blundering "ugly American," the buffoon who would have done better to listen to his European betters.
That is exactly the stereotype that many critics would like to hang on George W. Bush. But though respect in Europe and on the editorial pages of The New York Times will flatter his vanity, here's hoping that when it comes to foreign policy, Bush will prefer to play the cowboy rather than the preppie eager to fit in with the Europeans.
Teaching the doves deadly lesson
By Wesley Pruden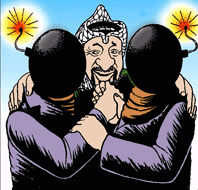 The world held its breath nine weeks ago, waiting to see what Israel would do to answer the suicide bombing at the Tel Aviv disco. Ariel Sharon held back, not so much to give peace a chance because the Israelis know that men cry peace, peace when there is no peace, but against the hope, however slender, that the Palestinians meant it when they said they wanted to slow the mayhem. Israel got its answer.




[ D A I L Y I N S P I R A T I O N ]


WISDOM EACH DAY: Start your day off right with words that will speak to your heart and soul. (NEVER TRIED THIS FEATURE? YOU DO NOT KNOW WHAT YOU ARE MISSING!)



[ F A S T P O L I T I C S&nbsp ]




[ L I F E S T Y L E S ]

Dr. Peter Gott: Vitamins that can make you sick --- or kill you

Bruce Williams on JWR: Roth IRAs for education




[ I N S I G H T ]



John Ziegler: Misplaced media fan-aticism about football tragedies

Ian Shoales: When the future was "as real as a dime"

Bill Schneider: Japan becomes the latest country to see its politics become personalized

Mort Kondracke: Conferences: Gridlock or compromise?

David Limbaugh: Bush-Ashcroft should reject racial preferences

Jules Witcover: You can go home again

Kathleen Parker: Yates should not face death penalty for child drownings

Marianne M. Jennings: Our masters: The animals

Don Feder: Gun suits seek to end private ownership

Jonah Goldberg: Condit story is real news, not just ratings hype (SUPERB!)

Bill O'Reilly: The truth hurts

Suzanne Fields: Romance in a petri dish

Thomas J. Bray: Dubya and John Adams and modernity

Ben Wattenberg: McCullough's John Adams

Charles Krauthammer: A Vacation Bush Deserves

George Will: Bad rap on college sports

Cal Thomas: President Bush's compromise

Thomas Sowell: "Racism" in word and deed





[ W O R T H 1 0 0 0 W O R D S ]

Mallard Fillmore: Back to ... bashing

Gary Varvel: Arafat's blame game

Gary Brookins: Bubba's memoir

Jeff Koterba: The missing 18 1/2 minutes

(Att. working columnists and editorial cartoonists: Think you have what it takes to be featured on JWR? Drop us a note. And readers: We're always open for suggestions!)








require ("t-ssi/rtorah.html"); ?>