[ J E W I S H L I V I N G ]
Getting biblical
By Rabbi Avi Shafran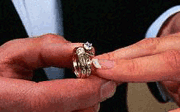 Invoking the Bible in order to oppose the enshrining of marriage in the nation's most fundamental legal document, as Jewry's Reform movement and others are doing, is an exercise in disingenuousness.


WOMEN WARRIORS
By Douglas Davis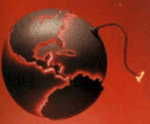 Islamic clergy have debated for months whether women should be used for terrorist operations against Israelis. The answer came just two days before a mother-of-two set out on her mission when the High Islamic Council in Saudi Arabia issued a fatwa [religious decree] exhorting women to become suicide bombers.




War and Peace ...
By Yaffa Ganz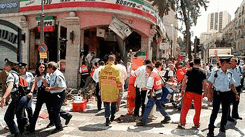 This is about as instant an article as you are ever going to read. News items will, of course, reach you more quickly, but for an almost-but-not-quite-on - the-spot article, thanks to the internet, this is fast. Fast enough is to give you an idea of what normal, "quiet", everyday life means in Israel today.




[ D A I L Y I N S P I R A T I O N ]


WISDOM EACH DAY: Start your day off right with words that will speak to your heart and soul. (NEVER TRIED THIS FEATURE? YOU DO NOT KNOW WHAT YOU ARE MISSING!)




[ L I F E S T Y L E S ]

Dr. Peter Gott: Leg edema is treatable

Consumer Reports on JWR: Is your home wiring safe?



[ V I D E O ]

Late Night Video Recap: Busy last night? Went to bed early? We have a short daily digest of TV's late-night jesters. (UPDATED EVERY WEEKDAY!)

MSNBC Hourly Update


[ I N S I G H T ]



Amitai Etzioni: Live from Washington it's …. "Everyone's a Criminal"

Robert A. Levy: Public funding for judicial elections: Forget it

Bill Tammeus: Visited while asleep by gang of magical mischief makers

Paul Campos: Saying thanks while it matters

Michael Kelly: An insane love, a failed grade, a lost job --- all with a great perspective

Michael Ledeen: More Dithering Dems

Dave Shiflett: Life on the Lam: A travel journal of sorts

Bill Schneider: Bush backers out to remake prez yet again

Clarence Page: Outsider Bubba comes 'in' again

Linda Chavez: W's 'Read My Lips'

Bob Greene: If you would like to help the children (OUTRAGEOUS!)

Suzanne Fields: Anti-missile shield madness

George Will: Justice 'under the law' at the Hague

Larry Elder: Martin Luther King III --- get off his back

Ann Coulter: The ACLU's speech exception to the pornography amendment

Cal Thomas: The abusive date. Why are we surprised?





[ W O R T H 1 0 0 0 W O R D S ]

Mallard Fillmore: How the NCAAresponds to its fans' concerns

Gary Varvel: Cloning Mutants

Jeff Koterna: Parental aspirations in the New Century

Mike Shelton: PRINT THIS TOON! THAT'S ALL WE'LL SAY!

(Att. working columnists and editorial cartoonists: Think you have what it takes to be featured on JWR? Drop us a note. And readers: We're always open for suggestions!)








require ("t-ssi/rtorah.html"); ?>