[ J E W I S H L I V I N G ]
The majesty of man
By Rabbi Mordechai Kamenetsky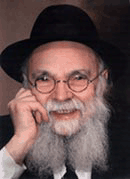 Rabbi Avraham Pam, who passed away a week ago today, epitomized the intended result of religious teachings internalized by flesh and blood man. Whether you are a believer or secular, Jewish or not, this tribute will move and inspire you.


The mufti's message of hate
By Jeff Jacoby


While Israel is not bound by the First Amendment, it is bound by the terms of its accords with the Palestinian Authority. Article XXII of the 1995 Oslo 2 agreement, for example, obliges the parties to "abstain from incitement, including hostile propaganda, against each other" and to "take legal measures to prevent such incitement by any organizations, groups, or individuals within their jurisdiction." So why is an immature Israeli jailed, while the mufti remains free?




[ D A I L Y I N S P I R A T I O N ]


WISDOM EACH DAY: Start your day off right with words that will speak to your heart and soul. (NEVER TRIED THIS FEATURE? YOU DO NOT KNOW WHAT YOU ARE MISSING!)




[ L I F E S T Y L E S ]

Dr. Peter Gott: Dietary fat worsens pain of gallstones

Consumer Reports on JWR: A few basics for picking beers




[ I N S I G H T ]


Wesley Pruden: You have to be Bubba to make this work

Steve Young: Pitch day at the Mouse

Debra J. Saunders: A clean, well-lighted place for junkies

Lori Borgman: The test for parents

Robert L. Haught: Dog days are laughing matter, stories set tails wagging

Bob Greene: In Nebraska, 1,350 boxes of clothes and toys

Dayle A. Shockley: Mad as …. --- and doing something about it!

Diana West: The transformation from Green Mountain State to Green Activist State is all but complete

Lewis A. Fein: Down(sized) and Out in L. A.: Life in Unemployment Hell (GREAT!)

Greg Crosby: A beautiful Day

Jules Witcover: On replacing Helms

Michelle Malkin: No, Liddy, no

John Fund: Lauch Out: Who'll replace Jesse Helms?

Bob Tyrell: Time for some political prophecy

Cal Thomas: RUN, AL, RUN!





[ F A S T P O L I T I C S&nbsp ]



[ W O R T H 1 0 0 0 W O R D S ]

Mallard Fillmore: Public school memory #134

Gary Varvel: McScam

Bob Gorrell: The fish story

Wayne Stayskal: Thanks, Connie

(Att. working columnists and editorial cartoonists: Think you have what it takes to be featured on JWR? Drop us a note. And readers: We're always open for suggestions!)








require ("t-ssi/rtorah.html"); ?>