ONE OF THE EARLY Jewish giants of American baseball was Lipman Pike.
Pike was of Dutch-Jewish descent. Born in Manhattan in 1845, he was raised in Brooklyn, where he and his four siblings became enthralled in the newly-invented American game of baseball.
Pike played on a number of amateur teams, including the Brooklyn Atlantics, where he demonstrated his prowess as a fast base runner. Supposedly, he once competed in a 100-yard dash against a trotting horse --- and won.
And all of this long before the advent of steroids.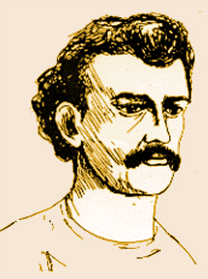 Pike

In a radical departure from accepted practice, the Philadelphia Athletics, in 1866, offered Pike the unprecedented sum of $20 per week to play third base for them. Pike accepted and went down in history books as America's first professional baseball player.

He was an excellent choice for the Athletics. In his year with them, Pike established baseball's first home-run record with six runs in one game.

Pike was restless and a somewhat mercenary ballplayer. After a year with the Athletics, he bounced from team to team in a long, gypsy-like career.

In 1867, he received a substantial salary increase from New York's infamous Boss Tweed and played for his team, the New York Mutuals, for one season. Pike became fed up with the corrupt Tweed management and, in 1868, returned to his first love, the Brooklyn Atlantics, then the top team in the East.

While playing for the Atlantics during the 1870 season, Pike, at second base, took part in one of the most famous games of early baseball, when his team beat the Cincinnati Red Stockings by a score of 8 to 7.

The extraordinary part about the Atlantics' victory was that, going into the game, the Cincinnati Reds had an unprecedented winning streak of 130 games.

For the next 17 years, Pike played with a score of different teams as both player and player-manager. He was noted as both a powerful batter and the fastest base runner of his time. Pike's last game was in 1887 with the New York Metropolitans of the American Association. He was then 42 years-old.

Pike retired from baseball that year and finally settled down to a "nice Jewish job" in Brooklyn --- he became a successful haberdasher. But he kept in touch with the game as a part-time umpire.

Pike died in 1893 at the young age of 48, a now almost forgotten pioneer of America's great game.