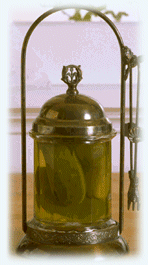 'Kosher' ain't just
about pickles anymore.
'Kosher' now in mainstream

AN ESTIMATED 10 MILLION AMERICANS buy kosher foods on a "regular" basis, a new study by the leading kosher food industry consulting firm, Integrated Marketing Communications, reveals.
Despite the fact that nearly 80% of kosher consumers are not Jews, there is every indication that Jews continue to be the engine that drives this market. Data obtained from supermarket chains and distributors shows that only 800,000 Jews eat kosher foods 365 days a year. But a growing number, perhaps as many as another 1.2 million Jews, are buying kosher on a more regular basis.
Menachem Lubinsky of IMC notes: "The fact that kosher foods are now more available in supermarket stores all over the U.S. has meant a return to kosher by many Jews. These are the children of Jews, who while not observant, used to frequent the kosher butcher and buy other kosher products."
In addition, studies, including the U.S. Jewish Population Study (1990), indicate that as many as 92% of American Jews participate in at least one seder on Passover. Estimates are that as many as 4 million (out of 6 million) American Jews eat kosher foods on Passover, most notably Matzos.
According to a spokesman for Manischewitz, the company produces an estimated 250 million Matzos annually before the Passover season. Distributors and manufacturers have long attributed nearly 40% of a $4 billion kosher market to Passover sales.
For the purposes of the IMC study, only 2 million Jews met the criterion of being considered kosher consumers. Of the remaining 8 million, 30% are believed to be Moslems, Seventh Day Adventists and members of other religious groups who are also believed to seek out kosher products. A growing segment (some 2.5 million Americans) are vegetarians and lactose intolerant who seek out specifically not meat and non dairy kosher food items (identified as "pareve") in supermarkets. The balance of the kosher consumers are believed to be ordinary Americans who opt for the standard because of a perception that kosher is better and healthier.
Supermarket executives point out that the "fiercely brand loyal" Orthodox consumers often propel kosher sales, even with the many other groups who buy kosher. Some studies have shown that Orthodox Jews with their larger families and observance of the Jewish Sabbath and holidays spend on average $10,000 per family. Said one: "All I need is 100 such families and they will spend $1 million in my store during the year."

POTENTIAL FOR MORE GROWTH

An analysis of demographic information on the groups that currently buy kosher shows that each is in a position for even more growth. Jews are participating more in kosher environments, from dinners to family parties, raising the prospect that as many as 3 million Jews may ultimately make up the Jewish segment (excluding Passover). Many studies show that even Jews who consider themselves Conservative, Reform, Reconstructionist, and "unaffiliated" have at least a superficial Orthodox background.
Muslim officials contend that as many as 10 million Muslims may actually be buying kosher, but kosher food distributors believe that only 25% are regular customers in general food establishments while the majority are buying their non-pork foods in Halal stores.
Some 50 million lactose intolerant Americans may significantly increase the number of consumers looking for "pareve" products. Additional growth could come from other religious groups and ordinary American seeking some sort of standard in the foods that they eat.
Says Lubinsky: "Kosher may indeed become the Good Housekeeping seal of approval for many Americans. Supermarket executives say that many ordinary Americans love certain kosher food items such as deli items, bagels and matzos and others buy kosher because they believe the products are of better quality.
In the past decade, the number of U.S. manufacturers who produce kosher has risen from 5,800 to 9,200. They produce 46,000 packaged goods and well over 100,000 ingredient items. Kosher food sales are approaching $4 billion, roughly the size of the natural foods market in the U.S. However, U.S. companies are producing more than $55 billion in kosher food products.
In developing the latest profile of the U.S. kosher market, it is noteworthy that consumers in the U.S. kosher market can choose from 345 kosher symbols, according to the latest survey by Kashurs Magazine (September, 1998). A year ago, the respected kosher periodical listed 304, but Rabbi Yosef Wikler, the publisher notes: "The increase from last year's 304 kosher agencies to 345 does not reflect only new agencies, but a more rigorous attempt on our part to gather information."
The leading four kosher certification symbols -- illustrated above, in the section banner -- continue to be the OU (Orthodox Union), OK (Organized Kashruth Laboratories), Kof-K (Kof-K Kosher Supervision) and Star- K (Star-K Kosher Certification). The majority of kosher food products in the United States are certified kosher by the OU.