Jewish World Review July 5, 2005 / 28 Sivan, 5765
Let's Not Let the Art World Politicize Sept. 11 at Ground Zero
By James Lileks


http://www.JewishWorldReview.com | Given the ugliness of the proposed replacement for the World Trade Center, it's no surprise that the Ground Zero museum is also marred with the usual modern moral chancres. Early reports on the planned International Freedom Center noted that some exhibits would hammer America for its historical sins, and include art from institutions that produced the usual tendentious agitprop.

Gov. George Pataki spoke out. And he said no. From the New York Daily News:

"`Sure, there can be debate,' Pataki said when asked if his tough stance jeopardized free-speech rights. `But I don't want that debate to be occurring at Ground Zero."'

Oh dear. Monsieur guv, this is precisely the place it should be occurring. Unless hallowed spots are debased by the crankling mewlings of wise art-school grads, freedom of speech means nothing.

Quick! Someone draw a falling body in a tank of urine. Quick! Commission a large mural showing a chimp-footed George W. Bush having relations with a hook-nose forelocked camel who's eating a Palestinian baby. Get one of those artists who do "installations" to feed Jell-O into a fan to simulate the rain of body parts. Float a Macy's Parade-sized balloon of Michael Moore in the plaza. Anything. Please, just don't make it another solemn monument to a grave day. Since many believe the government planned Sept. 11, perhaps the museum could blow itself up twice daily like Old Faithful.

A New York Times editorial noted that Pataki and his knuckle-dragging ilk want "censorship in advance — for political oversight of an artistic process that has only begun to evolve." Well, the likelihood that the evolution will end up with a statue of Uncle Sam spearing Darth bin Laden with a flagpole is rather small. Self-hatred for the West goes so deep among the urban-arts class that any artist who wants to make his reputation will assume a fashionable globalist stance.

If Sept. 11 isn't an ideal opportunity to show how Che would have reacted to the global AIDS crisis better than Ronald Reagan did, well, then the hijackers died in vain.

Of course, Sept. 11 has already been sanctified in artworks, but it's the sort of patriotic kitsch that horrifies the art world. Big hard-eyed eagles superimposed on the World Trade Center, collectible plates with a painting of the flag raised at Ground Zero, cast-iron models of the towers with "Never Forget" written in lovely script on the base. That sort of thing. Heart-tugging stuff for the Norman Rockwell fans.

You could fill the entire museum with this sort of material, and it would be a more accurate account of the culture's reaction than some tiresome artist's 12-foot collage of Abu Ghraib pictures run through a few Photoshop filters. In fact, tourists might actually go to a kitsch-stuffed museum. No one's going to fly from Peoria to see a gigantic picture of George Washington with a Saddam moustache ordering his slaves to kick Salvador Allende in the pants. O.K., we get it. We're the worst. Bad us. Whatever.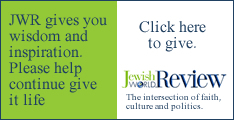 Let's make a deal. The internationalist demographic gets the theaters, the movie houses, the art galleries, the schools, the ateliers, the lecture halls; they're free to fill the air with as many Contradictions and Uncomfortable Truths and Provocative Reinterpretations as they like. But would it be too much to ask that whatever is built at Ground Zero simply recalls that horrible day, and honors the dead?

For some, yes. For some, the refusal to politicize an event is a political act.

For some, Sept. 11 has already become something more potent than a day of murder and fear: It has become a metaphor. It is something to be interpreted, filtered, parsed, a box of white bones that need the flesh of explication and context.

For others, for the Franklin Mint demographic, Sept. 11 was the day when a secretary looked out the window and saw the end of her days screaming toward her.

Build a memorial to her. Or build nothing at all.
Every weekday JewishWorldReview.com publishes what many in in the media and Washington consider "must-reading". Sign up for the daily JWR update. It's free. Just click here.
JWR contributor James Lileks is a columnist for the Minneapolis Star Tribune. Comment by clicking here.
© 2005, James Lileks