Jewish World Review July 8, 2005 / 1 Taamuz, 5765
Widgets put fun in data access
By Mark Kellner
http://www.JewishWorldReview.com | ST. LOUIS — As I write, the cheapest gas within a mile of my hotel, more or less, is a BP station, at $2.12 per gallon for regular, about a dime less than in suburban Maryland. The lyrics to "Just the Way You Are," as sung by the incomparable Diana Krall, are available at the press of a button. And, it is expected to be in the mid-80s to low-90s this week in what they call the Gateway City.

All that information came from the Internet, but not via a Web browser. Rather, I used a bunch of desktop "widget" programs that go out to the Internet and pull down the information I want, then display it in a format that is generally easy to read.

Many of these widgets are reference-oriented, others are just fun, and some are goofy. Most are free, although some — or the program used to run them — can cost a few dollars.

As noted before, Konfabulator (www.konfabulator.com) is the granddaddy of all this: It publishes a program for Windows and Mac that allows you to put as many of these as you like on the desktop. The program is free to try, but paying $19.95 to buy it seems like the least one could do.

Konfabulator's widgets appear permanently on a computer desktop, although they can be closed at will via the menu bar and other commands. Well more than 1,000 widgets are available, most for Mac but many for Windows, and include some useful ones such as a gas-price tracker, a countdown calendar to the debut of the next Xbox video game machine, and webcams for traffic spots, surf locations and the like.

The greatest promoter of widgets is Apple Computer, whose sheer presence in the market with its new Mac OS X Tiger operating system guaranteed attention for this feature. Dashboard, the Apple widget program, keeps widgets hidden until a press of the F12 key brings them to the fore. That's a different approach from Konfabulator, but many users and developers seem to like it: In the slightly more than two months that Tiger has been out, more than 720 widgets have been developed.

Performance of widgets can be uneven. The lyric-displaying widget, for example, won't scroll no matter how hard I try. The AusWebCam widget won't let me view any of the "100 Australian webcams" it advertises. These hiccups may vanish the next time I start my computer, or they may require a tweak to the widget by the creator.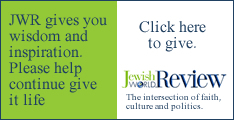 Some widgets are clearly on the edge of software development, but often there are alternatives. One on-screen reference tool hung up often, while another worked superbly.

Because most widgets are "freeware" or "shareware," you can shop around before settling on any item. And because Konfabulator supports Mac, there is an alternative to Dashboard if you don't like it, and vice versa.

A caveat about widgets is to guard your screen "real estate." My gallery of Dashboard widgets looks far more crowded on a 12-inch notebook display than it does on a 20-inch desktop screen. It would seem that caution in selecting widgets to fit a given area is in order, or perhaps developing different sets of widgets for different situations.

Overall, I'm having fun with these things. When Microsoft Corp. introduces its next version of Windows, there might be even more to celebrate, which could be one thing that keeps computing fun.
Every weekday JewishWorldReview.com publishes what many in in the media and Washington consider "must-reading". Sign up for the daily JWR update. It's free. Just click here.
JWR contributor Mark Kellner has reported on technology for industry newspapers and magazines since 1983, and has been the computer columnist for The Washington Times since 1991.Comment by clicking here.
© 2005, News World Communications, Inc. Reprinted with permission of The Washington Times. Visit the paper at http://www.washingtontimes.com