Jewish World Review July 1, 2005 / 24 Sivan, 5765
New Mac portable worth a tryout
By Mark Kellner
http://www.JewishWorldReview.com | TERRE HAUTE, Ind. — The early summer heat radiates from the pavement here even after the sun has gone down. When checking into a hotel, a traveler is comforted by two things: a chilling air conditioner and free wireless Internet access.

A third thing comforts as well, Apple Computer's $1,699, 12-inch PowerBook, a tiny traveler that will be my companion for the next couple of weeks. Walking around a major event, I was in need of something smaller and a bit lighter than my normal notebook. You might have a similar need. If so, this PowerBook is worth examining.

Unlike the "titanium" PowerBook I normally use, this new model is encased in aluminum. It looks a bit sleeker than its predecessor — some might say chic — and there are other nice visual and practical touches. The click button for the touchpad is raised above the pad, making it easy to find — but a constant reminder when typing. The optical drive is on the right side of the unit, not the front, while connectors for all sorts of ports are on the left.

There are two hard plastic, very tiny "feet" at the top of the screen, making sure there is some space between the keyboard and the liquid-crystal display. This is important to help prevent dirt from transferring from the keyboard onto the screen. It's a "dirty secret" of computing: Our fingers have oils and dirt that stay on the keyboard after use. If the keyboard gets in contact with the screen, this stuff may mar the surface. Although I still would use a keyboard cover such as the $14.95 ScreensavRz from www.radtech.us for ultimate safety and convenience, the Apple improvement is helpful.

How well does the PowerBook perform? Quite nicely. The 1.5 GHz PowerPC processor is a nice one, but I'd love to see what the faster 2.0 GHz model could do. That Apple is making 512 megabytes of RAM a minimum for all its PowerBook portables is a very important step; you really need that amount to have a happy computing experience, and it's not expensive. A total of 1.25 gigabytes of RAM can be installed in the machine, Apple says.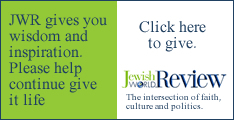 The base model of the 12-inch PowerBook, list price $1,499, has only a 60 gigabyte hard-disk drive and an optical drive that reads DVDs and reads/writes compact discs. I'd spend the extra $200 for a 20 gigabyte upgrade on the hard drive (80 gigabyte total) and the optical drive that will burn CDs and DVDs. It will prove to be a smart move in the long run, I believe.

If there is any shortcoming in this PowerBook, I'd have to say it is in the audio. If you were you to buy the 12-inch PowerBook as a desktop replacement — a computer used primarily in one place, but portable if necessary — you would want to buy some external speakers and, of course, an external monitor. The PowerBook includes an external connector that plugs into a miniature video port on the side of the machine.

There are arguments to be made for buying a larger notebook, whether it runs with Mac or Windows.

But if size and style are your priorities, the 12-inch PowerBook is a very good buy.
Every weekday JewishWorldReview.com publishes what many in in the media and Washington consider "must-reading". Sign up for the daily JWR update. It's free. Just click here.
JWR contributor Mark Kellner has reported on technology for industry newspapers and magazines since 1983, and has been the computer columnist for The Washington Times since 1991.Comment by clicking here.
© 2005, News World Communications, Inc. Reprinted with permission of The Washington Times. Visit the paper at http://www.washingtontimes.com