Jewish World Review July 29, 2005 / 22 Tammuz, 5765
More needs to be done in Darfur
By Cokie and Steve Roberts


http://www.JewishWorldReview.com | Last winter, Colleen Connors was driving through the Washington, D.C., suburb of Bethesda and saw a sign on the side of a synagogue that read "SAVE DARFUR." "I almost crashed my car," said Connors, a public relations executive with two young daughters.

The human disaster in the Darfur region of the Sudan had "just been eating away at me," said Connors, and now there was something she could do about it. She decided that every "community of faith" should be able to express a similar sentiment, and sat down with two friends, Laura Kumin and Jamie Butler, to plan a strategy.

They designed a 3-by-8-foot banner with white letters on a green background that reads, "A Call to Your Conscience." A message in the corner refers viewers to a Web site, www.SaveDarfur.org, sponsored by more than a hundred organizations that are trying to keep the Darfur crisis from slipping off the political radar.

The banners, said Connors, are aimed at everybody from the "mom in a minivan" who might donate money or write her congressman to the journalists, think-tankers and Hill staffers who directly influence policy. "They need to see this over and over again," she said.

The idea is taking off. Eight or nine houses of worship in the Washington area are already on board. The Save Darfur Coalition has just ordered a hundred banners, and will soon be selling them to congregations around the country. The goal, said Martha Heinemann of the Coalition, is to raise the issue of Darfur "higher on the administration's policy list."

The statistics about Darfur, ravaged by civil war since early 2003, are so huge that they almost lose their meaning: as many as 400,000 dead and 2.5 million homeless, with 200,000 refugees in neighboring Chad. Heinemann praises the Bush administration for labeling the carnage as "genocide," but adds, "Still more needs to be done."

Things have brightened a bit recently. Rival factions have settled a long-standing conflict in southern Sudan, and a new government has taken power in Khartoum. But Darfur, in the eastern part of the country, continues to boil, and life remains extremely hazardous for refugees crammed into unsafe and unsanitary camps. A United Nations spokesman described the danger: "The people are still very, very afraid of the activities of the militias. There is a lot of banditry going on in Darfur."

The most pressing issue is the role of the 3,000 troops from African countries now patrolling the region. More are needed, says Heinemann, and their mandate must be broadened. Presently they act mainly as observers, without authority to use their arms to protect civilians. And those civilians badly need protection, particularly women who fear capture and rape by roving marauders. Even international aid workers are constantly at risk.

American and NATO forces are providing logistical support for the Africans, but there's no appetite in the West for direct military involvement. Apparently there's no appetite for confronting China, either, which gets 6 percent of its oil from the Sudan and threatens to block resolutions that would deepen the international commitment to Darfur.

That's why Heinemann is right when she says that more needs to be done. But as Colleen Connors, the banner lady, observes, Darfur is an easy place to shove aside: "It's far away, and a lot of the names are hard to pronounce." TV cameras don't get there very often, and when they do, the murky tribal politics of the region are almost impossible to explain.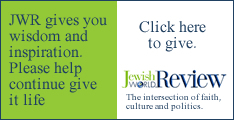 That's why public pressure is so critical. Earlier this month, religious congregations across America participated in a National Weekend of Prayer and Reflection, aimed at raising awareness about Darfur. Next month, 400 college students from 90 campuses are expected in Washington for a workshop on how to organize grassroots efforts promoting the same objective.

About 230,000 green bracelets have been sold at $1.50 apiece to raise money. The motto inscribed on them is inspired by a favorite phrase of President Bush: "Not On Our Watch — Save Darfur."

A "witness tour" is planned for the fall, bringing refugees from the camps in Chad to speak directly to Americans. Meanwhile, pictures from the camps can be viewed on the Web site of the Holocaust Museum in Washington (www.ushmm.org/conscience).

So here's a summer project beyond beaches and barbeques. Buy a bracelet, view a picture, tell a friend, send a check. Better yet, put a banner on the side of your church or synagogue or mosque. As Colleen Connors said, your neighbors "need to see this over and over again."
Every weekday JewishWorldReview.com publishes what many in in the media and Washington consider "must-reading". Sign up for the daily JWR update. It's free. Just click here.
Comment on the Roberts' column by clicking here.
© 2005, NEA