Jewish World Review

Travelers record messages for troops in journal left along trail

http://www.jewishworldreview.com | (KRT) SANTIAGO CANYON, Calif. — Atop a knoll 2,000 feet up in the foothills of the Santa Ana Mountains, sitting on a pile of rocks under a U.S. flag, mountain biker Wes House quietly reads.

He thumbs through a small journal whose reddish-brown cover has been warped by the sun and the rain on a breezy hill overlooking a rugged canyon painted with cactus, sagebrush and chaparral of scrub oak.

"I was wondering if it would still be up here," says House, 35.

He left the journal at this popular scenic spot along the 16-mile Santiago Truck Trail two months ago, not knowing what to expect.

In a typed message, he invited fellow mountain bikers and hikers who use the rocky dirt trail to jot down messages to U.S. troops in Iraq and Afghanistan.

House, a veteran of the Persian Gulf War, returned July 1 to retrieve the journal, which someone had placed in a Ziploc bag to keep it dry. He plans to mail the journal to troops.

Resting beside his 22-pound, polished-gray GT Avalanche bike, House gingerly opened the journal. Out spilled words of love, support and gratitude from 160 mountain bikers who, like House, were overcome with the beauty surrounding them while pondering the ugliness half a world away.

"I was just thinking," read one entry, by Pat, of Tustin, Calif., "how I've been coming here for the last 20 years and bitching because it's gotten so crowded. I was humbled by this flag and this book. I hope you all get home."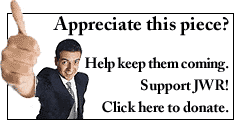 House, a former Navy petty officer who for three years worked "crash and salvage" detail on aircraft carriers, had fastened his then-empty journal to the 8-foot metal pole with a yellow bungee cord.
He had been to the flag often. It has flown atop a steep, rugged trail called "the Luge" since shortly after Sept. 11, the gift of a stranger. Now it was his turn to do something, House thought - "What can I do to boost the morale of our troops? Morale must be low, and there's nothing like a little encouragement from back home."
So he bought the journal at Staples for $10 and left it on the hill with three pens - red, black and blue. Now, two months later on a morning that began cloudy but ended up sunny, House peeled off his pewter Oakley sunglasses and flipped through the 4 ½-by-6 ½-inch journal.
The loudest sound atop the knoll was the gentle clanking of the metal flag fastener slapping against the pole. Cars far below on Live Oak Canyon Road were a faint hum. Birds chirped.
As House read the journal, he heard the voices of strangers - some who wrote short messages of thanks, others who penned deeper thoughts, some who kept things simple: "The sun is shining, the breeze is blowing, and I thank you for the opportunity to enjoy this day," one wrote.
Two bikers mentioned spotting a mountain lion, and a few more saluted the late Ronald Reagan. But most of the 160 entries were directed at the troops.
"I ride here and it makes my life worthwhile, for it gives me the solitude to reflect on my troubles and triumphs, and allows me to try to figure out solutions to what I think is my crazy world," wrote mountain biker Brian Collins, 37, of Yorba Linda, Calif.
"My gaze is drifting over red striated rocks rising slightly higher than a black raven which is floating over an immense canyon below, and I am thinking there aren't too many places I'd rather be in the whole world," Collins wrote.
"I pray every day that you will make it back to your places of solitude and reflection here in the States."
Collins, who works in the parts division at Mazda North American Operations in Irvine, Calif., said he first thought it odd when he saw the journal while taking a break during the 16-mile ride on a Tuesday afternoon last month.
Pondering a horrible place of roadside bombings and beheadings far, far away, Collins poured his thoughts out in black ink - neat, in all caps.
"I think it's a great thing," he said of the journal. "It's a small thing, but they (troops) need to hear from us. ... Forget about the politics - remember the human beings."
House, a native of Fort Worth, Texas, who grew up in Anaheim, Calif., has been riding the Santiago Truck Trail for about five years. Compared to mountain-biking trails at lower elevations, it is fairly free of traffic - it's the toll road of the foothills, without the cars.
House now lives in Rancho Santa Margarita, Calif., and rides the trail three to four times a week, usually alone. His wife, Michele, 36, doesn't ride - nor do his children: Danny, 14, Alyssa, 4, and Nick, 3.
But the journal has nothing to do with politics, he said. He chafed at being called a die-hard patriot for coming up with the journal idea, saying he's just a guy who cares about the men and women fighting in Iraq.
House said he hopes his small gesture will inspire people to reflect.
"Sometimes when you're having a tough day - gas prices are up, someone cuts you off on the freeway - the small things get in the way," he said. "Well, you should try to keep it all in perspective.
"Those troops over there are working 16- to 18-hour days. Your minor annoyances are nothing compared to what they're going through."
House spends a lot of time running around the county in his Ford Taurus, going from doctor's office to doctor's office, as a sales rep for pharmaceutical firm Pamlab LLC, based in Covington, La.
It's easy to get caught up in it all - the minutiae and hassles of life, he said.
Throughout his typical workday, he runs into a lot of people who believe they have a lot to gripe about - people who are not happy, and consumed by their problems.
When House feels like complaining, he tries to think about what's happening in the Middle East.
So does a writer in the journal who identified himself as Jeff B:
"Just when I think I'm having a bad day - gas prices, work, running `the girl' here and there, not finding time to ride - I think about you folks in Iraq, Kuwait ... and G-d bless you - my day doesn't look so bad.
"I'm living in America because you folks keep us safe ... get back home to your families."
For House and others who share his passion, mountain biking is therapy. His thoughts run free.
Before he took off down the twisting, jagged Luge trail that drops 800 feet into the canyon, House stopped to admire the spindly, yellowish blooms of an echeveria. The colorful plant stood out in a soothing landscape of greens and tans.
"I'm blessed," House said. "Especially on this day, maybe people should spend a little time reflecting on the fact that they, too, are blessed to be living in such a beautiful place."
Every weekday JewishWorldReview.com publishes what many in Washington and in the media consider "must reading." Sign up for the daily JWR update. It's free. Just click here.
Comment by clicking here.

© 2004, The Orange County Register Distributed by Knight Ridder/Tribune Information Services