Jewish World Review July 19, 2004 / 1 Menachem-Av, 5764

Ian Shoales
Therapy killed the video star

http://www.NewsAndOpinion.com | I read in the Wall Street Journal that there is an upsurge in CEOs seeking therapy. A psychiatrist at Cornell told the Journal, "CEOs have the same relationship problems and life-stage issues as the rest of us." Presumably, the process helps the CEOs get in touch with their vulnerable side, to learn how not to bark at underlings, and even summon up a tear or two when firing personal assistants.

But just a week before this article, there was a feature in the Sunday Times about a new documentary called "Some Kind of Monster," which chronicles the group therapy sessions between members of the heavy metal giant Metallica, and their therapist. Well, actually, he's not a therapist, he's a "performance enhancement coach."

Why do they need therapy? Guitar player Kirk Hammett explains, ''I think most people in rock bands have arrested development. … You're able to start drinking whenever you want, and you can play shows drunk, and you can get offstage and continue to be drunk, and people love it."

Apparently, the therapy worked, and a breakup of the band was avoided. But, as writer Chuck Klosterman pointed out, "If a band's entire aesthetic is based on the musical expression of inexplicable rage, what's left when that rage is vanquished?"

And if a CEO gives up his private jets, cigars, and swagger? When you think about it, both CEOs and rock stars are rewarded for bad behavior, though in different ways.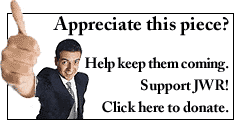 We want CEOs to be ruthless, focussed, and to wear suspenders.

We want rock stars to be self-absorbed, wild, and sport tattoos.

We want CEOs to have private jets. We want rock stars to have private jets.

We want CEOs to have a combover. We want rock stars to let their freak flag fly. We want rock stars to suss the whims of their deranged fans. We want CEOs to sussthe whims of their deranged stock holders.

We want CEOs to keep a relentless eye on the bottom line. We want rock stars to spend the entire bottom line on exotic drugs we have never even heard of.

And deep down? We want CEOs to be indicted. We want rock stars to overdose and die in a sleazy motel with a porno starlet.

Of course, we probably need therapy for our twisted desires, but CEOs and rock stars, don't they need help too? Help that won't interfere with or hamper the work they were born to do? Why not bring the rock stars and CEOs together, under the watchful gaze of a trained performance enhancement coach, of course? They could learn a great deal from each other.

From the CEOs, just for one example, the rock stars could learn the value of sitting for hours in windowless rooms watching Power Point presentations. And from the rock stars, the CEOs could learn the value of chugging a quart of Jaegermeister at three in the morning and vomiting in the van. Remember, everybody, without Power Point the entire global economy would collapse. And without Jaegermeister, the guitar solo as we know it would vanish from the earth. The way I see it, and I'm no performance enhancement coach, it's a total trade off.

Enjoy this writer's work? Why not sign-up for the daily JWR update. It's free. Just click here.

JWR contributor Ian Shoales is the author of, among others, Not Wet Yet: An Anthology of Commentary. Comment by clicking here.

03/09/04: NASCAR Dad and other societal figments
03/01/04: In its efforts to disguise itself, has spam disappeared?
02/24/04: Hi! I'm Ted! Fly me!
02/12/04: It really is a Small World After All
02/04/04: PT, I hardly knew ye
01/29/04: Soylent green is cattle!
01/22/04: Shoales to PETA: Please SHUT UP!
12/23/03: McLattes
12/16/03: Pledge rock
12/10/03: Bad Cat
10/15/03: Subpoena as business model
10/09/03: Milk?
09/29/03: Rejected by a dating site
09/09/03: Dead, Live!
08/27/03: That Wacky Deutschland
08/12/03: Puffery
08/08/03: Love that (other) Bob!
08/04/03: Is the free market doomed?
07/08/03: Hill Williams at Bay
06/30/03: The Amazing Red Faced J-Lo
06/25/03: TCB, KFC
06/16/03: Because it's there
06/11/03: The Matrix regurgitated
06/05/03: Here, Spike
05/07/03: When Hippies Retire
04/09/03: Your mommy could have told you that silence is the stoic's path to personal salvation --- hey, but who would have listened?
04/01/03: Hedging the war
03/28/03: Space: The Penultimate Frontier
03/18/03: Hour of the Narc
03/07/03: Home entertainment tips for pinkos --- no joke!
02/28/03: When Anorexia is a good thing
02/21/03: Aussie invasion!
02/11/03: This museum of my dreams would be no accident
02/03/03: Hasn't 'reality TV' always been with us?
01/30/03: Get tougher?
01/21/03: Spinning through the 'newscycle'
01/16/03: "G" for verbal violence?
01/03/03: Farewell to novelty
12/23/02: Neo-frontiers
12/18/02: A nation of hypochondriacs?
12/11/02: Cursed
11/08/02: Good news for skateboarders looking to keep up with world events
11/01/02: "Extreme" annoyance
10/24/02: Snipers are people, too!
10/16/02: Hockey Therapy
10/08/02: Cupid, the parasite
10/03/02: How to have fun in Africa
09/30/02: If you are employed, you're part of the problem
09/25/02: "Up and comers," go away!
09/18/02: Collectibilitized
09/10/02: Monotone felons
08/20/02: Will we soon need a passport to get caviar, duc a la orange, or Polish sausage?
08/14/02: Law and Disorder --- and Starbucks
08/12/02: Rummy's monkey
08/05/02: Time for some real cultural heroes
07/31/02: Yearning for a nostalgic American product that was neither
07/24/02: Voicemail heaven?
07/18/02: At the movies with your friendly neighborhood curmudgeon
07/12/02: King of Kitsch
07/09/02: Musicians' brains
07/01/02: Where's my cow?
06/24/02: Modern record stores can be a scary proposition
06/21/02: Life IS a movie?
06/19/02: Spreading fertilizer on a dictionary to try to raise a novel
06/17/02: Happy cows are really miserable?
06/12/02: Very similar to a rock
06/05/02: Of Humice and Men
05/30/02: Pooches in sharkskin suits and the end of dog tags
05/22/02: We baby boomers used to rule the roost
05/20/02: The Files now Ex
05/14/02: Entangled in Spider-Man's web!?
05/02/02: April Showers May Come Our Yadda Yadda
04/24/02: From child murderer to milk hawker
04/10/02: New realities
03/21/02: You did it your way? I have to kill you now!
03/14/02: IN THIS CORNER … SUSAN LUCCI AND STEPHANIE ZYMALIST!
03/12/02: Life in the warehouse
01/28/02: Shoes and food
01/24/02: Suspension of disbelief has nothing to do with whether we accept something as real or not
01/22/02: Save the Grand Ole Opry?
12/15/01: If you truly want to appeal to the lowest common denominator …
12/11/01: KNITTING!
12/07/01: Conspiracy by the 'fat suit' lobby?
12/04/01: The future of comic books
11/15/01: Literary tips in a jar
11/12/01: The ectoplasm of a ghost economy
11/05/01: Sumner Redstone's passions
10/31/01: My irony
10/29/01: Even in wartime, America can still bring it home
10/25/01: Ad memories
10/17/01: Pathetic me
10/08/01: War time lite
10/01/01: Confessions of a sarcastic scribe
09/11/01: The end of Mom
09/07/01: Boy Loses Girl, Boy Bites Girl, Boy Gets Girl
09/05/01: Virtual elegance?
08/31/01: I COPY, THEREFORE I AM
08/28/01: Buzz!
08/23/01: Radio workout
08/20/01: I robot, you Jane
08/15/01: A wild and crazy world!
08/10/01: When the future was "as real as a dime"
08/08/01: Garage Dearth!
08/06/01: That Big Clock
08/02/01: Stop the pop!
07/31/01: Catchphrase history of the world
07/26/01: The Bride of Science
07/23/01: That java jive
07/17/01: Homogenized hegemony
07/13/01: Applying Newton's First Law of Physics to textbooks
07/10/01: The dumb and the dead

© 2003, Ian Shoales