Jewish World Review July 2, 2004 /13 Tamuz, 5764
Rivers of Babylon Piece Creates Flood of Reader Letters —Here's My Answer to a Few
By Nate Bloom


http://www.jewishworldreview.com | I have received quite a few e-mails since the first piece I wrote on Jewish soldiers who died serving in Iraq was published on JWR. More than half were from people, Jewish and non-Jewish, who simply thanked me for highlighting the life (and heroic deaths) of the 9 soldiers.

Three letters standout in my mind as worthy of further comment. The nice thing about the Internet is that, unlike newspapers, "space" is never an issue and I do have the space to follow-up.

First, one gentleman, who identified himself as a pro-Israel Catholic, asked whether "my tears" were only for Jewish soldiers. Sadly, he misread the thrust of the piece. Personally, of course, I honor and mourn all American and allied soldiers who were killed-in-action in Iraq or Afghanistan. Their lives are of no lesser value than the life of an American Jewish soldier. I would venture to say that virtually everyone in the American Jewish community feels the same way.

The title of the piece: "More Tears By the Rivers of Babylon" was an allusion to the very famous line in the Bible (Psalms 137:1-6):

"By the rivers of Babylon, there we sat down, we also wept, when we remembered Zion..."

The mourners in the above quote were the Jews of ancient Israel who were forced into exile in the land of Babylon (situated in today's Iraq) when Babylon conquered ancient Judea in 586 BCE. The Babylonians destroyed the First Temple in Jerusalem and carried away most of the population into Babylonian exile. (In 538 BCE, the ancient Persians conquered Babylon and allowed the Jews to return to what-is-now-Israel and re-build the Jerusalem Temple).

Obviously, ancient Jewish exiles in Babylon were not in the same position as American Jewish soldiers dying in what-was-once Babylon —but the poetic parallel was so obvious —"more tears in Babylon" — that I used the allusion. It certainly did not mean that I did not mourn the deaths of non-Jews.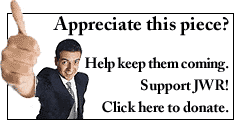 As I told the letter writer, I originally wrote this piece for a largely Jewish audience — the readers of the Forward, a Jewish newspaper. Newspapers for smallish minority groups naturally tend to focus on the actions of members of that group. I am sure that publications for groups as various as Armenian Americans and Japanese Americans have covered the Iraq war from the perspective of their group (soldiers fighting in Iraq — that sort of thing.)

My purpose was simply to spotlight and honor a particular group of soldiers that, naturally enough, are of special interest to a largely Jewish audience. Really, it is not much different from the purpose behind the monument near the Vietnam War Memorial in Washington that honors the women who served in Vietnam. I am sure that the people who worked to erect this monument did not mean to imply that the combat deaths of the men who served in Vietnam were "lesser" — or to exalt women above men. The monument was simply meant to put a spotlight on the service of a particular group.

The second letter came from a woman who asked me to also list the Jewish service personnel who won the Purple Heart (i.e., were wounded) in Iraq. I told her that this was an impossible task. As stated in the piece, the Defense Department no longer keeps records on the religion of military personnel. However, full obituaries on those killed can be found on the Internet and often an obituary will mention that someone is Jewish, Catholic, Baptist, etc. —in connection with the funeral notes. I found a few Jewish soldiers through these obituaries. Also, three of these soldiers were profiled in Jewish newspaper pieces. Two others were mentioned in a general newspaper article about New Jersey Jewish War Veterans post being re-named in their honor. I also eventually compared notes with the Jewish War Veterans and we shared names.

As you can see, it took some work just to "find" these nine soldiers. Newspaper articles about the wounded virtually never mention the faith of the wounded soldier. One exception is Army Specialist Joe Kashnow, of Baltimore, an Orthodox Jewish soldier who was severely wounded in Iraq and helped found an organization called "The Jewish Soldier Foundation." which aims to help Jewish service personnel in a variety of ways. His site is found at http://www.jewishsoldier.org/

I also recommend "Jews in Green", a site for Jewish military personnel. They happen to link to my JWV Iraq article, but I discovered that after discovering the site. An article on Joe Kashnow can be found on this site, too.

Mentioning the above sites is not meant to diminish, in any way, the great work that the Jewish War Veterans do on behalf of active and retired Jewish military personnel

The third letter is short enough to post in full. The author, "James," took issue with my quotation from Cheryl Waldman of the Jewish War Veterans, who said that some "Jewish service personnel are flying under the radar because it might cause problems in their unit or, more seriously, become known to the enemy."

"James" writes:
"I served in Iraq for one year and met many Jewish servicemen and women. In fact, a very close friend of mind is Jewish, served with me in Iraq, and she did nothing to hide her faith but rather proudly proclaimed it. More to the point, at least as the 101st Airborne Division was concerned, our Jewish Chaplain gave Jewish services openly, in front of thousands of non-Jewish soldiers, in the Mosul International Airport Terminal. Believe me, in a combat zone the last thing you are worried about is the religion of the guy next to you. On the other hand, I knew that many of our Jewish servicemen and women did not reveal their Jewishness to the Iraqis. Iraqis are notoriously anti-Semitic and believe everything is a "Jewish conspiracy". With that said, if our soldiers were suspect of any particular religious group among our soldiers, it was the Muslims. This was even more so after one of our own Muslim Soldiers, Sergeant Ackbar, attacked the 101st Airborne Divisions 2nd Brigade in Camp Pennsylvania in Kuwait. Just wanted to set the record straight."

As I told "James," I was simply quoting Ms. Waldman. The piece was originally written for the Forward and space is an issue in a newspaper. I couldn't really qualify her remarks about "problems in the unit" in the space that I had.

My sense from Ms. Waldman, and from articles in the Jewish press interviewing Jewish soldiers, is that "problems in the unit" appear to be almost non-existent. Moreover, "James" is quite correct: Jewish services for military personnel are held openly in Iraq.

However, let's take a common sense perspective that most American Jews know from personal experience and I think it was the type of situation/mindset that Ms. Waldman was most alluding to.

Unless you live in a heavily Jewish enclave, most American Jews are bound to hear a few anti-Semitic remarks in their life. Most are made when the speaker doesn't know a Jew is present. Mostly it is stuff like he "Jewed me down." But even in this day and age, some Jewish kids have a hard time with bullying —especially when they are, say, the one or two Jewish kids in their high school. I can think of three young Jewish American entertainers who grew up in mostly non-Jewish towns who have told interviewers that they experienced hateful remarks while in school: Paul Rudd (best known as Phoebe's husband on "Friends"); Sarah Silverman, a well known comedian/actress; and Debra Messing, of "Will and Grace."

Well, there is no denying the fact that Jews are a small minority in any American military unit. Let's assume you are a Jewish guy with no religious training and Jewishness is not that important to you. You want to avoid any possibility of being the butt of one idiot anti-Semite in your unit —or standing out as different in any way — so you "fly under the radar." Or maybe you were one of the people, like the actors above, who experienced bullying in school. So you decide that while in the military — you'll "stay in the closet" and avoid any possibility of dealing with 'crap' again.

Likewise, there is no question but that Jewish military personnel, Jewish journalists, and other Jews in Iraq face the real possibility of harsher treatment if captured by the insurgents. Well, maybe some of the Jewish service personnel keep their Jewishness secret in case they are captured. That way there is no one who is captured with them who is put in the horrible position of "giving them up" under duress. If their combat buddies don't know they are Jewish, they have no secret to give up.

How many Jewish service personnel "fly under the radar" because of this factor? It's impossible to say.

However, I should say that the letter from "James" was wonderful and I believe that he is representative of the vast majority of American service personnel. The only part that troubles me is that Muslim-American soldiers are subject to some suspicion by their peers. I understand the point and it is not totally irrational. Still, I am a bit troubled by the image of a patriotic Muslim-American soldier having to "doubly" prove his patriotism. Perhaps, without letting down our "rational guard," we as Americans should resolve to give all Americans a fairly large benefit of the doubt in regard to their patriotism — until such time as their words and/or actions raise really rational doubts. (Recognizing, of course, that there is much more room for "patriotic dissent" in civilian life than in the military.)

Today, July 1, I read the obituary of a Muslim-American soldier who was just killed in action in Iraq. Yes, of course, I mourn his death.

From the time of Washington's Continental Army — which we remember on July 4th — until the present day —the American military has been a great crucible of "Americaness." Americans of all backgrounds get to know one and other and the sacrifice of each "new" immigrant group to America —in the form of war casualties —earns them respect among other Americans. It is very hard to maintain that this group, or that group, should be treated unfairly in civilian life when they have bled on the battlefield for this country.

To the best of my knowledge, no American ethnic group (including Native Americans) in American history has not "stepped up to the plate" and failed to sacrifice their sons and daughters when called "to the colors." Therefore, it is not rational to believe that the Sergeant Ackbar that James refers to is representative of the vast majority of Muslims currently serving in the armed forces.

Wars both unite and divide nations. If we remember the sacrifice of all the Americans in the military —of whatever religion or ethnicity —perhaps we can resolve to treat each other with less suspicion and with more civility as we debate political issues. After all, the right to disagree is part of the Constitution that these fallen service people swore an oath to defend.
Sign up for the daily JWR update. It's free. Just click here.
JWR contributing Nate Bloom is editor of www.Jewhoo.com, a web site that covers famous Jews in the arts, sports, and sciences. A long planned overhaul of the site will begin in the not-too-distant future. This may include a name change.
Comment by clicking here.
© 2004, Nate Bloom.