Jewish World Review July 7, 2004 / 18 Tamuz, 5764
Growing Each Day
By Rabbi Abraham J. Twerski

To purchase the book this column is excerpted from, please click HERE.
"Train a young lad according to his method, so that when he grows older he will not deviate from it."
— Proverbs 22:6

http://www.jewishworldreview.com | He shall not deviate from it — the child will not deviate from the method with which he was taught. That method refers to the way we are taught to adapt to life's many hurdles, struggles, and tests.

Education consists of more than just imparting knowledge; it also means training and preparation in how to deal with life. Knowledge is certainly important, but is by no means the sum total of education.

"A person does not properly grasp a Torah [Bible] principle unless he errs in it" (Gittin 43b). People usually do not really grasp anything unless they first do it wrong. In fact, the hard way is the way to learn. Children learn to walk by stumbling and picking themselves up; young people learn to adjust to life by stumbling and picking themselves up.
TODAY I SHALL ...
... try to share with others, especially with younger people, how I have overcome and survived my mistakes.

Parents and teachers have ample opportunities to serve as role models for their children and students, to demonstrate how to adapt to mistakes and failures. If we show our children and students only our successes, but conceal our failures from them, we deprive them of the most valuable learning opportunities.

We should not allow our egos to interfere with our roles as educators. Parents and teachers fulfill their obligations when they become role models for real life.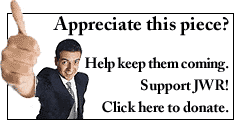 Every weekday JewishWorldReview.com publishes inspiring articles. Sign up for our daily update. It's free. Just click here.
---
Rabbi Abraham J. Twerski, M.D. is a psychiatrist and ordained rabbi. He is the founder of the Gateway Rehabilitation Center in Pittsburgh, a leading center for addiction treatment. An Associate Professor of Psychiatry at the University of Pittsburgh School of Medicine, he is a prolific author, with some 30 books to his credit, including, "Growing Each Day", from which this was excerpted (Sales of this book help fund JWR).

© 2004, Mesorah Publications, Ltd.