Jewish World Review July 28, 2004 / 10 Menachem-Av, 5764

David Grimes
Signs say more than intended
http://www.NewsAndOpinion.com | As if you needed another reason not to travel overseas, there is the very real chance that you will encounter some poorly translated English signs.

(All of these items are guaranteed to be 100 percent legitimate in the sense that they were found on the Internet.)

In a Hong Kong supermarket: "For your convenience, we recommend courteous, efficient self-service."

Customers who serve themselves in a non-courteous manner will presumably be escorted from the premises. By themselves.

In an East African newspaper: "A new swimming pool is rapidly taking shape since the contractors have thrown in the bulk of their workers."

You might want to think twice before accepting an invitation to a pool party at this place.

In an appliance store window: "Don't kill your wife. Let our washing machines do the dirty work."

The instructions are a little vague as to how you would trick your wife into getting into the washing machine in the first place. Perhaps you could bait her with one of the aforementioned pool workers.

In a clothing store: "Bargains for men with 16 and 17 necks."

This is good news because men with multiple necks are almost always required to pay full price.

Outside a disco: "Smart's is the most exclusive disco in town. Everyone welcome."

That's why nobody goes there anymore. It's too crowded.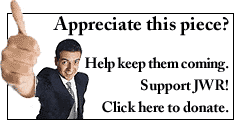 Notice in a dry cleaner's window: "Anyone leaving their garments here for more than 30 days will be disposed of."

That seems like a rather stiff penalty for failing to pick up your shirts on time, but rules are rules.

In a hotel in Athens: "Visitors are expected to complain at the office between the hours of 9 and 11 a.m. daily."

Complaints made at any other time would presumably be totally unexpected.

In the lobby of a Moscow hotel across from a Russian Orthodox monastery: "You are welcome to visit the cemetery where famous Russian and Soviet composers, artists and writers are buried daily except Thursday."

Apparently artistic expression can still get you into lots of trouble in Russia.

Outside a Hong Kong tailor shop: "Ladies may have a fit upstairs."

But not on Thursdays. In a Swiss mountain inn: "Special today -- No ice cream."

Tomorrow's special: No hamburgers.

In a Copenhagen airline ticket office: "We take your bags and send them in all directions."

That way when we lose your luggage, you can't say we didn't warn you.

A sign on an automatic air dryer in a restroom: "Do not activate with wet hands."

Presumably you're supposed to wipe your hands off on your shirt first.

In a Los Angeles dance hall: "Good clean dancing every night but Sunday."

Needless to say, the place is packed Sunday nights.

In a Vienna hotel: "In case of fire, do your utmost to alarm the hotel porter."

Otherwise, let him sleep.

In a London office: "After tea break staff should empty the teapot and stand upside down on the draining board."

I think I'll have coffee if it's all the same to you.
Appreciate this column? Sign up for the daily JWR update. It's free. Just click here.


JWR contributor David Grimes is a columnist for The Sarasota Herald Tribune. Comment by clicking here.

<! — #include virtual= "/discovery — channel/banner.html" — >
07/21/04: Phoning in my novel
07/14/04: Turning sand into gold
07/07/04: Along came a spider and sat down beside her
06/29/04: There must be a law
06/21/04: The many hazards of TV sports
06/15/04: Computer dust causes a mighty stir
05/25/04: Guess what's coming to dinner?
05/18/04: Dogs have changed for the worse
05/11/04: You rant, you pay
05/03/04: A new generation of civility
04/27/04: Repeat at your own risk
04/19/04: Brits learn grammar from Americans
04/05/04: Got those customer survey blues
03/31/04: Name that planetoid
03/24/04: Mind-melding is not for the squeamish
03/16/04: Write that novel — QUICK!
03/10/04: Turns out robots are as unhelpful as people
03/02/04: Dictators' softer side
02/23/04: Is there life after Ken?
02/18/04: California needs its chi adjusted
02/11/04: Pleeze by sum stuph frum me
02/03/04: A tale of two generations
01/28/04: Warning: Labels on products are getting wackier and wackier
01/21/04: It's a computer! No, it's a side dish! Skeptical? Look under the hood
01/07/04: Nursery rhymes to scare the kids by
12/30/03: Ear-scratcher fingered by police
12/24/03: Gifts for that not-so-special someone
12/18/03: Things we hate to do
12/09/03: Keep your name out of this book
12/03/03: When tots control the world
11/18/03: Danger: TVs falling from above
11/11/03: Songs that won't go away
11/04/03: Keep technology away from the monkeys
10/29/03: A career of sensational regrets
10/22/03: Ig Nobels reward weird science
10/16/03: TV golf needs a kick in the pants
10/08/03: That's geek to me
09/30/03: A man, a woman and a cat
09/22/03: A tale of two spams
09/16/03: Librarian action figure will be taking no guff
09/10/03: Slackers need to remain invisible
09/02/03: No fun in the summertime
08/26/03: The algebra of love
08/11/03: Journey to the center of the pavement cracks
08/06/03: Word dominance by U.S. appears a fait accompli
07/28/03: Ads that are hard to swallow
07/09/03: Keep cows out of the classroom
07/03/03: Little-appreciated facts about unshaven men
06/24/03: Brother, can you paradigm?
06/18/03: Cats, TV not a good mix
06/10/03: In defense of grumpiness
06/04/03: Do we really need keyboards in our Port-A-Johns?
05/29/03: Always a dull men's moment
05/21/03: Bad PC hygiene leads to bugs
05/12/03:Army mops up; Tony Blair doesn't
05/06/03: Grill a hamburger for PETA
05/01/03: Exams spice history
04/23/03: Too much money? Tax me more!
04/14/03: When good gourds go bad
04/11/03: One fish-tale that isn't --- and that's no lie!
04/02/03: Do you really want to know what your dog's thinking?
03/26/03: Pajamas make high school less stressful
03/21/03: It's time to be nice to the French
03/03/03: The ultimate clean and constructive sport
02/12/03: Get a bang out of cleaning with cruise vacuum
02/06/03: Voluntary kindness? Not likely
01/28/03: Signs our economy is on upswing
01/22/03: There may be cash in your old underwear
01/15/03: Banish these words, now more than ever
01/07/03: Coughing as an art form
12/24/02: Parents shell out for missed homework
12/17/02: French government says no to @ symbol
12/11/02: A latecomer joins fellowship of the DVD
12/02/02: Don't worry, be fat, unfit and really happy
11/18/02: Intrigued by a German invention that could get teens out of bed before the crack of noon
11/06/02: A noose by any other name ...
10/29/02: Iranian dogs on notice
10/22/02: Talk about a job that stinks --- literally!
10/15/02: The official world's funniest joke
10/02/02: Japanese turn eyes to computer haikus
09/27/02: Oh, no! Bosses want to know what's on your mind
09/24/02: An airbag, humanity's salvation?
09/17/02: DON'T TRY THIS AT HOME!
09/06/02: Come listen to a story about a man named ... Bill
09/03/02: You're not in preschool anymore!
08/30/02: A charming idea from a brutal, whacked-out, megalomaniacal dictator-for-life
08/26/02: Blubber water? How to put on the pounds by gulping H20
08/21/02: The latest evidence that Mother Nature is out to kill us
08/13/02: Computers, airplanes and Canada don't mix
08/06/02: The sky's not falling? Dang it!
08/02/02: Some fond memories of worst TV shows
07/30/02: Pay my credit-card bill, please?
07/25/02: Something to celebrate
07/22/02: Baseball needs to ban the fans
07/16/02: Hasbro should consider new inaction figure
07/11/02: Decline in trash-talking is harming our mental health? Well, #@%&!
07/08/02 Americans retain right to fork tongues
07/01/02 These laws were made to be broken
06/18/02 Watching enough commercials?
06/03/02 Throwing your vote to the dogs
05/08/02 Hey, Mom, could you spare a dime?: Parents' obligations unending

© 2002, Sarasota Herald Tribune