Jewish World Review July 21, 2004 / 3 Menachem-Av, 5764

David Grimes
Phoning in my novel
http://www.NewsAndOpinion.com | Offering further proof that the literary tradition is not dead, just partially decomposed, a Chinese author has written a novel in 70-word chapters that will be transmitted by cell-phone text messages.

Titled "Outside the Fortress Besieged," the roughly 4,000-word novel has been described as a "steamy tale of illicit love among already-married people." (Why Bill Clinton chose "My Life" over this as the title of his new book will forever remain a mystery.)

The mini-epic has a potential audience of 300 million, most of whom will presumably try to read their cell-phone novel while simultaneously eating, picking their nose and driving.

For these reasons (not to mention a notoriously short attention span), this seems like something Americans could really latch on to, which is why I've decided to take a half-hour out of my otherwise empty, meaningless day and write my own cell-phone novel, which I've titled: "Outside on the Bushes He Peed" (A steamy, or at least slightly humid, tale of incessant eating among already neutered pugs).

What dreameth ye, O fragrant one? Thou twitchings and yippings: Are they portentous or simply gas? Mayhap a pork chop or T-bone hath grown legs in this murky nightmare, but you cannot close. Is it quicksand that tuggeth at your paws or something more, the indolence of your breed, that holdeth you back? Why am I writing this way? Cell phones have strange powers. I will stop. Now.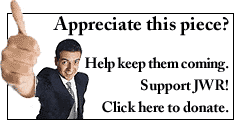 "Maybe your dog can teach this dog some good habits," said the nice lady as she handed over Satan II to us. We wonder what good habits she could possibly be referring to: Barking at random oxygen molecules, staining the carpet, shedding faster than the guy in the Rogaine commercial? We look into Satan I's bloodshot eyes for a clue. Sensing our confusion, he trots to the flower garden and moistens a zinnia.

Why a second dog?

Was I not enough for you?

His tail is fetching.

Two dogs in one house.

What do you think we will do

When the lights go out?

Hot, sweaty pug love;

I make no moral judgments.

Stop humping my leg!

The FCC should stop worrying about indecency on the airwaves. The real threat to the moral fabric of this country is TV doorbells. Our dogs could not make more noise if Santa Claus transmogrified through the cable wire carrying a sack full of meatballs. Novels have conflict and resolution. When Lisa Simpson rings a doorbell, we have a conflict. Fine FOX $250,000 for each violation and I bet we'll have resolution.

The end.
Appreciate this column? Sign up for the daily JWR update. It's free. Just click here.


JWR contributor David Grimes is a columnist for The Sarasota Herald Tribune. Comment by clicking here.

07/14/04: Turning sand into gold
07/07/04: Along came a spider and sat down beside her
06/29/04: There must be a law
06/21/04: The many hazards of TV sports
06/15/04: Computer dust causes a mighty stir
05/25/04: Guess what's coming to dinner?
05/18/04: Dogs have changed for the worse
05/11/04: You rant, you pay
05/03/04: A new generation of civility
04/27/04: Repeat at your own risk
04/19/04: Brits learn grammar from Americans
04/05/04: Got those customer survey blues
03/31/04: Name that planetoid
03/24/04: Mind-melding is not for the squeamish
03/16/04: Write that novel — QUICK!
03/10/04: Turns out robots are as unhelpful as people
03/02/04: Dictators' softer side
02/23/04: Is there life after Ken?
02/18/04: California needs its chi adjusted
02/11/04: Pleeze by sum stuph frum me
02/03/04: A tale of two generations
01/28/04: Warning: Labels on products are getting wackier and wackier
01/21/04: It's a computer! No, it's a side dish! Skeptical? Look under the hood
01/07/04: Nursery rhymes to scare the kids by
12/30/03: Ear-scratcher fingered by police
12/24/03: Gifts for that not-so-special someone
12/18/03: Things we hate to do
12/09/03: Keep your name out of this book
12/03/03: When tots control the world
11/18/03: Danger: TVs falling from above
11/11/03: Songs that won't go away
11/04/03: Keep technology away from the monkeys
10/29/03: A career of sensational regrets
10/22/03: Ig Nobels reward weird science
10/16/03: TV golf needs a kick in the pants
10/08/03: That's geek to me
09/30/03: A man, a woman and a cat
09/22/03: A tale of two spams
09/16/03: Librarian action figure will be taking no guff
09/10/03: Slackers need to remain invisible
09/02/03: No fun in the summertime
08/26/03: The algebra of love
08/11/03: Journey to the center of the pavement cracks
08/06/03: Word dominance by U.S. appears a fait accompli
07/28/03: Ads that are hard to swallow
07/09/03: Keep cows out of the classroom
07/03/03: Little-appreciated facts about unshaven men
06/24/03: Brother, can you paradigm?
06/18/03: Cats, TV not a good mix
06/10/03: In defense of grumpiness
06/04/03: Do we really need keyboards in our Port-A-Johns?
05/29/03: Always a dull men's moment
05/21/03: Bad PC hygiene leads to bugs
05/12/03:Army mops up; Tony Blair doesn't
05/06/03: Grill a hamburger for PETA
05/01/03: Exams spice history
04/23/03: Too much money? Tax me more!
04/14/03: When good gourds go bad
04/11/03: One fish-tale that isn't --- and that's no lie!
04/02/03: Do you really want to know what your dog's thinking?
03/26/03: Pajamas make high school less stressful
03/21/03: It's time to be nice to the French
03/03/03: The ultimate clean and constructive sport
02/12/03: Get a bang out of cleaning with cruise vacuum
02/06/03: Voluntary kindness? Not likely
01/28/03: Signs our economy is on upswing
01/22/03: There may be cash in your old underwear
01/15/03: Banish these words, now more than ever
01/07/03: Coughing as an art form
12/24/02: Parents shell out for missed homework
12/17/02: French government says no to @ symbol
12/11/02: A latecomer joins fellowship of the DVD
12/02/02: Don't worry, be fat, unfit and really happy
11/18/02: Intrigued by a German invention that could get teens out of bed before the crack of noon
11/06/02: A noose by any other name ...
10/29/02: Iranian dogs on notice
10/22/02: Talk about a job that stinks --- literally!
10/15/02: The official world's funniest joke
10/02/02: Japanese turn eyes to computer haikus
09/27/02: Oh, no! Bosses want to know what's on your mind
09/24/02: An airbag, humanity's salvation?
09/17/02: DON'T TRY THIS AT HOME!
09/06/02: Come listen to a story about a man named ... Bill
09/03/02: You're not in preschool anymore!
08/30/02: A charming idea from a brutal, whacked-out, megalomaniacal dictator-for-life
08/26/02: Blubber water? How to put on the pounds by gulping H20
08/21/02: The latest evidence that Mother Nature is out to kill us
08/13/02: Computers, airplanes and Canada don't mix
08/06/02: The sky's not falling? Dang it!
08/02/02: Some fond memories of worst TV shows
07/30/02: Pay my credit-card bill, please?
07/25/02: Something to celebrate
07/22/02: Baseball needs to ban the fans
07/16/02: Hasbro should consider new inaction figure
07/11/02: Decline in trash-talking is harming our mental health? Well, #@%&!
07/08/02 Americans retain right to fork tongues
07/01/02 These laws were made to be broken
06/18/02 Watching enough commercials?
06/03/02 Throwing your vote to the dogs
05/08/02 Hey, Mom, could you spare a dime?: Parents' obligations unending

© 2002, Sarasota Herald Tribune