[ J E W I S H L I V I N G ]
perspective
Those who curse the Jews and those who bless them . . .
By Dennis Prager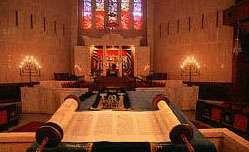 I think about the world today. Look at who most blesses the Jews and who most curses them, and you decide whether the verse in Genesis has validity.




reality-check
Israel's nutty neighbors
By Zev Chafets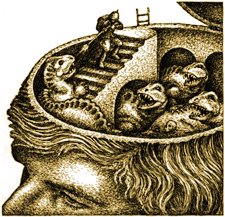 The other day, the Arab News reported that according to researchers at Bir Zeit University, 87% of Palestinian families in the West Bank have at least one member suffering from "psychological difficulties."
the talkies
Could "My Big Fat Greek Wedding" be Jewish?
By Elliot Gertel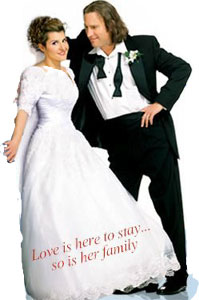 I know that we can't blame the way that Jews are portrayed on the actors alone. But surely the actors, and, above all, the writers and producers, should consider a few things in the wake of this movie.
DEAR JWR READERS
JWR IN THE NEWS --- LITERALLY!


Your favorite website was recently profiled by the prestigious wire service, United Press International (UPI). Writer Lou Marano did an absolutely amazing job capturing, not only what makes JWR tick --- but also the overall situation we are facing. If you have a free moment, click here to view the feature-length article.


In friendship --- and gratitude,
Binyamin L. Jolkovsky,
Editor in Chief
JewishWorldReview.com


[ D A I L Y I N S P I R A T I O N ]



WISDOM EACH DAY:
Reining-in won't leave you all wet; short but powerful Chassidic tale






[ L I F E S T Y L E S ]

Dr. Peter Gott: Treatment of high blood cholesterol; testing for kidney disease; headaches won't go away --- for more than 20 years

Report: Spy says al Qaida scouted US base

White House to promote U.S. image

Wrong women keeps getting arrested

Bruce Williams on JWR: Early lease termination; removing divorcing spouse's name from lease without refinancing



[ I N S I G H T ]

Jonathan Turley: Post-tobacco, lawyers eyeing fa$t food as next opportunity for super-sized awards

Ian Shoales: Yearning for a nostalgic American product that was neither


---
ANGELINA JOLIE, BILLY BOB THORNTON UNLIKELY TO FIND EQUALLY ICKY NEW MATES
Splitsville-bound duo may be world's ickiest, expert believes — Andy Borowitz
---
Capital Comment: Daily news notes, political rumors and important events that shape politics and public policy in Washington and the world

Argus Hamilton's political zingers!

Terry Eastland: With each war, civil liberties are curtailed less (GREAT!)


Bill Tammeus: Journey of discovery starts at Ground Zero

Matt Towery: GOP quietly shoring-up domestic policies

Michael Barone: South of the border

Bob Greene: Why you will see more of these stories

Jonah Goldberg: Invasion of Iraq is overdue


Seth Gitell: President Hillary? Despite her denials, candidacy is not that unlikely

Edward I. Koch: Euros should spend their time analyzing their own country's wartime actions

David Limbaugh: Beware of high-fat tort-feasors

Kathleen Parker: In war on fat, it's the food's fault (FANTASTIC!)


Andy Rooney: Taking stock of the market

Debra J. Saunders: No order in the court

Tony Snow on the issues of the day

Michelle Malkin: The friends of James Ujaama (OUTRAGEOUS!)


Walter Williams: What or who is the market?





[ W O R T H 1 0 0 0 W O R D S ]

Mallard Filmore

Gary Brookins

John Deering

Michael Ramirez

Wayne Stayskal

(Att. working columnists and editorial cartoonists: Think you have what it takes to be featured on JWR? Drop us a note. And readers: We're always open for suggestions!)



[ F A S T P O L I T I C S&nbsp ]








require ("t-ssi/rtorah.html"); ?>