[ J E W I S H L I V I N G ]
perspective
Anti-Israel Green cranks belong on the fringes of American politics and Jewish life
By Jonathan Tobin

What was interesting was the fact that among those speaking at the recent Greens' convention on the question of Israel was Tikkun magazine editor Michael Lerner. And even more curious is that in this crowd, Lerner is what passes for an advocate of Israel.




controversy!
Should Israel go Nazi?
By David D. Perlmutter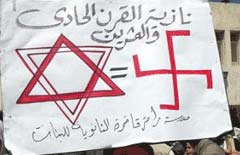 As it becomes clear that the ranks of "moderates" in the Arab and Muslim world are pita-thin, and Israelis are repeatedly murdered just for the crime of being living Jews, isn't it time to ask what it would mean if Israel and its leaders had made the slander of Jews-as-Nazis a reality?
l'chaim
Everything's Relative
By Jordan "Gorf" Gorfinkel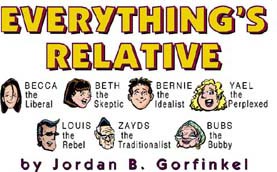 The latest installment of the Jewish Gen-X strip with ecumenical appeal. Online exclusively at JWR.
DEAR JWR READERS
JWR IN THE NEWS --- LITERALLY!


Your favorite website was recently profiled by the prestigious wire service, United Press International (UPI). Writer Lou Marano did an absolutely amazing job capturing, not only what makes JWR tick --- but also the overall situation we are facing. If you have a free moment, click here to view the feature-length article.


In friendship --- and gratitude,
Binyamin L. Jolkovsky,
Editor in Chief
JewishWorldReview.com


[ D A I L Y I N S P I R A T I O N ]



WISDOM EACH DAY:
Protecting ourselves against human erosion






[ L I F E S T Y L E S ]

Dr. Peter Gott: 'Medical students' disease'; Must ulcer be treated by specialist?

Soy, omega 3s improve artery health

Bruce Williams on JWR: New loan or refinance?



[ I N S I G H T ]

Charles Krauthammer: Speaking of stupid liberals, angry conservatives

Phil Perrier: The end of the freak show?

Art Buchwald: Draft all the lawyers

Capital Comment: Daily news notes, political rumors and important events that shape politics and public policy in Washington and the world

Argus Hamilton's political zingers! (SUPER-SIZED!)

Bob Greene: Six days on the modem and I'm gonna . . .

Kathleen Parker: I just want to focus on my salad, too


John H. Fund: GOP: Get Over Panic --- Dems are vulnerable on corporate scandals, too (SPOT-ON!)

Paul Greenberg: Affirmative Action's latest victim: A black judge

MUGGER: You really got me

John Leo: Media critics now play 'gotcha' on the 'net

Suzanne Fields: Long memories and short fuses (GREAT!)

Jeff Jacoby: The real abortion extremists

Debra J. Saunders: West takes on east in the drug war

David Limbaugh: Clinton and the implacable AIDS lobby

James K. Glassman: Your money for your life (SMART!)

Nat Hentoff: How we were saved from 'Big Brothers'

Bill O'Reilly: Blood money

Thomas Sowell: Milton Friedman at 90





[ W O R T H 1 0 0 0 W O R D S ]

Mallard Filmore

Jeff Stahler

John Deering

Gary Varvel

Bob Gorrell

Michael Ramirez

Wayne Stayskal

(Att. working columnists and editorial cartoonists: Think you have what it takes to be featured on JWR? Drop us a note. And readers: We're always open for suggestions!)



[ F A S T P O L I T I C S&nbsp ]








require ("t-ssi/rtorah.html"); ?>