[ J E W I S H L I V I N G ]
informed sources
Details in the CIA's yet to be unveiled new Mideast security plan
By Eli J. Lake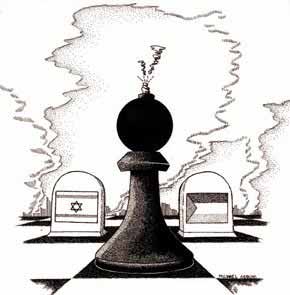 You are reading it here, first.




on psychology
Contented cows
By Dr. Abraham Twerski, M.D.
Animals, too, are driven to seek contentment. One producer of dairy products advertises that its raw material is "milk from contented cows." The rationale is that the highest quality milk is produced by the contented cow-the highest quality of cow. Certainly the pride of man should instill in him a drive for the kind of excellence that surpasses that of cows. The milk producer is right. Contentment is indeed bovine excellence, because cows are creatures without a spirit. Spiritual man must be different.
outrage!
Visas for suspected terrorists?
By Joel Mowbray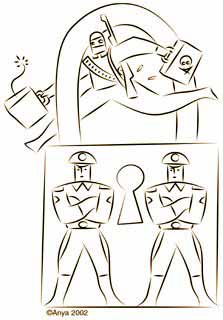 The State Department is fighting a terrorism task force's recommendation that suspected terrorists be denied visas--and this is the same department that wants to hold onto the visa power in a time of war when our enemies want nothing more than entry into the United States.
DEAR JWR READERS
JWR IN THE NEWS --- LITERALLY!


Your favorite website was recently profiled by the prestigious wire service, United Press International (UPI). Writer Lou Marano did an absolutely amazing job capturing, not only what makes JWR tick --- but also the overall situation we are facing. If you have a free moment, click here to view the feature-length article.


In friendship --- and gratitude,
Binyamin L. Jolkovsky,
Editor in Chief
JewishWorldReview.com


[ D A I L Y I N S P I R A T I O N ]



WISDOM EACH DAY:
"Mars" and "Venus" are for astronomers! Here's a time-tested relationship program.






[ L I F E S T Y L E S ]

Dr. Ed Blonz: Is garlic worth the bother?; calorie cutting

New high-tech brain scans can detect almost invisible changes in brain function 40 years before Alzheimer's onset

Consumer Reports on JWR: Choosing a kitchen countertop



[ I N S I G H T ]



Mort Kondracke: U.S. dominance benefits the world

Joe Bob Briggs: Hey man! Groove on this (FUN!)

Capital Comment: Daily news notes, political rumors and important events that shape politics and public policy in Washington and the world

Argus Hamilton's political zingers!

Lewis A. Fein: One man's warning

Jack Kelly: Iran's is on the verge of a social and political explosion. So why is media ignoring it?

Laura Ingraham: No time for vacation

Betsy Hart: Hand it to Mom

Andy Rooney: Financial reporters have failed

Art Buchwald: Doin' time (CLASSIC!)

Robert Tracinski: Clearing the way for real airport security

Steve Young: Is Wall Street the enemy? No, but that's where the enemy hides

Deroy Murdock: Federal official finally pays for 9-11-related ineptness

Frank J. Gaffney, Jr: Wall Street's 'poisoned apples'

Doug Bandow: Shifting the risk to Uncle Sam

Tony Snow on the issues of the day

Cal Thomas: A crack in the dike?

Thomas Sowell: Two trials -- and future trials





[ W O R T H 1 0 0 0 W O R D S ]

Mallard Filmore

David Cox

Jeff Koterba

Jeff Stahler

Gary Brookins

John Deering

Jack Higgins

Michael Ramirez

(Att. working columnists and editorial cartoonists: Think you have what it takes to be featured on JWR? Drop us a note. And readers: We're always open for suggestions!)



[ F A S T P O L I T I C S&nbsp ]








require ("t-ssi/rtorah.html"); ?>
Previously:

Binyamin Netanyahu: The litmus test for authentic 'freedom fighters' (MUST-READ!)

Jonathan Tobin: Midsummer Night's Questions

Yossi Klein Halevi: Time to take off the blinders: There is a global surge of anti-Semitism

Dr. Abraham Twerski, M.D.: Spiritual animals?

Rabbi Berel Wein: From tragedy to consolation

Jeff Jacoby: Jews among Arabs, Arabs among Jews

Mark Steyn: Arafat is toast; Bush knows it --- so why doesn't the rest of the world?

Michael Freund: The Original 9/11

Rabbi Yonason Goldson: Tisha B'Av: Humility before the law

Robert Leiter: How the Times wishes history unfolded

Ask Wendy: This week: I don't mean to sound anti-Semitic but …; Doesn't etiquette dictate that a good host make his guests feel comfortable?

Walid Phares: The government's focusing on current numbers of Jihadists in America is a waste of resources






Bill Bennett, Jack Kemp, and Jeane Kirkpatrick: Twenty Facts about Israel and the Middle East (IMPORTANT!)