[ J E W I S H L I V I N G ]
emannuel diarist
Nameless, faceless no longer
By Harvey Tannenbaum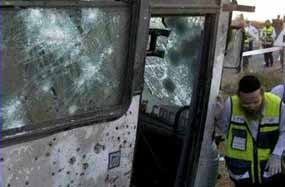 Our man in Israel is on the scene at the latest bombing and recounts the last minutes on Earth for, among others, a 9-month old twin who was laughing as she traveled on her grandmother's lap; the high school student looking forward to his first day of summer vacation; the mother who had just passed her final exam to become an accredited teacher and the father who'd just completed immersing himself in holy texts that taught him to love and respect all of humanity.

Stories the "mainstream" press don't -- or won't -- report.




perspective
Hamas waits over horizon
By Neill Lochery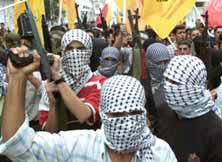 Far away from the television studios and the five-star hotels favored by secular Palestinian leaders a debate is taking place within the radical Islamic movement, Hamas, which could determine the future character of the Palestinian war with Israel.
advice
Ask Wendy
By Wendy Belzberg

I don't mean to sound anti-Semitic but …; Doesn't etiquette dictate that a good host make his guests feel comfortable?
~
Want brutally honest advice? Try our pundette!
DEAR JWR READERS
JWR IN THE NEWS --- LITERALLY!


Your favorite website was recently profiled by the prestigious wire service, United Press International (UPI). Writer Lou Marano did an absolutely amazing job capturing, not only what makes JWR tick --- but also the overall situation we are facing. If you have a free moment, click here to view the feature-length article.


In friendship --- and gratitude,
Binyamin L. Jolkovsky,
Editor in Chief
JewishWorldReview.com


[ D A I L Y I N S P I R A T I O N ]



WISDOM EACH DAY:
The wise and the future






[ L I F E S T Y L E S ]

Dr. Peter Gott: Autoimmune diseases may overlap; I get terrific headaches when I eat food spiced with MSG

Mark Kellner: On Computers: After Shot manages your digital camera images

Bruce Williams on JWR: Repairing credit; scared to consult his investment house



[ I N S I G H T ]


Kathleen Parker: Quiet lives lend dignity in celebrity times (SUPERB!)

Andy Rooney: A great pile of piles

Joe Bob Briggs: A fancy-free life --- almost

Argus Hamilton's political zingers!

Benjamin Shapiro: Bond, as in "bondage" (OUCH!)

Seth Gitell: Meet the 'Clinton' of the 2004 New Hampshire primary

John H. Fund: Not Just an Average Joe: A black GOPer may give Rep. Eliot Engel a run for his money

Debra J. Saunders: Johnny goes to prison

Capital Comment: Daily news notes, political rumors and important events that shape politics and public policy in Washington and the world

Dennis Prager: Why my son's best friend is black (EXCELLENT!)

Bob Greene: The path to greatness is tissue-thin

Jack Kelly: FBI isn't supposed to stand for Foolish, Blind and Incompetent

Michael Kelly: Hey, Dems: Beware of that two-edged weapon (SPOT-ON!)

David Lmbaugh: The phony charge of unilateralism

Mort Zuckerman: What scandal cannot dim

MUGGER: Bush: Temporary like Achilles

Jonah Goldberg: Debating war against Iraq

Tony Snow on the issues of the day

Dick Morris: The investor strike

Michelle Malkin: Free ride for foreign ship-jumpers (OUTRAGEOUS!)

Walter Williams: Death by government





[ W O R T H 1 0 0 0 W O R D S ]

Mallard Filmore

Lurie's World

Bob Gorrell

Jeff Koterba

Gary Brookins

Jeff Stahler

Wayne Stayskal

Michael Ramirez

(Att. working columnists and editorial cartoonists: Think you have what it takes to be featured on JWR? Drop us a note. And readers: We're always open for suggestions!)



[ F A S T P O L I T I C S&nbsp ]








require ("t-ssi/rtorah.html"); ?>
Previously:

Binyamin Netanyahu: The litmus test for authentic 'freedom fighters' (MUST-READ!)

Dr. Abraham Twerski, M.D.: The Believer's Guide to 'Buying' Happiness

Mark Steyn: Arafat is toast; Bush knows it --- so why doesn't the rest of the world?

Walid Phares: The government's focusing on current numbers of Jihadists in America is a waste of resources

Jonathan Tobin: Unknown history, unheroic martyrs

Nat Hentoff: The necklaces of hatred

Amitai Etzioni: I was once a member of a "terrorist" group, show no mercy on civilian terrorists

Jack Kemp: Solving the "Arab Problem"

Bill Schneider: Israel via Alabama

Julia Gorin-Mohamed: Random terrorism

Eli J. Lake : U.S. SEEKS TO DEFUND PALESTINIAN AUTHORITY

Eytan Kobre: The need for Jews to "understand" suicide bombers






Bill Bennett, Jack Kemp, and Jeane Kirkpatrick: Twenty Facts about Israel and the Middle East (IMPORTANT!)