[ J E W I S H L I V I N G ]
YOU READ IT HERE FIRST!
U.S. SEEKS TO DEFUND
PALESTINIAN AUTHORITY
By Eli J. Lake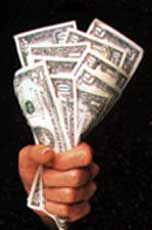 The United States is quietly pushing the European Union and Arab States to stop funding the Palestinian Authority in the aftermath of President Bush's call last month for the Palestinian people to seek new and different leadership.




controversy!
See no evil?
By Frank J. Gaffney, Jr.
This is, in short, not simply a matter of semantics. It is a question of whether our top law enforcement agency -- and, for that matter, the Bush Administration more generally -- comprehend the true character of the threat posed by Islamist terrorism.




reality-check
A 'work dispute' at LAX?
By Daniel Pipes
Sure, law enforcement should not jump to conclusions, but this head-in-the-clouds approach is ridiculous. It also fits a well-established pattern. Consider three other cases of terrorism --- and then ask yourself: "What's going on!?"
unconventional
Was LA International Airport shooting, in fact, good news?
By Jack Kelly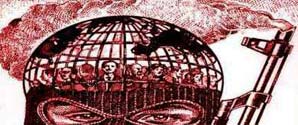 If the FBI is right, then the Fourth of July came and went with no organized terror attacks on Americans. That's good news. If the Israelis are right, and the Los Angeles attack was part of an internationally-planned campaign of terror, that's better news.
DEAR JWR READERS
JWR IN THE NEWS --- LITERALLY!


Your favorite website was recently profiled by the prestigious wire service, United Press International (UPI). Writer Lou Marano did an absolutely amazing job capturing, not only what makes JWR tick --- but also the overall situation we are facing. If you have a free moment, click here to view the feature-length article.


In friendship --- and gratitude,
Binyamin L. Jolkovsky,
Editor in Chief
JewishWorldReview.com


[ D A I L Y I N S P I R A T I O N ]



WISDOM EACH DAY:
Lifestyles of the wise






[ L I F E S T Y L E S ]

Dr. Ed Blonz: For six-pack, stick to crunches; the effect of diet on osteoporosis

Bruce Williams on JWR: Be careful of leases; insurance doubts

Lethal microbes can reverse sterility



[ I N S I G H T ]



Leonard Pitts, Jr: The password is 'frustration'

Lenore Skenazy: Hold on, my molar's ringing
---
MICHAEL JACKSON ACCUSES SONY MUSIC CHIEF OF STEALING HIS NOSE
Blames Failure of Most Recent Record on Lack of Nose — Andy Borowitz
---
Argus Hamilton's political zingers!

Joe Bob Briggs: Too drunk to drive?

Ian Shoales: Musicians' brains

Bill Steigerwald: If capitalism is 'soulless' then show me something better: 10 minutes with … Alan Reynolds

Capital Comment: Daily news notes, political rumors and important events that shape politics and public policy in Washington and the world

Ranan R. Lurie: Bush's warnings on Baghdad are so clever, most don't grasp his M.O. (EXCELLENT!)

Deroy Murdock: Olympic truce could give peace a chance

Donald Lambro: Dems' lame blame game

Betsy Hart: For some reason it's no longer acceptable to hold that the workplace is not primarily a child resource center

Michael Barone: The only major country where a "third way" center-left government is thriving

Michael Ledeen: History being made, but the West appears clueless

James K. Glassman: Competition cure-all (SMART!)

Michael Long: Don't forget why Bush was elected

Robert Tracinski: Small-time crooks

Doug Bandow: Getting that quota feeling

Paul Greenberg: HE-E-E'S BACK! (SUPERB!)

Cal Thomas: The (Bad) Luck of (Some) Irish

Thomas Sowell: Suspicious stats





[ W O R T H 1 0 0 0 W O R D S ]

Mallard Filmore

Lurie's World

Mike Lukovich

Mike Shelton

Michael Ramirez

Gary Brookins

Joe Heller

(Att. working columnists and editorial cartoonists: Think you have what it takes to be featured on JWR? Drop us a note. And readers: We're always open for suggestions!)



[ F A S T P O L I T I C S&nbsp ]








require ("t-ssi/rtorah.html"); ?>
Previously:

Binyamin Netanyahu: The litmus test for authentic 'freedom fighters' (MUST-READ!)

Jonathan Tobin: Not the Sum of Our Fears

Neill Lochery: Getting real about a Middle East regional war --- Bush proposal, or not

Dennis Prager: "Pro-Israel lobby" is not why America supports Israel

Robert Leiter: Remembering the Jews of Monticello

Michael Medved: Why won't Hollywood admit terrorism's Islamic link?

Eytan Kobre: The need for Jews to "understand" suicide bombers

Dr. Abraham Twerski, M.D.: American Spirituality

Suzanne Fields: When a suicide bomber fails

Ben Shapiro: Letter from Palestine?

Michael Kelly: An end to pretending

David Horowitz : Know The Enemy (And What He Believes)

Ask Wendy: This week: Doing business with an Arab; driving down the road of life with my mother-in-law tailgating me; sentimental gulf clubs






Bill Bennett, Jack Kemp, and Jeane Kirkpatrick: Twenty Facts about Israel and the Middle East (IMPORTANT!)