[ J E W I S H L I V I N G ]
controversy!
Not the Sum of Our Fears
By Jonathan Tobin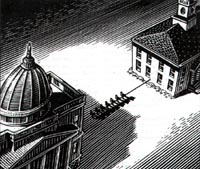 The court has swept away the constitutional impediments to vouchers, but many political obstacles remain. The Jewish community's liberal politics and fears should not be among them.
reality-check
Getting real about a Middle East regional war --- Bush proposal, or not
By Neill Lochery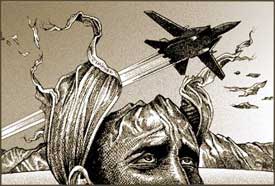 It has been a strange couple of weeks for diplomacy in the Middle East. The bottom line, however, remains that recent events make a major war in the region more likely, not less.
l'chaim
The Promised Land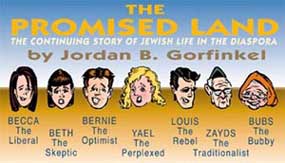 Jordan "Gorf" Gorfinkel is back with his latest installment on life in Jewish Gen-X. Exclusively online at JWR!
DEAR JWR READERS
JWR IN THE NEWS --- LITERALLY!


Your favorite website was recently profiled by the prestigious wire service, United Press International (UPI). Writer Lou Marano did an absolutely amazing job capturing, not only what makes JWR tick --- but also the overall situation we are facing. If you have a free moment, click here to view the feature-length article.


In friendship --- and gratitude,
Binyamin L. Jolkovsky,
Editor in Chief
JewishWorldReview.com


[ D A I L Y I N S P I R A T I O N ]



WISDOM EACH DAY:
Realistic improvement






[ L I F E S T Y L E S ]

Mark Kellner: On Computers: Beware: Consumers face a fee for printing own checks

Consumer Reports on JWR: The pros and cons of personal health accounts

Dr. Robert A. Wascher's health and science report: Hormone replacement therapy & the risk of disease; more good news about statins; antioxidant vitamins & disease prevention; more

Bruce Williams on JWR: Pay cash or get a mortgage?; landlord troubles

Bone tumors can kick cancer addiction



[ I N S I G H T ]


Greg Crosby: How Can We Miss You If You Won't Go Away?

Jonathan Turley: How one woman's whims dictates the rights of millions

Argus Hamilton's political zingers!

David Grimes: Americans retain right to fork tongues

Capital Comment: Daily news notes, political rumors and important events that shape politics and public policy in Washington and the world

The Medicine Men: Don't procrastinate, vaccinate! (IMPORTANT!)

Lori Borgman: The Botox wrinkle

David Horowitz: Disturbing holiday thoughts

Bob Greene: The strength to be found in empty places

Suzanne Fields: When the rich and famous slip on banana peels (GREAT!)

Clarence Page: Dems will miss Watts, too

Kathleen Parker: The Eleventh

Diana West: Are you still shocked, Sami?

Stanley Crouch: U.S. is better than founders ever dreamed (SUPERB!)

George Will: Our greatest hitter ever

John Leo: Religious exemptions to dress codes move through the courts

Charles Krauthammer: The Strike That Will Kill Baseball

Wesley Pruden: Big daddy rides to the rescue (EXCELLENT!)

Bill O'Reilly: Believe it or not

Thomas Sowell: Random thoughts





[ W O R T H 1 0 0 0 W O R D S ]

Mallard Filmore

Lurie's World

Jack Higgins (PRINT-IT!)

Michael Ramirez

Gary Varvel

Wayne Stayskal

John Deering

Bob Gorrell

(Att. working columnists and editorial cartoonists: Think you have what it takes to be featured on JWR? Drop us a note. And readers: We're always open for suggestions!)



[ F A S T P O L I T I C S&nbsp ]








require ("t-ssi/rtorah.html"); ?>