[ J E W I S H L I V I N G ]
The Jewish Ethicist
By Rabbi Dr. Asher Meir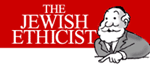 Q: When I'm out of change for the pay phone, may I pretend to call collect?


Don't go there
By Frank J. Gaffney, Jr.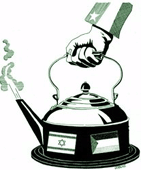 Unfortunately, the Balkan tar-baby the United States has squarely embraced will appear the ultimate no-stick teflon operation compared to a new assignment President Bush is contemplating in the Middle East. According to last Friday's Washington Post, "the Bush Administration plans to dispatch about 10 monitors drawn largely from the State Department to assess the adherence of Israelis and Palestinians to steps proposed to restrain Middle East violence and advance peace talks."




[ D A I L Y I N S P I R A T I O N ]


WISDOM EACH DAY: Start your day off right with words that will speak to your heart and soul. (NEVER TRIED THIS FEATURE? YOU DO NOT KNOW WHAT YOU ARE MISSING!)




[ L I F E S T Y L E S ]

Dr. Peter Gott: Insomnia is a health issue; my son is having "spells"

Bruce Williams on JWR: Annuity advice; living trusts



[ V I D E O ]

Late Night Video Recap: Busy last night? Went to bed early? We have a short daily digest of TV's late-night jesters. (UPDATED EVERY WEEKDAY!)

MSNBC Hourly Update


[ I N S I G H T ]



Fred Barnes: The crusade for a patients' bill of rights has one big problem: patients.

Mitch Albom: Wanna name my kid? Pay me a cool Mil' --- OK, a half-Mil'

Michael Ledeen: Consulting a legendary counterspy about Chandra and Condit, cont'd

Bob Greene: You can't drop a coin when there's no slot

Robert Tracinski: Where does America stand?

Ian Shoales: Catchphrase history of the world

Linda Bowles: Desperate Dems in search of leadership ---- and respect

John F. Fund: Affairs of State: The Condit case isn't just about adultery. It's about public trust and national security.

Betsy Hart: Facts left out of stem cell debate

Doug Bandow: The high cost of government

Mort Kondracke: Bush reforms for seniors impeded by tax cut

Paul Greenberg: LETTER FROM BELOW

Chris Matthews: Time warp Squashing gringos, and Mexicans, too

Nat Hentoff: Killing as a way of healing

Jonah Goldberg: Laws would not prevent child car deaths

Ann Coulter: Title IX defeats male athletes





[ W O R T H 1 0 0 0 W O R D S ]

Mallard Fillmore: The great debate over talented and gifted athletes

Mike Shelton: "I'm not hiding, anything!"

Gary Brookins: Secret Service Protection

Gary Varvel: Dubyah's isolationism

(Att. working columnists and editorial cartoonists: Think you have what it takes to be featured on JWR? Drop us a note. And readers: We're always open for suggestions!)








require ("t-ssi/rtorah.html"); ?>