[ J E W I S H L I V I N G ]
A Friend in Need, Indeed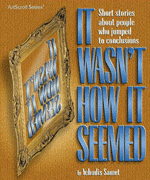 We've all done it. Jumped to conclusions, that is. JWR presents excerpts from a book edited by Rebbetzin Yehudis Samet of Jerusalem, where folks come clean anonymously in an effort to remind the rest of us to give others the benefit of the doubt. Of course, we've all heard the expression. But this true tale makes the necessity come alive.


Preventing war: Israel's options
By Daniel Pipes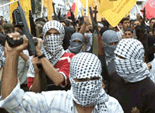 Unless Israel sends clear signals of strength, the current bout of saber-rattling could, 1967-style, lead inadvertently to another all-out war.




[ D A I L Y I N S P I R A T I O N ]


WISDOM EACH DAY: Start your day off right with words that will speak to your heart and soul. (NEVER TRIED THIS FEATURE? YOU DO NOT KNOW WHAT YOU ARE MISSING!)




[ B O O K S ]

Magic Afoot

Ted Rose reviews A Fortune-teller Told Me: Earthbound Travels in the Far East by Tiziano Terzani and Sorcerer's Apprentice by Tahir Shah

"Many travel writers have responded to this challenge by poring through libraries looking for old journeys to retrace, attempting to reinvigorate our travel experiences by resuscitating the emotions felt in those days gone by. Shah and Terzani choose a more direct route: Each embarks on a search for people who claim magic powers while living in the world as it exists right now; it's a quest that takes each man far from his home. Terzani goes hunting for fortune-tellers across southeast Asia, while Shah sets out to study illusionists in India."



[ L I F E S T Y L E S ]

Dr. Peter Gott: Is smoking really the problem?

Bruce Williams on JWR: Law suit "buy-out"; lease or buy vehicle?

Dr. Ed Blonz: What's the story about butter?

[ V I D E O ]

Late Night Video Recap: Busy last night? Went to bed early? We have a short daily digest of TV's late-night jesters. (UPDATED EVERY WEEKDAY!)

MSNBC Hourly Update


[ I N S I G H T ]



Debra J. Saunders: Condit should not resign

Bill Schneider: Both political parties are full of ...

Ian Shoales: That java jive

Dr. Michael A. Glueck: With the seriously ill Patients' Bill of Rights -- what you see and hear -- is not what you will get

Linda Bowles: About that vaunted 'Wall' that separates

Kathleen Parker: A great time to be a kid in America? Hardly

David Limbaugh: Independence vs. isolationism

Robert W. Tracinski: Barbarians at the G8

Jeff Jacoby: On protecting the flag ... and drivers ... and immigrants

Don Feder: United Nations Meets the Second Amendment

Bob Tyrrell: The latest Kennedy capitulation in Massachusetts

Wes Pruden: A school for scandal and fun for nearly all

Suzanne Fields: Marriage with impediments

Jeff Jacoby: Dying for better mileage

Jonah Goldberg: Harldy a pretty place: Use ANWR for oil exploration

Doug Bandow: Kill the campaign reform illusion

Mona Charen: Will Bush do the right thing on women in combat?

Nat Hentoff:The Stem Cell Wars

Bill O'Reilly: Silence of the Shams

Cal Thomas: Ronald Reagan's valuable view of life

David Horowitz: White, Blind, and Proud





[ W O R T H 1 0 0 0 W O R D S ]

Mallard Fillmore: Dodgeball as a social indicator; the "true" faith (DOUBLE HEADER!)

World International Cartoon Showcase: FROM ALBANIA: The G-8 Summit --- as seen from above

Jeff Koterba: Daschle's heroics

(Att. working columnists and editorial cartoonists: Think you have what it takes to be featured on JWR? Drop us a note. And readers: We're always open for suggestions!)








require ("t-ssi/rtorah.html"); ?>
Previously:

Carl Pearlston: The ADL pushes ''tolerance"? Why I'm leaving after 25 years

Rabbi Avi Shafran: Reminded by science

The Jewish Ethicist: Taking advantage of money-back guarantees

Marlene A. Marks: Some of the best times of my life have happened during chemo

Yaffa Ganz: When visiting 'momma' is dangerous






Evan Gahr: Sleeping with the enemy

Michael Feldberg: "I am a Jew, I am a Republican and I am poor"

Jonathan Tobin: Why Do They Still Hate Elliot Abrams?

Ask Wendy: Bad mannered, uncouth ethnics; lookin' for love

Jackie Mason and Raoul Felder: There's a woman in my soup


Elliot B. Gertel: Yet another pathetic Holocaust movie