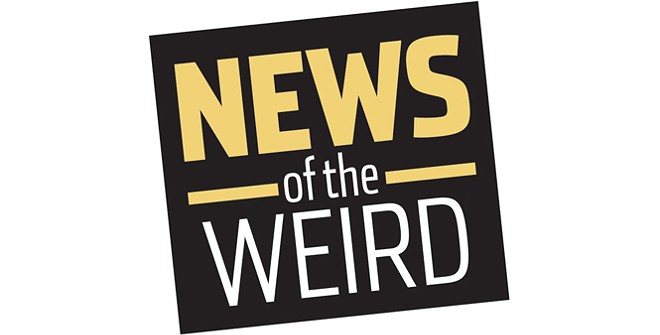 •
John Gardner was minding his own business, driving to work in Conway, South Carolina, on April 30 when "a big, black dot" flew into his windshield, shattering the glass, according to WBTW.
"I didn't get hurt at all," Gardner said, although he was covered in glass fragments.
The flying object didn't fare so well: A nearby truck had hit a tortoise crossing the road and projected it into Gardner's car.
Rob's Auto Body said the animal died on impact.
The truck driver was also unhurt, but it's estimated that repairs to Gardner's car will cost about $2,000. [WBTW, 5/2/2019]
• Sometimes a girl just wants a pretty new thing. But Aida Melcado, 18, and an unnamed minor accomplice, let greed get the best of them.
Lower Allen Township Police say Melcado and her helper browsed through the Victoria's Secret store in the Capital City Mall in Bethesda, Maryland, on April 7, carrying large shopping bags and talking on cellphones.
While the minor acted as a lookout, Melcado allegedly shoveled delicates into her bag, to wit: 375 hipster panties (worth $3,937.50), 375 cut thongs ($3,937.50), 1,000 thongs ($10,500) and 250 raw-cut hip-hugging panties ($2,625), for a grand total of $21,000.
Police told WPMT they later identified the thieves during a drug investigation in Fairfax County, Virginia. [WPMT, 5/3/2019]
© 2021 Distributed by Universal Uclick