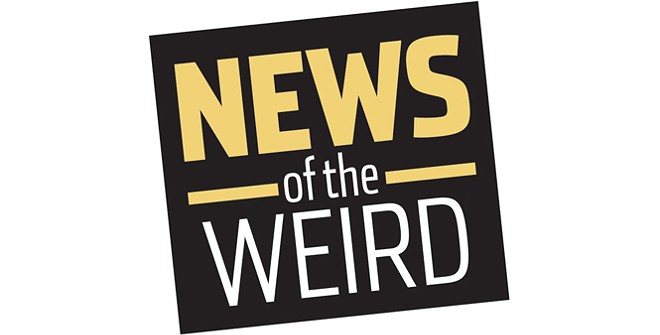 •
TSA agents at Juneau International Airport logged unexpected cargo on April 15 when a "large organic mass" was spotted in a traveler's carry-on bag.
TSA spokesperson Lisa Farbstein explained to KTOO that such a flag can indicate the presence of explosives. However, when agents opened the bag, they found a plastic grocery bag full of moose "nuggets."
"The passenger told the TSA officers that he collects this and likes to present it 'for politicians and their (bleep) policies,'" Farbstein explained.
The passenger was not detained and was allowed to continue on with his bag of moose poop.
Later that day, the Anchorage Daily News reported that a man was seen at the state capitol, handing out baggies of moose nuggets in protest of Gov. Mike Dunleavy's proposed budget. [KTOO, 4/26/2019]
• Arnold J. Teeter, 49, became angry while dining at a Perkins restaurant in Painesville, Ohio, on April 16.
First, he threw a menu at his waitress; when a manager stepped in, Teeter upped his game and grabbed his pet iguana from under his shirt, twirled it in the air and launched it toward the manager.
Teeter was charged with disorderly conduct -- and with cruelty to animals, because Copper, the turquoise iguana, suffered a broken leg in the incident.
The Lake County Humane Society has taken the female lizard into protective custody and is trying to raise money for the surgery she needs, reports WEWS.
No word on whether the Perkins manager suffered any injuries in the incident. [WEWS, 5/3/2019]
© 2021 Distributed by Universal Uclick