Jewish World Review June 1, 2006 / 5 Sivan, 5766
Morality play from the mob
By Debra J. Saunders


http://www.JewishWorldReview.com | I don't go to the movies as much as I used to because I am sick of Hollywood preaching to me. I don't even want to see "Mission Impossible III" — which promises mindless but entertaining thrills — because I don't want to think about what crazy-preachy star Tom Cruise has to say about depression or Scientology, not to mention Katie Holmes' delivery of their child. Last year's Oscar nominees for Best Picture read, to me, like a nag fest, which is why I skipped seeing them all at the theater.

"Crash"? Preaching on race relations. "Munich"? Israel bad. "Good Night and Good Luck"? Anti-Communists bad, George Clooney good. "Capote"? Death penalty bad. "Brokeback Mountain"? I support gay rights, but the promotion of the movie smacked of a pious lecture. Besides, the story sounded so utterly depressing, why battle angry parking gods to watch it on the big screen?

That is why I am so hooked on "The Sopranos." The HBO TV series managed to show in a recent episode the most devastating portrait of many Catholics' take on homosexuality without the lecture, without perfect-looking characters and without the sappiness.

Vito Spatafore (played by Joe Gannascoli) is no dish in the Heath Ledger mold. He is a crude and treacherous mobster — possibly the most loathsome character to grace a screen since Joe Pesci starred in "Goodfellas" — who, having squeezed his oversized husk into a leather biker outfit, is outed when two wise guys spot him at a gay bar while they are picking up protection money.

Spatafore flees to the country, but you don't have much sympathy for him — at least, for long. He returns to New Jersey because he would rather be a lonely big shot than a lowly carpenter living with a hunky short-order cook. Drinking and driving his way home, Spatafore first plows into a parked car, then shoots the car's innocent and upstanding owner in the back rather than deal with authorities. Back in Joisey, with his long-suffering wife looking on, Vito tells his gullible children that he was in Afghanistan working for the CIA. Besides, he tells capo Tony Soprano, he isn't really gay, he just started acting gay as a side effect of his blood-pressure medication.

No one is shocked when Spatafore's brother-in-law, Phil Leotardo, shows up with some muscle, who beat Spatafore to death because he's gay — not for his real crimes.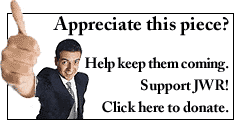 Leotardo's wife sees herself as a good Catholic. She is appalled at having a gay man in the family — she frets that homosexuality is a "sin." But she doesn't fret that her husband kills people, lots of people. Family members suggest that Spatafore died because homosexuals engage in self-destructive behavior — as if gangsters do not.

Without a lecture, "The Sopranos" bares the moral bankruptcy of people who consider themselves good Christians, yet forgive murder and serial adultery (when husbands cheat on wives, that is), and condone a system that allows powerful men to bully, intimidate and rob law-abiding citizens. Yet they can't forgive a man for having sex with another man (unless he's in prison).

While the series has spawned Soprano wannabes, mature viewers understand that the series does not glorify the crime family, but presents a nuanced morality play about the corrupting effects of the mob.

"Brokeback Mountain" was oppressive to watch because the characters — especially cowboy Ennis Del Mar, an orphan who completed one year of high school and skulks through life with no ambition and no dreams — have so few choices. Players in "The Sopranos" have many choices, but almost always make the wrong ones. Ultimately, gay or straight, that is their downfall.
Every weekday JewishWorldReview.com publishes what many in in the media and Washington consider "must-reading". Sign up for the daily JWR update. It's free. Just click here.
Comment JWR contributor Debra J. Saunders's column by clicking here.
© 2006, Creators Syndicate