Jewish World Review June 23, 2005 / 16 Sivan, 5765
Symbol of strength
By Abe Novick
On punks and pride

http://www.JewishWorldReview.com | The Star of David stitched on the boxer Max Baer's fight trunks in the film Cinderella Man tore by so fast I barely saw it.

Yet the controversy provoked by this tough Jew (a heavyweight champion in the 1930s and actually only one-quarter Jew — enough for Hitler) who once beat Nazi Germany's Max Schmeling in 1933, is due to the fact that he's wrongly portrayed as a loudmouthed, murderous lout. Apparently, he was nothing of the sort and a decent guy, but was re-tailored in order to suit the Cinderella Man's image as sympathetic, rags-to-riches, comeback kid.

To smear Baer's reputation is a shame. Especially when so many Jews of today are completely unaware that there were ever Jewish boxers, let alone, a gifted heavyweight.

In fact, Jews occupied a prominent role in boxing, especially during the 20s and 30s.

In the Introduction to his book, When Boxing Was A Jewish Sport, Allen Bodner informs, "Jews entered the ranks of American boxing in large numbers and by 1928 were the dominant nationality in professional prizefighting, followed by the Italians and the Irish."

For kids today to see the sport dragged down by the ear-biting, convicted rapist Iron Mike takes away from the mystique that once was the sport. It's become a clown show sunken to the depths of pro-wrestling.

It wasn't always this way and I guess I was lucky to have gotten to watch the tail-end of its highpoint, when Ali would float and sting the streetfighter, Frazier and Howie Cosell would narrate so eloquently. There was still an art to it then, one that inspired this young Jewboy. Like so many bodybuilding ads in the back of comic books portrayed, I too didn't like getting sand kicked in my face.
BUY THE BOOK


Does this book sound intriguing?

Click HERE to purchase it at a discount. (Sales help fund JWR.).
It's a familiar story. On the way to school there was a candy store. School was four blocks away. The candy store was three blocks and just shy of the elementary school. Across the street from the candy store was a family of rotten anti-Semites. There must have been at least 9 children. All of them blonde, skinny and more despicable than the next.


As a small child they chased me. One time they chased me and smashed Drake's Cakes on my head that I'd just bought. However, as I grew older, I got bigger and worked out. I became physically fit. Years later, walking the worn path from the candy store back to the neighborhood with a friend alongside, I came across the devil-like grin of one of them. It was a hot sunny day and he was pushing a lawnmower that his old man had him drag which smeared a resentful, embittered grimace on him.


This time, I said to him cockily, "What are you looking at?" He shoved aside his lawnmower by the busy street and went for my bait.


I was so ready to wallop this little punk. This coward who once bullied me, I knew I could've destroyed. This Jew-hater. Yet, it takes a lot to actually pummel someone. It takes more than muscles. It takes a certain streak and that was something I'd been taught was wrong.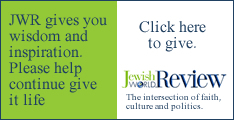 After a few swings by me, anyone of which could have severed his head, we went along our own separate ways. Standing up to him sent a strong signal though, and he was never again the bully he'd once been to me after that.

Years later, when I would wear the Star of David around my neck, it would provoke remarks — prejudice. Yet, I was so proud and thought it looked the epitome of cool. I was sure to get one that was just a little tarnished too, so it wasn't too pretty.

Never the fighter I'd read about, I understood that for some, the only way to earn respect was through strength. I know Cinderella Man is just a movie and in order to craft and Hollywoodize it, Baer had to take a hit. I just hope, with its mistaken portrayal and current controversy, it can gain enough publicity to spark today's youth to learn and understand the actual role Jews played in, what was once, a noble sport.

For those kids, like Baer, me and Israel, the star's a symbol of strength.
Every day JewishWorldReview.com publishes thought-provoking stories. Sign up for the daily JWR update. It's free. Just click here.
JWR contributor Abe Novick is senior vice president of Eisner Communications in Baltimore. Comment by clicking here.
© 2005, Abe Novick