Jewish World Review June 15, 2004 / 26 Sivan, 5764
Book seeks to end Jewish support for Israel
By Bret Stephens
Epitaph by self-described 'ham on rye' American Jew full of factual errors — but is still winning critical acclaim

http://www.jewishworldreview.com | Richard Ben Cramer is an American journalist who has written well-received books on baseball and politics. He also covered the Middle East extensively as a reporter for The Philadelphia Inquirer, winning a Pulitzer Prize in 1979. In 2002, he returned to Israel to find out what had happened to the country in the intervening years. The result is a book called "How Israel Lost," just out from Simon and Schuster.

This ought to be a provoking, instructive, uncomfortable book. It is so only by inadvertence. Cramer describes himself as a "ham on rye" American Jew, grown up on reflexive support for Israel and disillusioned by closer acquaintance. What he has written now is an epitaph. Israelis have lost sight of their ideals, their common identity, their sense of purpose, the very "ache of humanity" that properly makes a Jew. Everything that once made Israelis attractive has been squandered so they can hold on to the territories and be "the brutal kings of all they survey." So why support Israel? Cramer's message is, don't.

This is not a new indictment. Europeans have been making it for years, as have Americans on the farther reaches of the Left and Right (the book was glowingly reviewed in The American Conservative, Patrick Buchanan's magazine).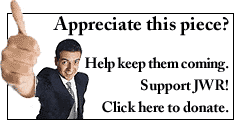 Cramer's contribution lies in his effort to mainstream it, particularly among skittish American Jews torn between their ethnic and political instincts. Thus the book is written in the Catskills patois of pishers and schlubs and schnorrers and shtarkers. Cramer is also a devotee of exclamation marks, scare quotes, italics, em-dashes and ellipses. A typical paragraph reads:

"So [DOT-DOT-DOT] now the long trend of privatization, atomization, individualization has come together with the hardening [DASH] the buffer that has to be built against the bad things Israelis have to do or see [DOT-DOT-DOT] except for the most part they don't see [DASH] day to day, they don't have to look [DOT-DOT-DOT] because that's a collective problem [DASH] not their doing [DASH] they're busy with their job, taking care of Number One [DOT-DOT-DOT] and that stuff "out there" is so ITAL disappointing ITAL [DASH] where is it written they should have to feel terrible? [DOT-DOT-DOT] And one more thing [DOT-DOT-DOT] a new thing, the latest thing: ITAL "They tried" ITAL [EXCLAMATION]"

PRESUMABLY, CRAMER'S intention is to give his prose a spoken quality, to capture voices and to project one of his own. There are, however, two problems with this. First, it is hard to endure 280 pages of unremitting syntactic crapulence. Second, the purpose of the ellipsis is not emphasis but elision. This is something Cramer seems not to understand, and it is the failing of the whole book: as he hops from one thumping indictment to another, he skips over every inconvenient fact, detail and nuance.

Thus, in explaining Ariel Sharon's malignant role in perpetuating the so-called cycle of violence, Cramer states as fact that "In the summer of [Sharon's] first year, 2001, Hamas had observed a cease-fire on Israeli civilians for a couple of months, until July 31, when the Israelis assassinated two Hamas commanders in Nablus."

Well, not quite. Between the June 1 attack on the Dolphinarium disco and July 31 the following attacks on Israeli civilians took place:
June 11, 2001: Yehuda Chaim Shoham, a five-month old boy is critically wounded in a stone throwing attack on his parents' car. He later dies.
June 12, 2001: Gur Pzipokatsatakis, a 35-year-old Greek Orthodox monk, is shot in a drive-by attack, and dies.
June 18, 2001: Doron Zisserman, 38, father of four, is shot in the head, and dies.
June 20, 2001: Ilya Kirivitz, 62, is shot in the head, and dies.
June 28, 2001: Ekaterina Weintraub, 24, is shot in the chest, and dies.
July 2, 2001: Aharon Abadian, 41, father of four, is shot at point-blank range, and dies.
July 2, 2001: Ya'ir Har-Sinai, 51, father of nine, is shot in the head and back, and dies. He is described as a "man of nature" who "would tend his sheep with no weapons and was on friendly terms with neighboring Arabs."
July 4, 2001: Eliyahu Naaman, 32, is shot at point-blank range, and dies.
July 13, 2001: David Cohen, 31, is shot in the head and chest in a drive-by attack, and dies.
July 24, 2001: Yuri Gushtzin, 18, is shot and stabbed to death.
July 26, 2001: Ronen Landau, 17, is shot in a drive-by attack, and dies.

The list excludes Israeli soldiers killed during this period. It fails to mention the July 16 suicide bombing at the Binyamina railway stop, which killed two soldiers but was aimed at civilians. It excludes an attempt to stage an attack at the opening of the Maccabiah Games in Jerusalem, which failed when the bomb exploded prematurely. It excludes a foiled suicide attack in the town center of Afula. And while it is true that most—though not all—of the victims listed above were killed in the territories, it is not precisely clear why they should be discounted as civilians. Was little Yehuda Chaim Shoham a perpetrator of occupation and thus a legitimate military target?

Nor are these Cramer's only omissions. The "cease-fire" he mentions was not, in fact, an act of Hamas' good will, but the result of intense international pressure on Arafat following the Dolphinarium bombing to rein in the terror. (It was observed mainly in the breach.) The Hamas cease-fire of summer 2003 followed a period of intensified targeted killings by the IDF, including a nearly successful attempt on Hamas leader Abdel Aziz Rantisi's life. It was broken in late August with a spectacular bus bombing in Jerusalem that murdered 20 and for which there was no discernable Israeli provocation. How do these facts fit into Cramer's thesis that Palestinian violence is generally a response to Israeli provocations?

There are other, more basic, errors of fact. Binyamin Netanyahu was never a colonel in the IDF. Ehud Barak was not prime minister in 1998. The New York Times was never the "house organ of American Zionism" and even editorialized against the creation of a Jewish state. The notion that the Israeli government runs a well-oiled, lavishly funded PR machine is a bad joke. Systematic violence by Palestinians against Jews predates the settlement movement by decades. Traditional Islam did not "accord [Judaism] its deepest respect" but rather barely tolerated and frequently persecuted its Jewish minorities. Jerusalem is never mentioned in the Koran. The PLO was never "as irreligious as Zionism." And so on.

The middle part of Cramer's book consists of a screed against Orthodox Jews and what he deems their excessive and destructive role in setting the rules of Israeli life. Well, yes, it is a bit excessive for my taste, which is why I take my Saturday brunches in Ein Kerem or Abu Ghosh, along with thousands of my nonreligious correligionists. But it takes a moral imbecile—and Cramer is up to the task—to take the next step and compare Israel to an Islamic Republic.

There is more, for Cramer spreads his contempt wide. The settlers, of course—he dwells at length on the seriously unhappy experience of one secular family in Tekoa. The army—it murders Palestinians with abandon and without conscience. The Russians—not even Jewish, cynically brought in by Israel for the sole purpose of "rescuing the Jewish state's occupation." The political class—all generals, for whom "force and more force is the only calling card." Ariel Sharon—not just a bad guy himself, but the archetype for what Israel as a whole has become: thuggish, corrupt, stupid, grotesque, irredeemable.

Are there any good Israelis left? Yes, the Machsom Watch, Gush Shalom, Shalom Arshav, Meretz: the people who take notes as the country "sheds its last decencies." But they are like the five just men of Sodom. And for Cramer, who renders judgment like a stalking God, that's not enough of a remnant to save the wicked city.

IN HIS concluding chapter, titled "Why is there no peace?", Cramer tells us that "any Jew who's not an Israeli, and not on psychotropic drugs, could solve this Peace-for-Israel thing in about ten minutes of focused thought." Later, he says the solution is "laughably obvious."

This is a common theme among the dull-minded: that the solution to all our strife is so blazingly evident that only knaves or fools could fail to grasp it. (And as Israelis are no fools—dot-dot-dot.) But Israel's conflict with the Palestinians is not so simple, and one needs to be a simpleton to believe that it is, or that malice or stupidity or greed prevents Israelis from grasping what they so obviously yearn for, or that a conflict that did not begin with the occupation can be ended by ending the occupation.

Most of us grow to learn that the world and life are complicated things, that there can be no easy certainties even if, at times, we require clear judgments. Cramer seems to have made the journey in reverse: from a talented reporter to an angry polemicist for whom condescension comes easily and understanding comes hardly at all.

As to whether Cramer is or has become a "self-hating Jew," it doesn't matter and I'm in no position to say. All the same, I hope he enjoys the encomia of The American Conservative crowd. He's earned it.
Every weekday JewishWorldReview.com publishes what many in Washington and in the media consider "must reading." Sign up for the daily JWR update. It's free. Just click here.
JWR contributor Bret Stephens is Editor-in-Chief of The Jerusalem Post. Comment by clicking here.
© 2004, The Jerusalem Post