<!- end inthis -->
Jewish World Review June 1, 2004 /12 Sivan, 5764
It's time to ask Dr. Difference
By Andrew Silow-Carroll


http://www.jewishworldreview.com | Once again we turn the column over to Dr. Sam Difference, an expert on teasing out careful distinctions between seemingly identical phenomena. It was Dr. Difference, for example, who first explained how to tell the Olsen twins apart, although he could not explain why anyone would want to. He is a member of the AMA and the ABA, prefers DVD to VCR, and contributes to the Jewish Council for Public Affairs and the Jerusalem Center for Public Affairs.

Dear Dr. Difference,

What's the difference between U.S. Sen. Ernest F. Hollings (D-SC), who described the war in Iraq as "President Bush's policy to secure Israel," and the Internet loonies who have been saying the same thing?

Not a heck of a lot. Hollings' comments came in an op-ed in a Charleston newspaper. He wrote that the administration is in thrall to "a domino school of thought that the way to guarantee Israel's security is to spread democracy in the area." He described the masterminds of this theory as Paul Wolfowitz, Richard Perle, and Charles Krauthammer — Jewish neocons all. The real motivation for the war, Hollings suggested, was Bush's feeling that "spreading democracy in the Mideast to secure Israel would take the Jewish vote from the Democrats."

Wow. Forget all the right-wing stuff about weapons of mass destruction or winning the war on terror, or the left-wing allegations about blood for oil and making work for Halliburton. No, Mr. Hollings seems to think that the president is willing to spend $150 billion on this ill-fated war in Iraq to buy Jewish votes. (That's about $37,500 per Jewish voter.) Dead soldiers, shredded credibility, worldwide condemnation? According to this theory, that's a small price to pay for a victory in the swing states.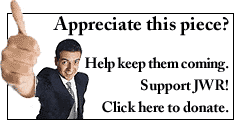 Reality check: It's clear that many of the neoconservatives are deeply concerned about the welfare of the state of Israel. Wolfowitz, Perle, William Kristol, John Podhoretz — the whole bunch no doubt see a remade Middle East as good for Israel, the only democracy in the region and a staunch ally of the United States. But is the spread of democracy in the Arab world good only for Israel? Was it only Jerusalem that benefited from the demise of Saddam? Is thwarting Islamist terror a Jewish issue? Hollings' thesis suggests no other factor — not the threat of another 9/11, not the chance to finish what Bush's father started in 1991, not the effort to contain other Arab dictators — weighed as heavily in the president's plans as the goal of "securing" Israel.

That's not to say that the war will achieve its goals. But that makes Wolfowitz, et al., misguided, not disloyal.

But Dr. Difference, what's the difference between saying that Jewish neocons are deeply concerned about Israel and charging them with dual loyalty?

Disloyalty means putting the interests of a foreign country ahead of the interests of your own. Just because you can prove that an individual has an attachment toward another country based on ethnicity, philosophy, or religion — say, a Catholic toward the Vatican, a Buddhist toward Tibet, a Jew toward Israel — does not constitute proof that they are willing to sell the United States down the river.

Conspiracy theorists love to point to the fact that Perle — along with other neocons including Douglas Feith, currently the assistant secretary of defense for policy — coauthored a 1996 study for a think-tank associated with Benjamin Netanyahu that called for "removing Saddam Hussein from power in Iraq." Clearly one of the goals of the paper was to explain how Saddam's demise benefited Israel. But the same neocons also write for other audiences, on other topics, in terms consistent with what they call "democratization" (and their opponents call "imperialism"). As Max Boot put it this year in an article in Foreign Policy that punctured the dual-loyalty myth, neocons were "the leading proponents of democratization in places as disparate as Nicaragua, Poland, and South Korea" and were "ardent champions of interventions in Bosnia and Kosovo — missions designed to rescue Muslims, not Jews."

So what's the difference between Hollings and an anti-Semite?

No one can read Hollings' heart, so let's go easy on calling him anti-Semitic. But Sen. John Kerry had it right in his May 21 statement on the Hollings column: "Comments such as these lend credence to unacceptable and baseless anti-Semitic stereotypes that have no place in America or anywhere else."

Listen, it's not necessarily anti-Semitic to point out the close ties between figures like Feith or Perle and the Likud Party — any more than it was anti-WASP (or anti-Muslim) to criticize the "Arabists" who were said to dominate America's diplomatic corps in the 1960s and '70s. But when you attach a fact like that to the usual canards aimed at Jews — undue influence in seats of power, secret motivations in political and economic life, "tribal" obeisance over loyalty to king and country — then you're dangerously close to anti-Semitism.

Is there a difference between Hollings' saying we went to war for Israel's sake and Saudi Arabia's Crown Prince Abdullah's statement that "Zionists" are to blame for recent terrorist attacks in the kingdom?

You betcha: The former is the Democrats' problem, and the latter is the Republicans'. The National Jewish Democratic Council anguished before issuing a condemnation of Hollings, probably preferring not to draw attention to the column at a time when the Republicans are making traction with the claim that Bush is the "best friend Israel ever had." Bush, meanwhile, has been praising the Saudis for their cooperation in the war on terror, while his critics say he's turning a blind eye to the royals' terrorist financing and tolerance for Islamist religious extremism.

Tolerance for Islamist extremism? Sounds like a Zionist plot.
Every weekday JewishWorldReview.com publishes what many in Washington and in the media consider "must reading." Sign up for the daily JWR update. It's free. Just click here.
JWR contributor Andrew Silow-Carroll is Editor-in-Chief of New Jersey Jewish News. Send your comments to him by clicking here.
© 2003, New Jersey Jewish News