Jewish World Review June 8, 2004 / 19 Sivan, 5764

Exit, smiling

By Debra J. Saunders

http://www.jewishworldreview.com | Ronald Reagan was a fluke. His career could have peaked as a local sports announcer, or as a B-movie leading man, or later as a career-going-nowhere actor new to the rubber-chicken circuit and touting conservative politics, or as the actor who stumbled into the governor's office. Unlike his critics, he didn't see his many limitations, and so he became the leader of the free world.


Reagan has little in common with the men considered the great figures who have shaped history. He wasn't martial, single-minded or ruthless. He didn't show off his intellect; he wasn't self-aggrandizing; he wasn't a user of women. His first wife divorced him, she said, because he bored her. People who worked with him described him as kind, polite and courtly.


He was distinctly American, and therein rests his greatness. A man of humble beginnings, he worked for everything he had. He ignored the whispers that warned that if he sought to rise too high he might fail and so kept reaching for the stars. As he said in 1992, "We were meant to be masters of destiny, not victims of fate."


In the very American tradition of the citizen-politician, Reagan ran for office only after he had succeeded in Hollywood. Critics would continue to dismiss him as an actor, a puppet who regurgitated words printed on index cards. When their jibes failed to dent his popularity, they came to call him the Great Communicator. Even that salute carried with it the snippy hint that Reagan could communicate but not necessarily think or govern.


Those who loved Reagan understood that he was a great communicator because he espoused great ideas. He believed in Americans, in their ability to do good things and in their personal enterprise. His proud legacy within these borders is that he inspired Americans to believe in their country again as he restored morale to a battered military.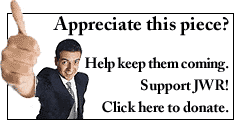 Most important, Reagan changed the face of global politics. When the American president appealed to the Soviet leader, "Mr. Gorbachev, tear down this wall," the rightness of the message resonated — even on a continent that considered Reagan to be dangerously naive, dangerously aggressive or both. No matter. Today, the wall is crumbled, and Gorbachev's homeland is called Russia.

Reagan's legacy also includes the illegal and downright boneheaded Iran-Contra affair (for which there is no excuse), an excursion into Lebanon that left 241 Marines dead for no apparent foreign-policy objective other than good intentions, and a big fat deficit that belied Reagan's balanced-budget rhetoric.

Yet his successes were great. As Hoover Institution fellow Bill Whalen noted, Reagan "moved the political center to the right of center." Thus, Bill Clinton had to run as a centrist Democrat — touting a middle-class tax cut, welfare reform and support for the death penalty. Even John Kerry, Whalen observed, now must exhibit centrist credentials.

Reagan's genius is that he prevailed in part because he was underestimated and underrated. Critics dismissed him as an intellectual lightweight who napped, eschewed detail and failed to convey compassion for America's poor.

I remember buying into the then-popular belief that Vice President George H.W. Bush, with his resume, his experience and his education, would take conservatism up a notch. When Bush talked of a "kinder, gentler" America at the Republican Convention in 1988, I nodded in approval, thinking that he meant kinder and gentler, but also smarter, more urbane and better at playing the Washington game. Wrong.

Four years later, the Bushies bumped the Gipper's GOP convention speech so that primary rival Pat Buchanan could deliver a sour screed on prime time.

Reagan's speech came later. Of course, he outclassed the Bushies by showing that real conservatism doesn't need to apologize for what it is. He told America, "I have always believed in you and in what you could accomplish for yourselves and for others. And whatever else history may say about me when I'm gone, I hope it will record that I appealed to your best hopes, not to your worst fears, to your confidence, rather than your doubts."
Every weekday JewishWorldReview.com publishes what many in Washington and in the media consider "must reading." Sign up for the daily JWR update. It's free. Just click here.

Comment JWR contributor Debra J. Saunders's column by clicking here.
© 2004, Creators Syndicate