Jewish World Review June 2, 2004 / 13 Sivan, 5764

Abe Novick
Fashioning a convention
http://www.NewsAndOpinion.com | As we near the Republican Convention in New York City and the Democrat's confab in Boston, dozens of organizations plan on protesting.

This summer the melding of scruff and style combine, as elderly hippies greet Gen-X and Gen-Yers looking for their own moment to strut.

Gazing ahead, we'll see a retro-rehashed wardrobe from the never-made Lewis Caroll-a-thon where we'll be thrown back in time, down the garment chute.

"Go ask Alice" Grace Slick used to beckon with her siren wail. Alice does live here, because she's tunneled back. Now folks in their 60s will be traipsing back out of a '60s time-warp.

Groovy throwbacks donning resuscitated multicolored garb — love beads, peace signs and floral wear, previously stashed away in the trunk of their old VW buses, will once again revive the shmatte to the level of haute couture.

We'll have flashed back to a future 1968, with the help of Sherman and Peabody's Way Back machine.

So much for the period soon after the terror attacks of September 11, 2001, when we had patriotism and the flag to stitch us all together. The Stars and Stripes hung in store windows, flew on every overpass, attached itself to products and infiltrated advertising messages galore by linking its values to brands in need of a jingoistic jolt.

How quickly times a-changed. Now Bob Dylan is hocking undies for Victoria's Secret.

We can't seem to shake the '60s, and this summer we'll surely see it sprout Flower Power again as it makes a neo-retro comeback, linking psychedelic hues with peace signs. (Of course, these days, marketers will surely profit by hooking them alongside hip souvenir products.)

Oh sure, supporters of President Bush will don brands that stand for the tints of the tried and true and the red, white and blue. And in between (or Independents) with some version of a mutated, countercultural mitosis — plaid anyone?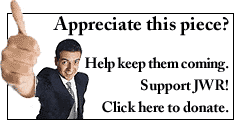 Only time will tell how it will all come out in the wash, but with a shaky stock market twitching, our future fashion designers' EKGs show signs of a nervous ticker.

Fashion mavens who veer a stitch to the left or right could be in trouble until we know what's ahead. It's still too soon to call. See, if Boston's Dems don far-out flares while Bush & Co. embrace straight-laced Yankee pinstripes. In the end, the two parties are sure to clash over much more than who has the bigger, wider bottoms.

In an homage to Chicago, the only cuffs to make the scene could be fisticuffs between pro-war and antiwar camps all whipped up by an on-looking media that would beam the scene around the globe via satellite, Internet and everywhere there's a screen — which is everywhere.

The New York Times already reports a number of arts groups plan political theater and the PAC Downtown For Democracy is organizing the Imagine Festival of Arts, Issues & Ideas. While they claim they are not partisan, one can be rather sure of the leanings of those who participate. In fact, Vincent Frati, a theater director and organizer for Theaters Against War or THAW, a group of 200 theaters that formed about 18 months ago to organize protests against the invasion of Iraq, claims, "People want to get rid of Bush."

ANSWER plans its own kangaroo court, with a daylong hearing in New York on the eve of the Republican National Convention to report on war-crimes charges against George Bush, Dick Cheney, Donald Rumsfeld and others for acts committed in carrying out the war and occupation of Iraq.

This summer's convergence of political substance and rebel style may just turn both Gotham and Bean Town's bashes into something even "Queer Eye For The Straight Guy" can't fix. More than a simple fashion don't, both cities may be in for an extreme makeover.
Enjoy this writer's work? Why not sign-up for the daily JWR update. It's free. Just click here.


JWR contributor Abe Novick is senior vice president of Eisner Communications in Baltimore. Comment by clicking here.
03/31/04: Morphing of terrorist image
01/22/04: What the Dems can learn from Yertle The Turtle
11/09/03: Dump Cheney. Bring on Giuliani.
10/17/03: The American crabwalk tempo
08/13/03: Auh-nold and Our Comic Book Nation
07/25/03: "Failing celebrityhood
06/19/03: "Everything that deceives may be said to enchant" is as true as ever
04/09/03: American media becoming embedded with the enemy?
© 2003, Abe Novick