Jewish World Review June 11, 2004 / 22 Sivan, 5764

Washington Muck: Death Changes Everything

By MUGGER

http://www.jewishworldreview.com | The United States is not a one-temperature nation, but it might as well be 100 degrees with equal humidity from Maine to Malibu this week, so thick is the hypocrisy over Saturday's death of Ronald Reagan.


John Kerry temporarily postponed his presidential campaign in deference to Reagan's passing; remarkably, he resisted the urge (at least in earshot of reporters) to toss off a typical barb such as "I wonder if Reagan's soul will remember where his funeral is?" Instead, he said, "Even when he was breaking Democratic hearts, he did so with a smile and in the spirit of honest and open debate. The differences were real, but because of the way President Reagan led, he taught us that there is a big difference between strong beliefs and bitter partisanship."


I understand that even a patrician rube like Kerry knows that it would be impolitic (and impolite) to bring up his bitter opposition to Reagan in the 80s, and so he'd leave it to the media to bring up Iran-Contra, for example, but he didn't have to lay the blarney on so abundantly. I doubt Kerry believes Reagan (or anyone else, for that matter, aside from JFK and John McCain) "taught" him anything. After all, in Democratic orthodoxy, the 40th president was just as, to slip into today's jargon, "incurious" as the current occupant of the White House. Kerry might've conveyed his condolences to the Reagan family, acknowledged his enormous popularity, and left it at that.


Kerry's former campaign manager Jim Jordan was more truthful, telling a New York Times reporter on Sunday: "I've been dreading [Reagan's death] every election year for three cycles. Bush has totally attached himself to Ronald Reagan. He's going to turn Reagan into his own verifier."


Teddy Kennedy wore the Pinocchio mask that most Democrats are donning, saying "The warmth of [Reagan's] personality always shown through, and his infectious optimism gave us all the feeling that it really was 'morning in America.'"


It's unlikely that George W. Bush will orbit to eternity before Teddy, but should that occur, I suppose the Senator will be loquacious in offering a eulogy. The following repellent remark of Kennedy's will be forgotten: "On March 19, 2004, President Bush asked 'Who would prefer that Saddam's torture chambers still be open?' Shamefully, we now learn that Saddam's torture chambers reopened under new management — U.S. management."


Although the obituaries in the mainstream dailies (and online network broadcast dispatches) were uniformly respectful, it was instructive to compare the lead sentences of the various organizations for a glimpse at how Reagan was perceived.


The New York Times: "Ronald Wilson Reagan, a former film star who became America's 40th president, the oldest to enter the White House but imbued with a youthful optimism in the traditional virtues of a bygone era, died yesterday at his home in Los Angeles."


Associated Press: "Ronald Reagan, the cheerful crusader who devoted his presidency to winning the Cold War, trying to scale back government and making people believe it was 'morning again in America,' died Saturday after a long twilight struggle with Alzheimer's disease."


ABC: "Former President Ronald Reagan, the actor and politician whose conservative vision and sunny outlook transformed America, has died."


Washington Post: "Ronald Wilson Reagan… who transformed the Republican Party and substantially defined the terms of contemporary political debate during two momentous terms in office, died yesterday afternoon."


Los Angeles Times: "Ronald Reagan, the Hollywood actor…" Boston Globe: "Ronald Reagan, a Hollywood actor whose greatest dramas were performed in the White House, and a New Deal Democrat who reinvigorated American conservatism [that actually would be Barry Goldwater], died yesterday."


You get the drift. It would seem, to an impartial observer (which, admittedly, I'm not) that Reagan's mediocre film career is a footnote in the biography of his life. His relative fame certainly gave him a leg up in California politics, but effectively ending the Cold War, bringing freedom to millions, is the American hero's enduring legacy.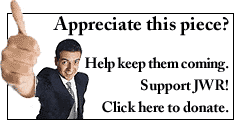 Jose Can You See

It's been a rough stretch for baseball fans who can't stand the Yankees. Even Derek Jeter, who plays shortstop with the range of Billy Joel, is threatening to raise his batting average past .250 by July 1. The Post's Joel Sherman had a point on June 3 when he wrote that the renewed Bombers are just going through the motions until October, despite a sub-par (for them) starting rotation. His column was written the day after Jose Contreras didn't even last an inning against the Orioles, yet the team came back to win 6-5.

"Asked about surprises before the game," Sherman wrote, "Joe Torre said he had expected the Blue Jays to be better. Didn't we all? Toronto has improved of late. But we know now the AL East is about the Red Sox and Yankees, and the whole AL may be that way, as well, though the Angels and perhaps A's still might be factors." That's a generous hat-tip, as the bloggers say, to the Bosox on Sherman's part, but it's not entirely warranted.

Any bidders for crazy-do Pedro Martinez? If Boston GM Theo Epstein was as cagey as advertised — and he's not, otherwise his injury-depleted team would've been reinforced by now — he'd ship Pedro and his $17.5 million salary to the Bronx for John Flaherty and an upper-deck usher to be named later.

Nevertheless, it's difficult not to melt upon seeing the heartbroken Contreras trying to locate the strike zone when he's trotted out like an old mule to the mound every so often. Here's an idea that might appeal to George Steinbrenner, the septuagenarian who, for all his bluster and old-age weeping, is at least voting for George W. Bush over John Kerry — unlike Sox owner John Henry, much to my disgust.

Why doesn't Steinbrenner act out his ultimate Patton fantasy and commandeer a daring rescue of Jose's wife and kids, who are currently being held hostage by a pissed-off Fidel Castro in Cuba? George could, sometime after midnight, sail off the U.S. mainland, with a crew consisting of Gene Michael, Billy Connors, Doc Gooden, Reggie Jackson, Willie Randolph, Yogi, the ghost of Billy Martin, Rickey Henderson and a squad of mercenaries, and return triumphantly with the Contreras family.

It might cause a tiny stir in the sports pages, but with the New York Times and Washington Post still fixated on Abu Ghraib, most of the media wouldn't notice. Even Bush, who clings to an anachronistic policy on the dying Cuba, where free enterprise could send Fidel back to those mountains he roamed in the late 1950s, might secretly cheer. Kerry, who recently snubbed his home state Patriots in favor of the Green Bay Packers — what, is Wisconsin in play this year? — wouldn't touch the issue for fear of the unknown reaction of south Florida's voters.

And Jose, reunited with his loved ones, would win 15 straight games and show up the likes of sullen Mike Mussina with a fairy-tale season — culminating, obviously, with a four-game sweep over the Astros in the World Series — that would set off a bidding frenzy in Hollywood.
Don't Pay Attention to the Economic Recovery

John Kerry and his fair-weather media buddies (meaning that if he's elected, God help America, his political honeymoon won't last beyond the Cabinet appointment of Madeleine Albright) have something in common aside from an aversion to cutting taxes. The finger-to-the-wind Senator is infatuated with anonymous sources. The Washington Post's Dan Balz, writing without irony on June 5, not even mentioning the phantom foreign leaders who've lined up to endorse Kerry, says that the Democrat is mobilizing a force of one million veterans to his campaign. Heck, that's in the same league as Kerry's claim that he'll create 10 million jobs in his first term, but no matter.

Balz writes: "Sen. John F. Kerry (D-Mass.) on Friday set a goal of assembling 1 million military veterans to join his presidential campaign and said that many active-duty military personnel are quietly pulling for him to defeat President Bush." The evidence? Kerry, in Minneapolis (no mention of whether he'll now be rooting for the Vikings over the Packers and Pats), told a crowd that "You'd be amazed" at the amount of soldiers "quietly coming up and saying, 'We need a change.'"

Not that the mainstream media has a monopoly on quoting the anonymous. Last week, The American Spectator's website (which is enormously more readable than the monthly magazine's ossified, phone-it-in batch of articles) reported on a lackluster Kerry rally in Tampa. According to TAS's "Prowler," the Senator couldn't hold the enthusiasm of a gathering there to celebrate the endorsement of another union. "On several occasions," the short June 3 blurb maintained, "Kerry paused, seemingly expecting applause for his lines… His lukewarm reception was so bad that Kerry lost his cool, telling his audience, 'I know you don't want to be here anymore.'

"'That line actually generated more real cheers,' says a bemused Florida Democratic Party official. 'If this is the kind of response our campaign is getting elsewhere, we're dead. This was awful. He was awful.'"

I'd be hard-pressed to vouch for the veracity of this dispatch, but in an election year where anything is possible — Tom Daschle's embrace of born-again liberal David Brock, House Minority Leader Nancy Pelosi, a windbag just two notches below the certifiable Al Gore, depicted as a latter-day Rosie the Riveter on The American Prospect's current cover and the Times' Stephen Kinzer opening an article about an ex-president's book tour with the stupidest one-liner of the year, "Bill Clinton is back" — well, who knows.

On the other hand, this knee-slapper, found on Reason's "Hit & Run" website last Friday is 100 percent verifiable. The loosely-libertarian magazine's contributor Matt Welch, commenting on Kerry's pledge to follow lightweight Michael Powell's fleeting promise to curtail the communications industry's indecency, especially during primetime, elicited a slew of responses from readers. This is hardly surprising, since the election-year pandering to voters who're offended by harmless entertainers like Howard Stern is non-partisan — remember Joe Lieberman's lashing out against the very Hollywood airheads who were partially financing the Gore campaign in 2000? — and will disappear the day after Nov. 2.

A fellow named Dan offered this opinion: "One of the many reasons I absolutely loathe the Democratic Party is that it's so completely out of touch with reality — so completely incapable of doing the right thing — that I find myself stuck in a situation where the 'lesser of two evils' is a Saudi-affiliated Constitution-ignoring censorious Christian fundamentalist with poor communication skills who's rapidly bankrupting the country."

As intoxicated longhairs (a category including yours truly) said in the 60s, "Boy Howdy!" I doubt this tepid endorsement will be distributed by the Republican National Committee, but a vote's a vote, especially if it's cast in, as the media won't let us forget, Ohio, Florida, Pennsylvania or Michigan.
Enjoy this writer's work? Why not sign-up for the daily JWR update. It's free. Just click here.
JWR contributor "Mugger" -- aka Russ Smith -- is the editor-in-chief and CEO of New York Press (www.nypress.com). Send your comments to him by clicking here.
© 2004, Russ Smith