March 5, 2014

Jonathan Tobin:

Netanyahu's inaction to Obama's provocations sends powerful message

Jacob Kamaras:

Kerry, after apparent criticism by Schumer, seeks to allay skepticism on diplomacy

Becky Rickman:

How to ruin a perfectly good kid in 10 simple steps

Herb Scribner:

2014 Oscars played it safe, but was faith lost in the shuffle?

Herb Scribner:

Apple joins Hobby Lobby in touting corporate values beyond profit

March 3, 2014

Alina Dain Sharon: In the Hebrew calendar, a leap year has extra month, not day

Ben Cohen:

Latest Obama appointment to prove Prez set on emasculating so-called Israel Lobby

<!- end inthis -->
Jewish World Review June 10, 2004 / 22 Sivan, 5764

How would Reagan end the Muslim madness?

By Gal Luft

http://www.jewishworldreview.com | President Reagan's death brought to the fore his outstanding accomplishment of ending the Cold War. Like American presidents before him he led the U.S. in the charge against the "evil empire" by forging alliances and sending troops to remote theaters at high cost in blood and treasury. What makes Reagan's vision for victory particularly remarkable is that it stemmed from the belief in the power of technology as both a force multiplier and a game changer.


For the three and a half decades that preceded Reagan's presidency, Americans lived in the ominous shadow of a thermonuclear war that threatened to bring destruction to the planet. Two years into his first term, Reagan invited some of America's leading scientists to "give us the means of rendering these nuclear weapons impotent and obsolete." The result was a radical decision to develop a new system, which became known as "Star Wars," to reduce the threat of nuclear missiles by destroying them from space. The decision was met with a mixture skepticism and ridicule. Critics pointed to the technological barriers and the huge costs involved. But Reagan did not falter and insisted on pursuing the project. His gambit worked. The Soviets, already burdened by poor economy, proposed to eliminate all nuclear weapons over 15 years, contingent on the U.S backing off the project. Reagan declined and within a year the two superpowers began negotiations toward nuclear disarmament and permanent peace.


Thus ended the Cold War.


In mobilizing technology to win a world war President Reagan emulated the success of President Franklin Roosevelt who had decided during World War II to develop the nuclear bomb as the ultimate weapon against which no conventional weapons could compete. Both presidents led the free world in a war against a ruthless enemy determined to change the existing world order and bring an end to the west's way of life. Both presidents used America's ingenuity and the power of technology to bring about the final defeat of the challenger.


Today we are again at war, a war of ideas against militant Islamists who want to destroy America's society, its allies and its core values. It is a war against a creed of violence, intolerance and zeal. But unlike previous global conflicts the U.S. is dependent on the part of the world where its enemies reside. Consuming a quarter of the world's oil while holding only three percent of global reserves, the U.S. is more dependent than ever on oil imported from the Middle East. Corrupt dictators whose power is derived from oil control more than 70 percent of the world's reserves and with it the power to manipulate global economy and sponsor an education system that teaches hatred and intolerance.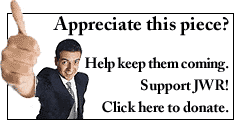 With oil reserves outside the Middle East depleting faster than those in the region our dependence on Middle East oil will only increase and with it the power wielded by our enemies.

The war on terror can be fought for many more years but defeat of the radicals cannot be achieved as long as we continue to transfer money to those who wish us harm. The legacy of Reagan and Roosevelt is that technology can win global wars and ensure peace, prosperity and stability. If President Bush wants to achieve similar success, he should follow their footsteps and initiate a national effort in the scale of the Manhattan Project and Star Wars aimed at ending U.S. dependence on foreign oil. Only by removing the yoke of our energy dependence can we deny countries that "don't particularly like us," to use President Bush's words, the wealth which enables them to fuel terror and spread hatred toward our nation.
Every weekday JewishWorldReview.com publishes what many in Washington and in the media consider "must reading." Sign up for the daily JWR update. It's free. Just click here.
Gal Luft is executive director of the Institute for the Analysis of Global Security (IAGS), a Washington energy policy think tank, and publisher of Energy Security. Comment by clicking here.
© 2004, Gal Luft