http://www.NewsAndOpinion.com | One of the things that came to mind during the recent dedication of the National World War II Memorial in Washington, D.C., is how much history can be associated with those years. That may seem obvious, but bear with me.

The amount of online material about the war years is staggering, and more seems to be popping up all the time. The Web site for the Memorial itself (www.wwiimemorial.com) offers a look at the site and what it means. For those who haven't been to the Memorial yet, this location is a good orientation.

The Google search service has over 7 million Web pages indexed that relate to World War II, and the top ones include very useful timelines and historical backgrounders from the Grolier Encyclopedia and the BBC.

But to stop there might cheat you out of some insights. One of the key characteristics of the World War II era, perhaps more so than most other wars, is the amount of postal correspondence that went from the battle front to the home front, and vice versa. (Today it's largely e-mail and cell phones in Iraq.) Much of this correspondence may be lost, but many of the envelopes used to transport the mail - envelopes that have their own story to tell - are still around, delighting collectors and intriguing historians. Computer technology, via the Web, is helping to preserve and expand that source of history.

The Military Postal History Society (www.militaryphs.org) is a group of collectors who track and follow such items; they offer auctions of wartime envelopes (known as "covers" to philatelists) and a shelf-full of publications, books and catalogs that can help identify collectable specimens. While no one will likely become super-rich from grandpa's hoard of letters, the military mail of years gone by offers many clues to the nature of those times.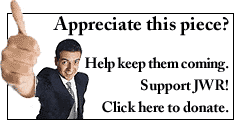 Collecting other items from the war may be a bit more challenging: among the many sites devoted to World War II collectables are numerous warnings about faked Nazi "souvenirs" including helmets; in addition, some countries including France and Germany have tried to block online auctions of items from that time, following those nations' general prohibitions against promoting or displaying Nazi symbols.

Yet, as has been mentioned here many times before, there are many ways in which technology can be used to support and extend an interest in history. Perhaps one will be in videotaping memories of your relatives who served in the war and transferring those, via a computer, to DVD. With an estimated 75 percent of the 16 million Americans who served in World War II no longer alive, making, editing and preserving such stories is of more importance now than ever before.

APPLES VS. ORANGES? Last week's column on the relative cost of a Windows-based PC versus that of an Apple Power Mac G5, brought a couple of e-mail challenges. One suggested that the price of a G5 with 8 Gigabytes of RAM was $7,200, and not the $2,500. That's true, but I merely suggested one could go that far with the RAM; my test system did not include that amount.

The other claim was that if you build up a PC to similar specs as the dual-processor G5, the Apple is often less expensive. Perhaps, but I still believe you can get a decent Windows-based machine for under $1,000; a decent Mac will hover between $799 (the lowest eMac) and $1,299 for the cheapest iMac, which includes a flat-panel display.
Find this column useful? Why not sign-up for the daily JWR update. It's free. Just click here.
JWR contributor Mark Kellner has reported on technology for industry newspapers and magazines since 1983, and has been the computer columnist for The Washington Times since 1991.Comment by clicking here.